by Kat Bittner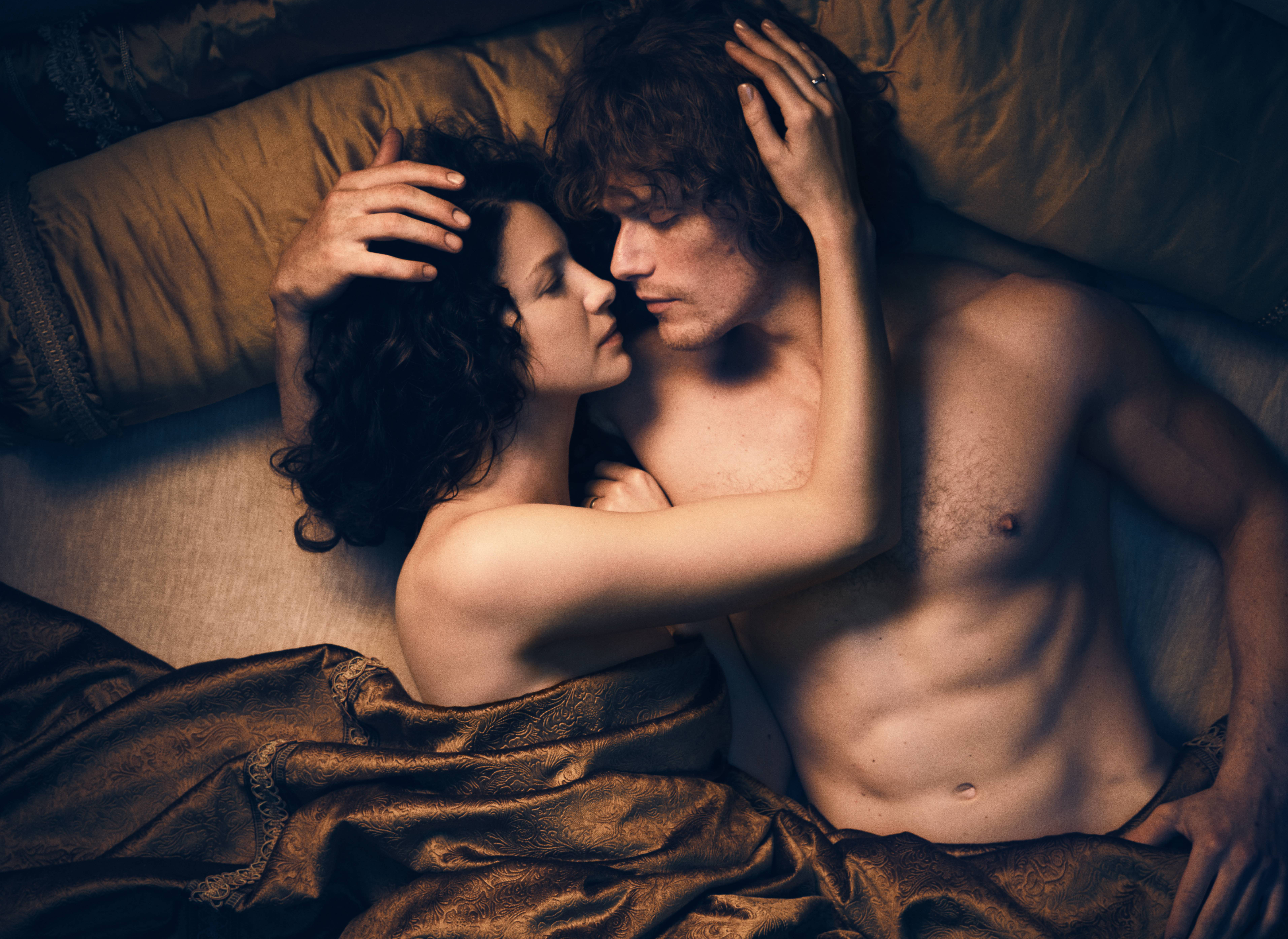 "Whoever you are, James Fraser – yes. I do want you."
And we're back from a week off. Jaime is strutting back to his print shop to a soundtrack of uptempo bagpipes like an 18th century Tony Manero. He surveys his surroundings,  sensing someone in the print shop with him…it's his long lost wife Claire and the shock of seeing her again is enough to have Highland Tony faint before we transition to the opening credits.
It takes less than 10 minutes after Jamie recovers consciousness before his pants come off. Although it's because of spilled ink and not overwhelming passion. They are adults who have been separated for 20 years and much has changed for both Jamie and Claire. The couple do share a tentative first kiss to reassure they are in each other's presence again.
Their reunion continues with stories of what the other has been up to. Claire tells him she's become a surgeon. Jamie has always seen her as one. Now she has the license. Claire also shows Jamie photographs of their daughter Brianna. She tells him how much she's like him and how Brianna has grown up. Like most dad's he's scandalized to see his daughter in a bikini which Claire explains is not even the most revealing cut in 1960s.
Meanwhile Jamie admits he fathered a boy, but couldn't raise him as his own. He explained that the mom died in childbirth. Jamie describes his son, William, and you can connect the similarities between the two children. Claire handles the news pragmatically. She expected Jamie to have a life. However, Claire does ask if he loved her. Jamie replies it was not love what they shared. Claire describes her life with Frank was all about being parents to Brianna.
After all that catching up, Jamie has some errands to run. While in town Claire is reunited with Fergus, their adopted son. She sees his fake hand and he explains it was from fighting the Redcoats. Jamie and Fergus discuss how they are going to handle an associate, Mr. Willoughby. Claire later meets Mr. Willoughby at a tavern where Jamie is doing some shady business dealing. He tells her immigrated from China and how Jamie saved him (and from the looks of it continues to do so). Lets just say his associate is a betting man who likes to indulge with working ladies.
Mr. Willoughby is not the only one who's friendly with the ladies. Jamie takes Claire to a brothel and it's clear Jamie is familiar with the madame. Claire inquires into their unconventional accommodations, but Jamie explains since they are close to the print shop it's a convenient place to spend the night and have food and a warm bed. Jamie asks Claire why she has come back now and how she found out where he was. He warns her he is not the same man she once knew and he wants to be sure she still wants him and likewise. The scene harkens back to their wedding night. While there is an undeniable physical attraction between them the pair take their time in conversation and get to know each other again except now they have a shared history and more life experiences. When that time of the night for conversation is over, well, let's just say after this episode any remaining Droughtlander thirst will be sated.
The next morning we see the pair happy and relaxed for the first time this season. Claire asks Jamie again if he ever fell in love with anyone else after she left and he reassures her he has never loved anyone else. This tender moment of shared intimacy is lightened when Jamie proclaims he needs to eat and he proceeds to have his wife for breakfast.
Claire guesses what Jamie's second profession is. After several years in prison for being a traitor for the rebellion she knows that printing whether its innocuous journals or seditious pamphlets does not bring home much coin, but smuggling alcohol does. Claire does not tell Jamie to stop, but she does want him to be careful.
Speaking of careful Jamie reminds her that she's now Mrs. Malcolm not Fraser. There are still people who are looking for papist traitors. Jamie leaves for the day to attend to business with his nephew, Ian Murray. Ian is surprised to see his aunt. He grew up with stories likening her to the fairies. Everyone at the time assumed Claire was dead, but are happy to see her back and accept her time away was spent in America.
Claire goes down to the main area for breakfast and the other ladies in the brothel assume she is a new girl. They are in a humorous discussion on how not to get pregnant when the Madame walks in annoyed a guest is mixing with the staff. While Claire does not always care about following social protocols she returns to her room. She sees a dangerous looking man the ladies warned her about during breakfast in their room looking for Jamie. He assumes she's a working girl. When Claire says she isn't he assaults her and we end an otherwise sexy and sweet episode on a sinister cliffhanger.
A. Malcolm (the assumed name Jamie is going by) is able to balance the reunion of our favorite time traveling couple with heart, humor, and a surprising amount of conversation. While it's not as strong as "The Wedding" episode it does realistically show the initial awkwardness and hesitation of seeing someone you love after decades long separation. The enduring romance between them is strengthened again because they are still able to talk and understand the other in a way no one else can. Now that Jamie and Claire are finally reunited looking forward to seeing what high sailing adventures will await them next!
*Warning if you got kids or are shy with nakedness (have you seen this show before?!) put them to bed before this episode.
Follow "Outlander" Online:
Twitter: @Outlander_STARZ
Facebook: https://www.facebook.com/OutlanderTVSeries.starz/
Instagram: https://www.instagram.com/outlander_starz/?hl=en
Join the conversation with #Outlander and #STARZ.
**NEXT WEEK**
OUTLANDER 307: "CRÉME DE MENTHE"
Airdate: October 29th at 8 PM ET/PT on STARZ, the STARZ app and STARZ On Demand
In the aftermath of a violent confrontation, Claire follows her conscience as a surgeon, even though it could put her and Jamie's lives at risk. At the same time, Jamie attempts to evade the reach of the Crown as its representative closes in on his illegal dealings.
"Outlander" airs on Sundays at 8PM ET/PT on STARZ.
Tags:
Episode 6
,
Geek Girl Riot
,
GGR
,
Kat Bittner
,
Outlander
,
Recap
,
Season 3
,
STARZ