"The beautiful thing about music is that crosses all language barriers."
For a band that frequently plays summer festivals in Europe to crowds of 40,000 people, it must be bizarre for Scottish rockers Biffy Clyro to cross the ocean and perform in front of less than 1000 people in a stuffy American club. But they are just as enthusiastic for the intimate venues as they are for the outdoor stages. "The smaller shows are always in our system because that's where we learned how to be a proper band," says lead singer Simon Neil.
Neil is still in Scotland when we chat over the phone; a slight delay, plus background noise on my end, and his melodious Scottish brogue occasionally make it difficult for me to understand him, but we make it work, and I feel honored to be talking to a member of one of my favorite bands. "You're too kind," says Neil when I tell him I'm a fan. It's this genuine gratitude that makes Biffy Clyro so endearing; they may play to thousands of people in the UK, but they avoid becoming jaded or taking their success for granted. "It took [the three of us] a long time to enjoy the big shows—you have to let your ego take over and really enjoy being as ridiculous as possible."
Even though Biffy Clyro—comprised of Neil, and twins Ben and James Johnston—just released their seventh full-length album, Ellipsis, last July, they're already working on new material. And, of course, they're gearing up for the band's first North American tour in a while. "It's been three years since we last toured…it's been too long," says Neil. "It's tough when you have to wait so long."
The band has been together for nearly twenty years—in fact, the day of our chat, their first LP, Blackened Sky, turns fifteen. Neil has been serious about music since he discovered a "world of possibility" after writing his first original song in his early teens, but the band still gets just as excited about touring now as they did in those first few years. "We always want to make sure America knows we love to come there," he says. "I'm really excited about the small shows, and just seeing the fans we haven't seen in a long time."
"Apart from the size of the gig, it's similar everywhere. If we're doing our job right, it should be the same thing."
Despite those two decades as a band, and seven albums (not to mention a handful of b-sides and EPs) under their belts, it's hard to imagine they're still struggling to make it big in America. A lot of their influences, particularly on earlier albums, come from American grunge and post-rock bands. Neil reminisces about how he used to listen to Pearl Jam's "Black" on repeat for hours, citing it as the song that changed his life. And they're looking forward to playing certain famous American venues. When I ask him which date he's most excited for, Neil immediately names The Fillmore in San Francisco. "It's an iconic venue, I never thought we'd be headlining there," he says, mentioning that he just watched a Janis Joplin documentary that featured the venue.
With Madison Square Garden as another item on their bucket list, Biffy Clyro is eager to see how they can win over an American crowd. "Because we don't play for you guys very often, I want to play all the new stuff, because that's the most exciting," says Neil. "But America's a tough balance. It will take us a couple of shows to sense what albums people want to hear, but it will be dominated by [recent release] Ellipsis…I'm curious to see if people want to hear the really early songs."
Because they're so big in Europe, I wonder if the band notices a difference between a typical Scottish audience and an American crowd. "Apart from the size of the gig, it's similar everywhere," Neil says. "If we're doing our job right, it should be the same thing."
"It's hard to top that feeling [of playing a festival to 40,000 people] but I still believe we can [feel] that in a small room, even if it's just 40 people," he continues. "I'm less nervous about these small shows than the big summer festivals because they're our natural habitat…We feel like we're starting to tour again, like we haven't been doing it for ten years. I feel like a teenager again, it's hard not to be excited about it all."
"The beautiful thing about music is that crosses all language barriers," Neil says. "It's about feelings and emotions…I feel like that's why it's one of the purest forms of art—language, context doesn't matter." Even though the band is mostly influenced by the rock and underground scenes, he mentions that they still listen to mainstream pop and hip-hop, stressing how important it is to be open to new things and keep your ears open. "As soon as you say "I don't like this" or "This is my favorite, I don't want to hear anything else", it's a dangerous mindset," he says.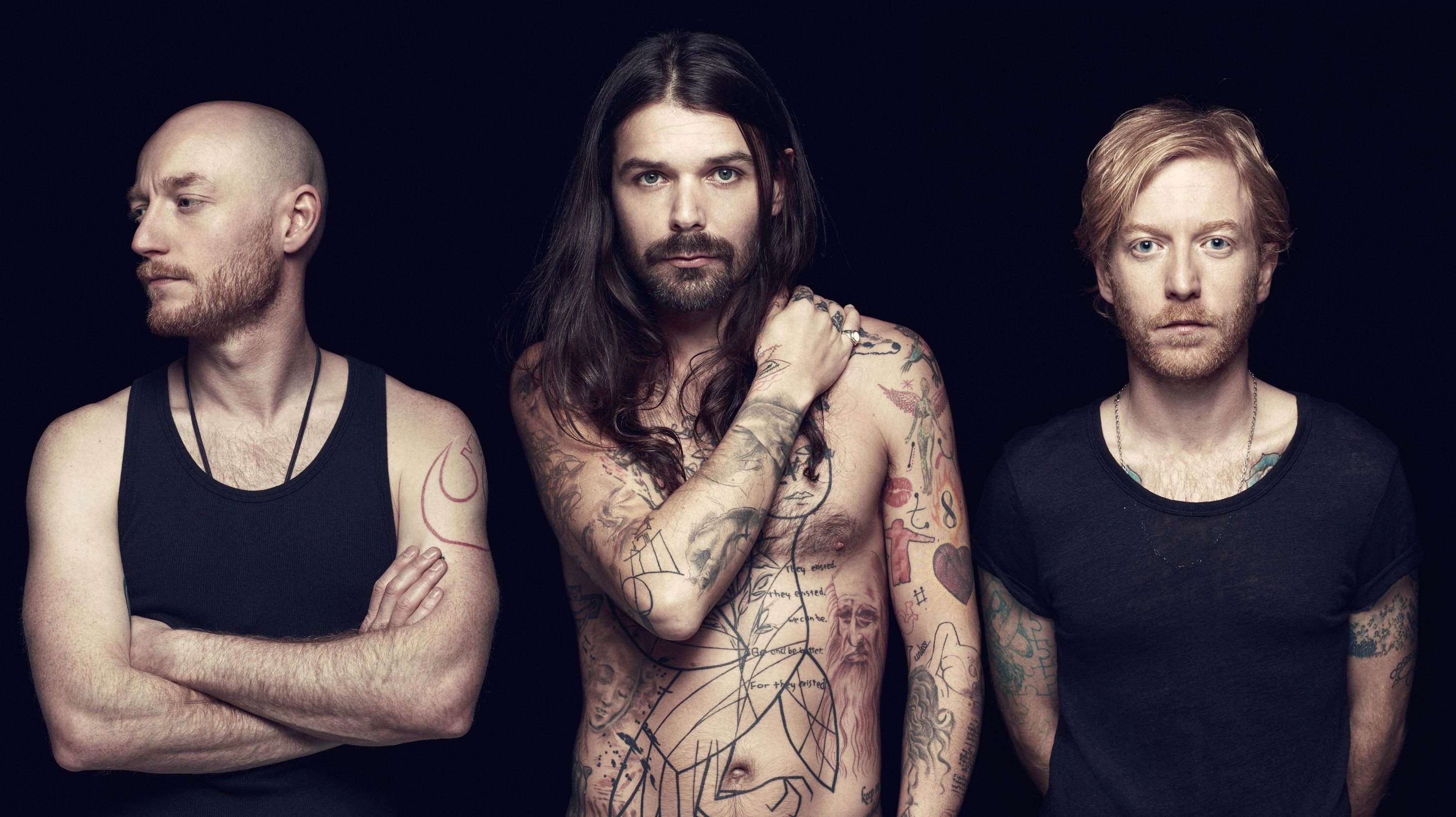 One listen to Biffy Clyro's discography, and you'll hear how much they enjoy playing with genres. They may be rock 'n' roll, but they aren't afraid to experiment with their sound or production. This mishmash of genres is part of what makes their live shows so much fun. "It's tough enough when you're playing for two and half hours in Europe, but ninety minutes in America is really tough," Neil says of putting together the setlist. "So shout at me if I do a terrible job."
I take a minute to reassure him that I've never been disappointed by a Biffy Clyro set ("You're too kind!" he says again) before he continues, "There are songs from every album that just give me a joy I don't feel in normal life. When I play certain songs live, it makes everything magical." The downside to experimenting is that not everything necessarily sounds good live. "Some of my favorite songs, I don't like playing live," he laments. "No matter how many times I try, I can't get 'The Fog' [off of 2013's Opposites] right." He also names a newer song, 'Don't, Won't, Can't' as being next to impossible to recreate in a live setting, compared to the recorded version. Irregardless, with so many albums to cherry pick from, you're guaranteed an entertaining set.
"We feel like we're starting to tour again, like we haven't been doing it for ten years. I feel like a teenager again, it's hard not to be excited about it all."
I have time for one more question, so I make it one that I've always been curious about: at a Biffy Clyro show, you'll inevitably hear the crowd start to chant "Mon the Biff", whether it's before the band even sets foot onto stage or in between songs. I've never understood it, so I ask Neil and he laughs. "It means "come on"," he explains, comparing it to a football (i.e. soccer) chant. "It's something that really only makes sense in Scotland, and maybe England. But please, keep chanting it."
I promise I'll start the chant at my show, and by the time we hang up, I'm making plans to follow-up with them…which I eventually do.
Look out for part two of the interview tomorrow when I chat with the other half of the band!
Catch Biffy Clyro on their remaining US tour dates:
Apr 11 – Paradise Rock Club, Boston, MA
Apr 13 – Irving Plaza, New York, NY
Apr 14 – Theatre of Living Arts, Philadelphia, PA
Apr 15 – 9:30 Club, Washington, DC
May 09 – Warsaw, Brooklyn, NY
May 10 – Mr Smalls Theatre, Pittsburgh, PA
May 12 – The River Rockfest, Council Bluffs, IA
May 14 – Iron Works, Buffalo, NY
May 15 – Rams Head Live, Baltimore, MD
May 16 – Chameleon Club Lancaster, PA
May 18 – Mercy Lounge, Nashville, TN
May 20 – Hollywood Casino Amphitheatre, Maryland Heights, MO
May 21 – Rock On The Range, Columbus, OH
Tags:
Biffy Clyro
,
Interview
,
Warner Brothers