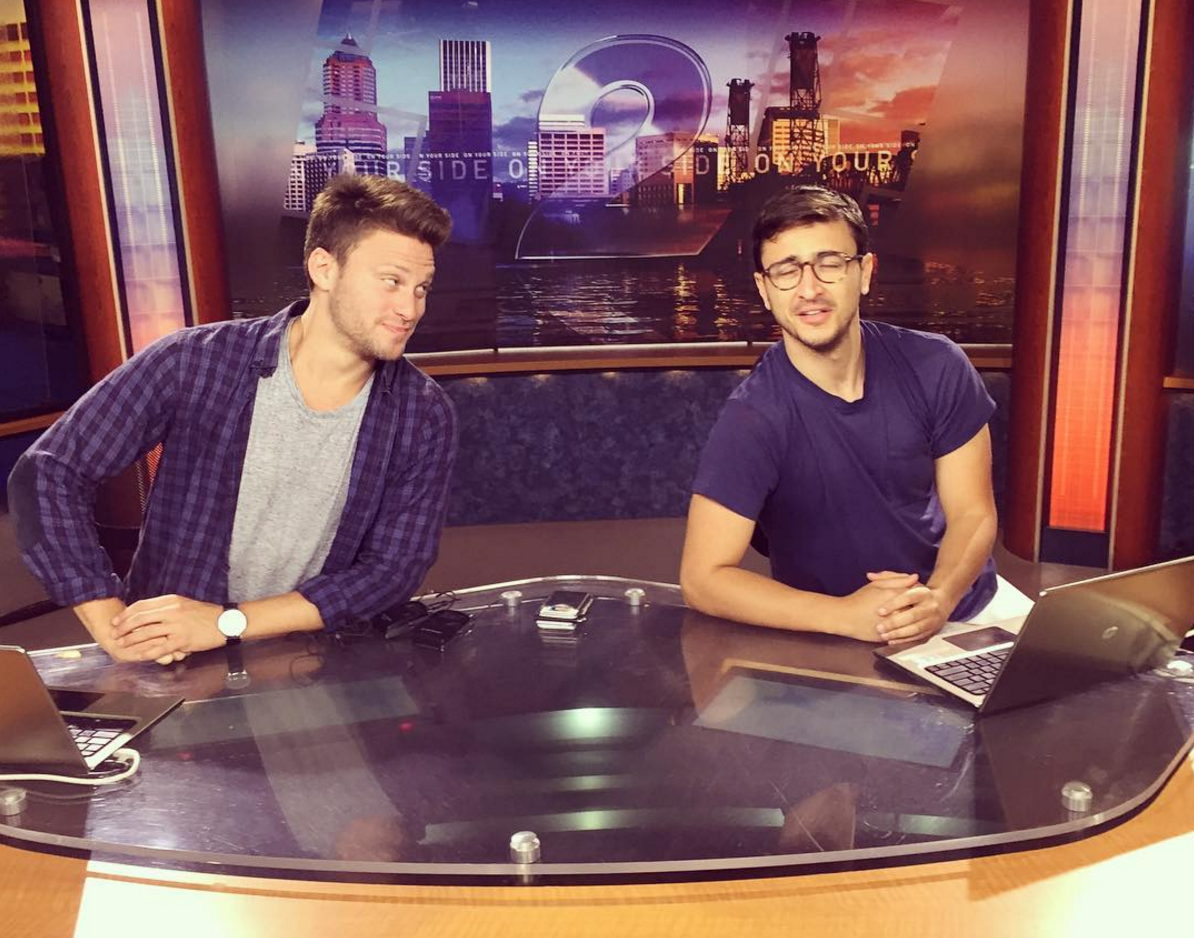 [scrippet]
FADE IN:
EXT. HAWTHORNE FOOD CARTS – PORTLAND
The Hawthorne food carts are a staple of Portland culture. Trying to manage the infamous "good morning" sandwich is proving difficult for comedian and SNL alum JON RUDNITSKY. The thing is a massive mess. JAKE NORDWIND, actor and endless ball of energy and punchlines, joins the table. The pair are touring together but still argue about whether a triad is a ménage à trois or Chinese organized crime—maybe it depends on where you're from. More on that later… Rudnitsky's breakthrough SNL sketch was a show stopping alternative performance of the famous dirty dancing routine. It was the highlight of the Larry David hosted episode and felt like the kind of timeless, original sketch that would cement his future at 30 Rock. Two days after our lunch on Hawthorne, Rudnitsky was let go. But Rudnitsky hasn't stopped; he and Nordwind are on a national comedy tour that gets a new name and a new poster every night.
The "hot boys of comedy" are casually dressed and patiently awaiting their meals at a too hot to touch picnic table. This is the duo's first visit to Portland where the two performed to a questionable crowd last night at the Helium comedy club.
JON
The first show was great. The second show they were drunk and you can just tell they're too drunk now and I hadn't even gone up yet. I just think they were lost. I don't think they knew what I was talking about until I did crowd work, but even then they were scattered, they were women woo'ing at nothing.
JAKE
The crowd is always coming to see Jon or they got comp'ed. Sometimes they know who he is though. This was clearly a group who got comp'ed who came to see comedy. I do Jon's sound because he has a million music cues during his shows. I had just performed for 25 minutes and it was not a terrible show. They were all there and saw it. This girl comes up to me and says, "I'm with this group of girls, we're all sitting at the table in the back" and I said, "Oh that is so cool" and she says, "we have not been served drinks all night. Can you get a server over to us?" I told her that I didn't work there and I just performed. She goes, "Great, we need a server" as if I didn't understand the way she said it. I told her I'd do my best so I told the waitress, "Don't go to that fucking table".
JON
We had a group of folks in North Carolina. There was this guy in a cowboy hat and two women. It seemed as though they were swingers, like in a triad of some kind. They must have had 47 beers.
JAKE
Sorry to stop this story but you keep saying "triad" as if that's a thing of three people in a relationship.
JON
What's it called?
JAKE
Tell me if I'm wrong. Isn't a triad like a gang?
JAMESON
Like a Chinese gang, I believe.
JON
I think you're wrong. I'm gonna look it up.
JAKE
He's absolutely wrong. But that did happen.
JAMESON
I'm sure that's not the worst thing that could happen.
JAKE
They had the best crowd, really sweet people. Raleigh is a very liberal pocket of that place. This one show that Jon is talking about, there was a triad in the front…
JON
I'm looking it up.
JAKE
I know it's 100% wrong.
JON
I don't like that. You don't know.
JAKE
I do know it's 100% wrong.
JON
100%?
JAKE
I know it.
JAMESON
I'm basing my knowledge of the term on Lethal Weapon 4.
JAKE
There's not even a question.
JON
Here's the difference between me and you; I would say, "Maybe you're right, maybe I'm wrong" but I don't know for sure because we haven't looked it up.
JAKE
Look it up right now.
JON
You're a real piece of shit.
JAKE
Tell him what the triad did.
JON
I just knew they were gonna be a problem. If you're looking at somebody's face and you think, "I don't know if you're voting for Trump but your face definitely is"? It was those kinds of people. They were just very Trumpy.
JAKE holds up a finger to silence the conversation while reading from his phone.
JAKE
A triad is a secret society originating in China and typically involved in organized crime. There is also a definition of a triad of three connected people of things.
JON starts clapping.
JAKE
But it has it as "The triad of diet, exercise and medication is necessary in diabetes care." I've never heard of three connected people referred to as a triad.
JON
I think I coined it.
JAKE
Jon is famous for that if you go back in history. He'll coin a term whenever he feels like it.
JON's name is called loudly and he leaves the table. JAKE dives into his shawarma.
JAKE
I should have gotten the sandwich. So is this a podcast?
JAMESON
No, actually it's just a written article.
JAKE
It's fine. I support that and appreciate it. I love the written form. I just didn't realize it.
JON returns with a massive sandwich.
JON
Maybe this is the first episode of your podcast.
JAMESON
I should try it out.
JAKE
You should triad it out. Is this live? For those reading, Jon, explain what you're eating.
JON
For everyone listening on NPR right now…
JAKE
I don't think you understand what you're doing right now.
JON
This is MTV's Room Raiders, the only show were you get raided. This is called a "Good Morning". It has bacon, fried eggs, fried chicken, blueberry jam, and peanut butter on French toast.
The conversation pauses to let the two attack their meals.
[/scrippet]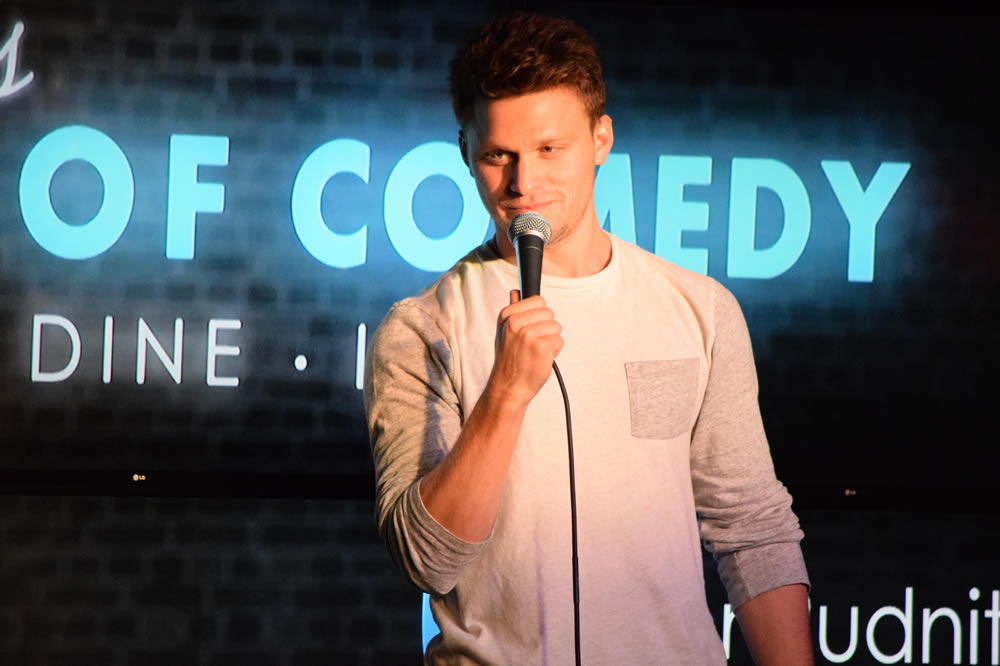 [scrippet]
JAMESON
So what was your audition for SNL like?
JON
It was five minutes of characters and impressions. Jake helped me put it together.
JAKE
It was a really great audition if I do say so myself. I'm not sure that others get to do this but if you're in Groundlings or UCB, you get to test your characters, but you have the ability to go from show to show all over LA and say, "Here's what I'm thinking for my SNL audition and here's what it looks like". In stand up, reactions are so quick so you can immediately test everything. You think a joke works, you test it, there's no laughter and you immediately get it. It's not like I had much to gain from it but I was so excited. We had been working together for so many years and nothing had been happening. I live in my sister's garage or "back house", depending on if you want to be a dick about it, and we would just be writing and working on a pilot. Jon would do this talk show host thing. You know how Conan comes out dancing? Jon would come out and never stop dancing and that became "What if Conan never stopped dancing? What if he spun around a fake girl? What if he dropped her and she died?" That kept going and it became this Dirty Dancing thing. I don't mean to sell Jon but that got him Just for Laughs and it got me excited because I watched it be born.
JON
I could tell you which ones didn't work; choreographer ref.
JAKE
The audiences just didn't react.
JON
It's in my act now and it works great. The other one was break dancer, which doesn't always work great.
JAMESON
Those were the ones you cut out of your audition?
JON
I had those in my original audition and we were testing those out. Stand up benefitted me in that way. The audition was Chipotle DJ and John Mayer having a stroke.
JAMESON
That impression has come up on the show.
JON
I did Frank Underwood, I did Ryan Gosling selling a flip phone, KFC Bernie Sanders, and Dirty Dancing. Then I did a slow motion recap. And I did a CW actor finding out they're all out of red velvet yogurt at Pinkberry, which is actually my favorite.
JAMESON
Okay, let's break that down; Ryan Gosling selling flip phone. How do you get there?
JON
I don't know. Do you know, Jake?
JAKE
The Ryan Gosling impression you had…
JON
I didn't have it until like two days before.
JAKE
You start with the impression then ask, "What's the funniest way?"
JON
He makes everything sexy.
JAKE
So what's the least sexy thing than Ryan Gosling can sell? A flip phone.
JON
Then by the end you're buying the phone.
JAKE
So it makes the impression funnier. A lot of people are doing that now, you can't just do an impression. You have to find some angle. People will say "We don't care if you do a perfect Gosling! Show us Gosling as Hamilton please! Okay now we like it! Show us Gosling as an Uber driver please! Yes, that's fun!"
JAMESON
And you can't do an impression that's too good. They don't like that.
JAKE
I've heard too good. There was a guy during Jon's audition that was so perfect you thought "Well, you might as well get the real guy".
JAKE starts picking at JON'S sandwich.
JON
Don't do that. Just take a bite. Get some egg and tell me how you feel. What's going through your mind?
JAKE
Just a lot of stuff.
JON
Too much stuff?
JAKE
Yes. But I love Portland. Thanks for having us. To everyone listening, you're great people. We're surprised we had a Trump supporter last night at the show.
JON
He was nice which made it hard to hate him.
JAKE
We support democracy and yet…
JON
It's confusing.
JAKE
It's very confusing. He's an awful human being that Trump.
JON
He says the worst things.
JAKE
He seems like a racist guy. We had this argument about if you can support Trump and not be a racist. I don't know if we should get into this, it's very confusing. It gives me a headache.
JON
He says racist things so you're supporting a guy who says racist things. You could be supporting him for fiscal purposes but at the end of the day you're supporting a guy who endorses isolating an entire race of people.
JAKE
Here's my biggest problem lately; I'm getting news from my Facebook feed, which is very liberal. My school counselor will post something like "Trump wants to electronically tag Muslims" and I'll see where the report is from and it's like "Ironside Times". That doesn't feel like a real paper.
JON
I don't think Trump believes half the things he says anyway. I think he's just trying to appeal to a certain kind of person.
JAMESON
He knows how to grab the spotlight.
[/scrippet]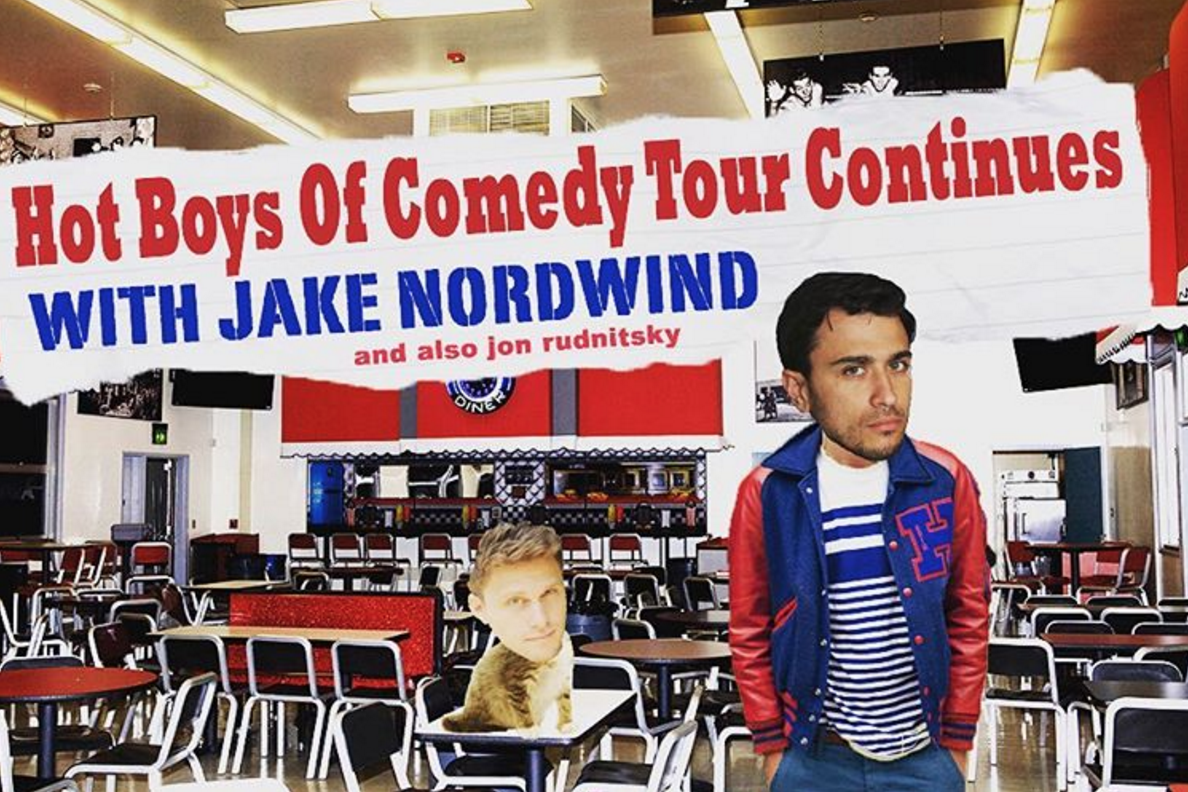 [scrippet]
JAKE
Where is Oregon going politically? It was a big Bernie place right?
JAMESON
Hillary.
JON
You don't go from Bernie to Trump.
JAKE
There was the whole Bernie or Bust movement. Or "We don't vote" or "We're going with Jill Stein".
JON
That group isn't big enough to sway.
JAKE
Wasn't that the thing with Nader? I don't know what I'm talking about at all. That's the problem.
JON
And I know less.
JAKE
This is a political podcast, live streaming, this thing we're doing.
JON
We're on TV right now.
JAKE
You've been watching the Olympics on Fox.
JON
Let's cut to cycling.
JAKE
We have Lance Armstrong. Then Lance Armstrong.
JON
There's Lance Armstrong.
JAKE
And Lance Armstrong. Is he still racing?
JAMESON
I just watched that movie about all the cheating.
JAKE
Wait, what? You're telling me Lance Armstrong is a cheater?
JAMESON
I'd say it's a popular opinion.
JAKE
Now I have to do my own research.
JAMESON
I read about it in the Ironside Times.
JAKE
What about Barry Bonds? He's my favorite.
JAMESON
Aren't him and Griffey still in the homerun race?
JAKE
Then I'm excited, and you can't tell me Barry Bonds cheated at all.
JON
As long as Russia is doing all their sports properly, I'm happy. I think they're saving the world.
JAMESON
And in the end, they'll make the difference in the election.
JAKE
That's what I like to hear. I'm sending out one big dare to Russia; you find one of Hillary's emails. I double dog dare you, Russia.
JON
Jake Nordwind starts a war.
JAKE
That's this this episode is called, on podcast TV.
JAMESON
I'm going to turn this article in and the editor is going to say, "We can't publish this. You can't say these things".
JAKE
"Jake Nordwind dares Russian to find Hillary Clinton's emails".
JAMESON
I wish this was a podcast.
JON
Why don't you just tell them what we've been doing this whole time?
JAKE
Jon is wearing a tux.
JON
I'm eating filet mignon and having a martini. I want them to think I'm James Bond. Okay, I'm wearing a scarf, fedora, and Capri pants. I have a parrot on my shoulder. I've been reading a book.
JAKE
This whole time we've been reading newspapers because we deeply believe in our press. This is going to make us look way dumber. We've been shaking hands with the locals. They wanted to meet us and take pictures. They keep saying your comedy is both intelligent and heartfelt. There's your headline.
JAMESON
World changing?
JAKE
World changing and heartfelt! That's your headline.
JON
I'll give you your opening line; "As the bright Portland sun beat down on Jon Rudnitsky's peanut butter sandwich, he intelligently discussed…"
JAKE
Triads.
JON
"Triads, Trump and the future of comedy as we know it".
JAKE
"Liberal, luscious lips. He continued to compliment me, Portland and the state that I love. I've never met someone I so admire and am so attracted to. He was with his little buddy, I forget his name but he was there too."
JON
I thought you'd give yourself something nicer, but there's your headline.
JAKE
Your boss is like, "You're fired, you have no idea what a headline is".
[/scrippet]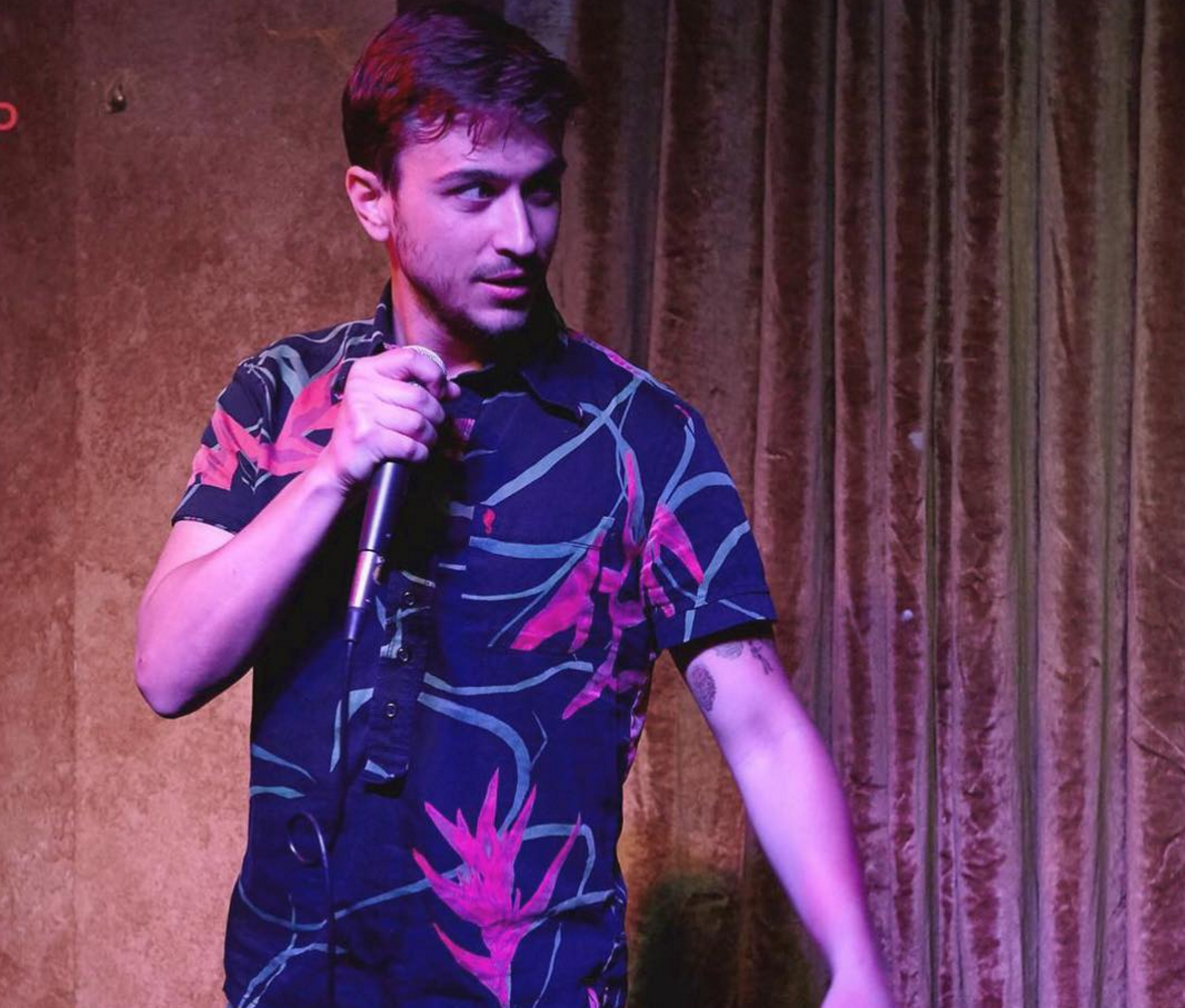 [scrippet]
JAMESON
I do want to touch on the Anderson Cooper impression.
JON
Honestly, what did you think?
JAMESON
I didn't see anything wrong with it.
JON
Precisely. It was just weird. I think it was just Andy Cohen on his show trying to provoke conversation. It was just a lot of people on Twitter yelling at me my third week of work. I know he was just trying to be gossipy but it was kind of a douche move. I don't think I "queened him up". They said that, by the way, I'm not using that terminology.
JAKE
Personally, I don't think that's what Jon was doing. I don't think anybody felt good about it afterward, it's upsetting but you have to move on, that's the nature of the job. He called me and asked if that's what he did. You're new, you want to please everybody. I think that's really what it comes down to, that it's upsetting.
JAMESON
It's a huge comedy show. Are people still surprised they're getting made fun of?
JAKE
I think the biggest part was that he didn't feel like he was making fun of him, he was just trying to do a new impression.
JON
I felt bad at the time but looking back it's so crazy. I didn't do anything. I feel bad if genuinely thought I did.
JAMESON
It's not like John Mayer hates you now.
JON
I hope not.
JAKE
He loves John Mayer.
JAMESON
There are so many outlets now that analyze comedy. What comes to mind is podcasts like Marc Maron's or Pete Holmes'. Do you enjoy picking a part the craft of comedy?
JON
You have to be a student of comedy to do comedy. If you think you're above that, you're probably not doing great. You have to be working at it constantly. I'm lucky to have my friend on the road with me because we help each other with material.
JAKE
I think you have to do both. I love the guys you brought up. I listen to them all the time. I love listening to people talk about comedy. The only thing you have to be careful of so far in my experience is that you can't let it inhibit you from trying comedy. In the beginning, and I'm at the beginning of stand up, you're gonna be shitty at it. You know you're not quite there as and as long as you don't let your knowledge of comedy inhibit you from going for it, then it's great to be a student.
JON
I couldn't have said it better myself.
The conversation winds down and the pair decide to go on the hunt for vintage clothing stores on Hawthorne. Several days later we read that Rudnitsky has been let go from Saturday Night Live. When requesting a follow-up conversation, we are met with an understandable "he is not commenting at this time". His confidence rivals most seasoned comedians and his material is original, physical and hilarious. Even a year on a show like SNL can work wonders for a performer, but after seeing his near flawless standup, it's clear that the 26 year old is light years away from vacating our television screens.
FADE OUT:
THE END
[/scrippet]
Tags:
30 Rock
,
Jake Nordwind
,
Jon Rudnitsky
,
Saturday Night Live
,
SNL