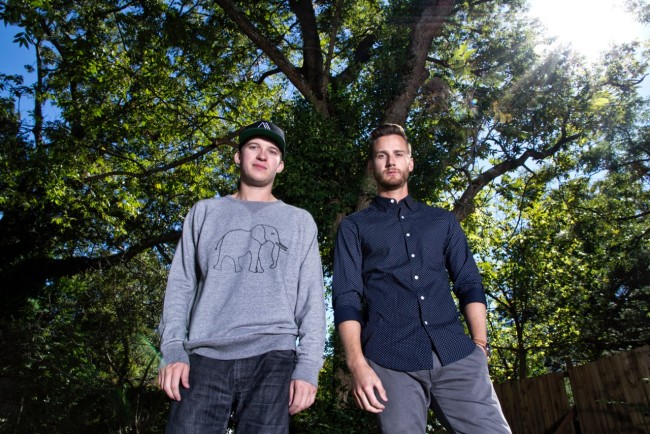 There is a place where a striking melody exists beside a soaring adrenaline rush. It's a place where electronic soundscapes meet incredible natural landscapes, and where an EDM build can escalate along the sharp slopes of a mountain range. The Spacies have found this place. The Spacies have claimed it.
For the relatively new electronic duo, inspiring music and extreme sports have everything in common. Comprised of vocalist/producer Dave Cook and DJ/producer Ross Lara, The Spacies are challenging not only their musical limits but also their physical boundaries by taking their recording and music video filming to the mountaintops–literally.
On the band's newest single "Infinity," Cook and Lara ventured to British Columbia, Canada, to track the song and film a new music video. However, rather than keeping to a typical studio session, the duo took a helicopter to a mountain, climbed another 1,500 feet to the peak, and recorded vocals for the new song in the middle of the Purcell Mountain Range.
"(In the music video) You're going to see footage of Dave cutting harmonies next to a lake and these rolling mountains, and it's just absolutely stunning," Lara explains. "That emotion is definitely evoked in the recordings and you can hear it. You can hear the difference. That's something that we always want to strive for."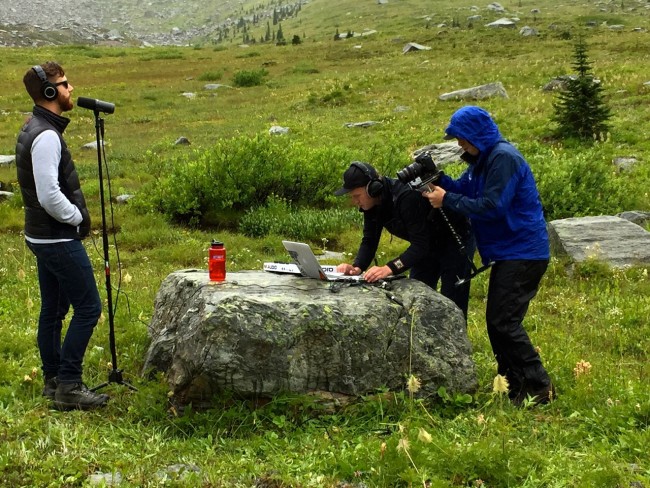 Cook and Lara traversed through the mountains with the help of Canadian Mountain Holidays, a heli-skiing outfitter in British Columbia that organized their helicopter transportation and provided certified mountain guides during the excursion.
Though the two are involved in a plethora of extreme sports, including snowboarding, surfing, rock climbing, dirt biking, and more between them, climbing the spire proved to be a challenge. "To be completely honest, I was shaking, and I almost threw up and passed out," Cook says. Lara adds that he had never climbed anything of this caliber before.
"A huge part of what inspires The Spacies is just our search for adventure and the great outdoors," Cook says. In fact, "Infinity" is not the first time the band have recorded and filmed material for their music outdoors.
For the song "Here and Now," the two took a snowmobiling trip in Leadville, Colorado, in the heart of the Rocky Mountains to record vocals and track. They hauled a laptop, microphone, and portable interface up the mountain.
"We recorded those vocals for "Here and Now" at 12,148 feet, which unofficially we think has the world record for highest altitude land recording," Lara says. He says he applied for the record with The Guinness Book of World Records but never heard back.
But it's not about a potential world record. For The Spacies, it's about the experience.
"Dave was up there and it's super cold, 18 degrees, he has snow in his beard, and he's cutting vocals, and we just rode a snowmobile through fresh snow to get to the top of this mountain," Lara explains. "That was one of the best snowmobiling days we've ever had in our lives."
When they're tracking outdoors, they say there are rarely issues with the actual recordings. It's the weather and the forces of nature they face instead.
"There [are] very little technical difficulties," Lara says. "It's all about life and death. That first day (in Canada), [this] snowstorm blows in and we're huddling under the tarp, and then our guide['s] bear spray falls out of his bag and is punctured by a rock, and then all of us are inhaling this pepper bear spray that's supposed to put down a Grizzly bear. It felt like death in the lungs."
Lara also describes their recording location on top of a cliff with a sheer 2,000 foot drop. "It's just the irony, you're going to record and the technology [can] handle it, but we're at the mercy of Mother Nature when we're doing these things."
Part of what makes The Spacies special is, of course, the sense of adventure they are able to include in their sound and in their videos. But another important aspect of their sound is the unique approach to production.
"A huge part of making electronic music is the production aspect of it and something that really makes The Spacies stand out is that we make a lot of our own sounds organically," Cook says. "You might think you're hearing a snare drum or a kick drum, but really that could be a sample of us hitting bleachers at a high school."
Lara says they might use sounds from their backyards, or even a snowmobile engine revving up to bolster the build-up of an EDM song. "Hearing unique sounds that aren't typically used and just really memorable songwriting that means a lot of us," Lara says. "That really defines who we are as The Spacies and us as individuals."
"We just try to be as creative as possible," Cook adds.
The Spacies' vision of two worlds colliding is mirrored by the multimedia company that houses the band, Archipelago Entertainment.
Archipelago Entertainment is Lara's startup company, co-founded with his partner Brian Shenefelt. The company combines a record label (which features The Spacies and another electronic artist, Adara, on its roster), an education platform, and media development, all married with technology, Lara says.
"It's easy to get sucked into these routines like in LA or Nashville writing for other people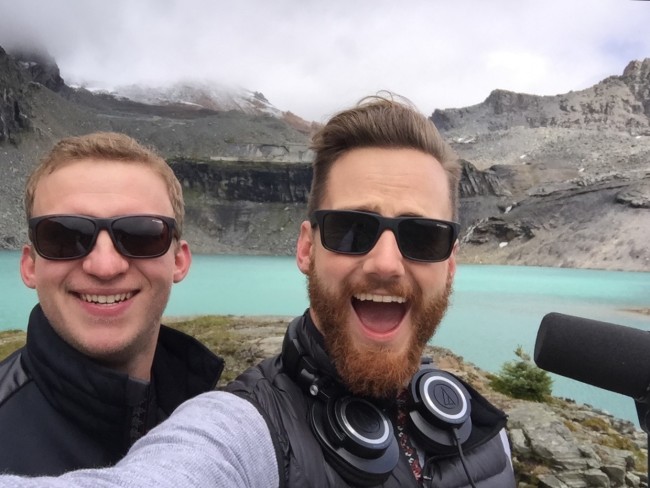 and constantly providing your services to record labels and having other people being gatekeepers," Lara explains. "I really wanted to start something on my own and marry my other super-huge passion of the outdoors . . . Anything that pushed my adrenaline over a certain threshold, I wanted to include that in the music. We only have one life to live."
Between The Spacies and Archipelago, Cook and Lara are finding new ways to keep pushing the limits of what's expected in music and in extreme sports. Their winning combination not only connects vivid natural scenery with thrilling music (and maybe a death-defying experience or two), it also creates a soundtrack to inspire an adventure on any scale. It's in this place that The Spacies seem to thrive.
"It's never boring," Cook says. "It's inspiring, it's different, it's the kind of thing you get really excited about. I've made other music videos and been a part of other projects and you make a video of [people] just walking down the street. Then you make a video like this and you're like . . . we climbed a mountain and almost died. It's pretty cool, you're gonna wanna see it."
The Spacies are currently working on their debut EP, but all their singles are available to stream on Spotify or purchase on iTunes.
Tags:
EDM
,
Electra
,
idobi Electra
,
The Spacies