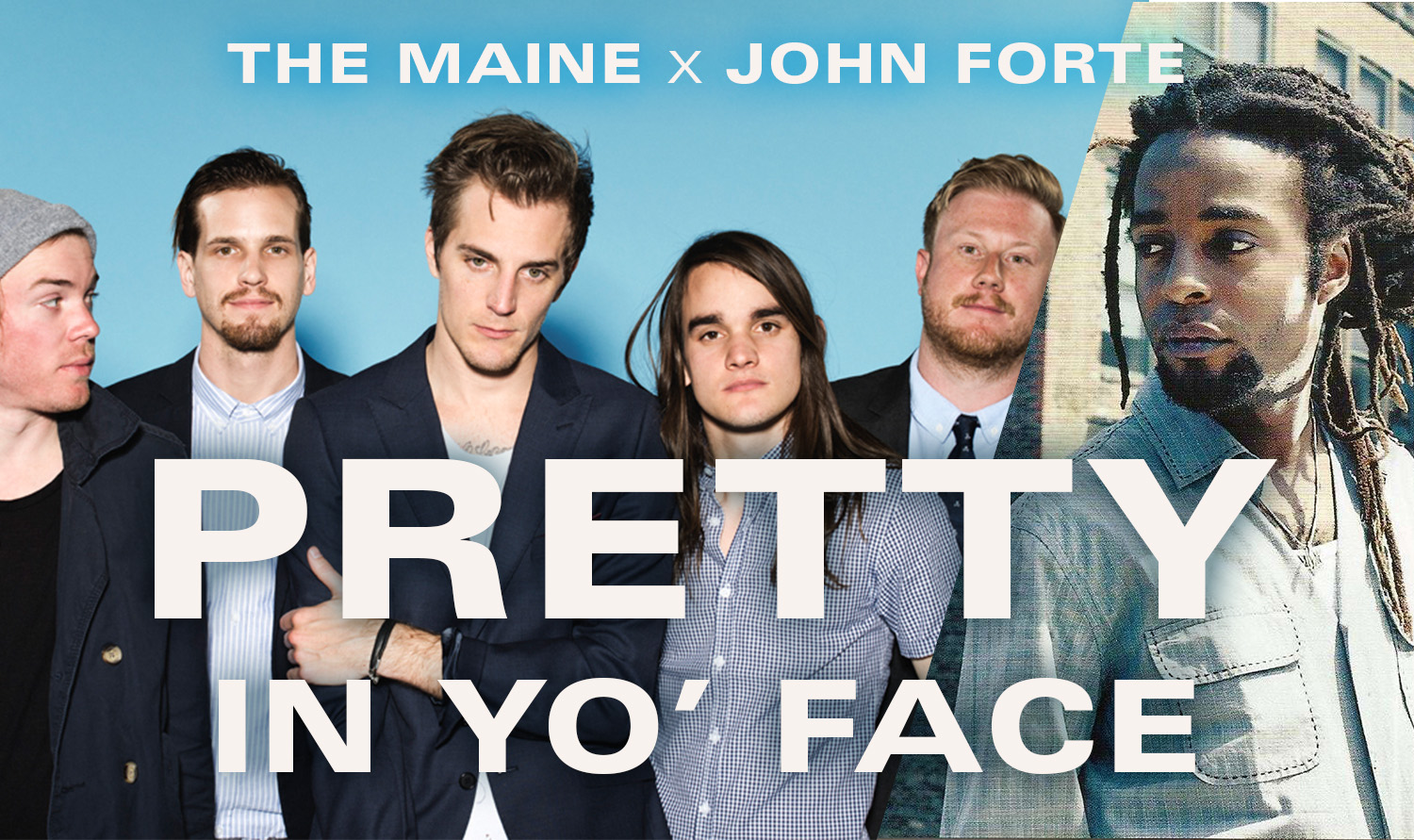 I woke up at 4am with The Maine and John Forte on my mind. Relax. This isn't a post about dreamy guys (although they certainly qualify). What woke me up from my sleep are two songs that share more than the word "Pretty" in their titles.
"Am I Pretty?"
I've read a few accounts that speak to the satirical nature of this otherwise upbeat song. There is a certain irony in the contrast between the music and the lyrics. The classic American pop-rock The Maine does so well makes you want to dance (there are "ba ba bah badas" in this song for Yeezus' sake) and yet the verses–like the one that follows–are astute social commentary, not parody:
You make me feel like
(Like what?)
Confetti for the gathering
So I'll get used to getting used
I'll do that for you
So maybe then you'll have me
Maybe then you'll have me
This ain't satire, lovelies. We could call it that but there's no exaggeration or mockery here. This is in-yo-face emotional honesty. It's a conversation between the band and their fans.
In the lyrics above, John O' steps into our shoes. What he's singing about is the same thing many of us wonder each day. Are we enough? And if not, what do we have to do–how badly do we have to be used in order to be appreciated. Every verse of "Am I Pretty?" poses this question in various ways until the band does a role reversal and answers them all:
There's beauty and grace in the flaws of your face
All candor and style in the crook of your smile
There's beauty and grace in the flaws of your face
All candor and style
The video illustrates this conversation perfectly. The lighting shows off the beauty of imperfections, while The Maine lets loose with sublimely goofy dance moves. Most importantly a group of people, who're just like us, tell their personal stories of abuse, to ridicule, to coming out. And by the end of the video they've reached the same conclusion The Maine wanted viewers to discover all along. Are we pretty? The Maine says, "hell, yeah," and they don't even have to be looking at us to see it.
–
–
"All The Pretty People"
In 2002 John Forte, of Fugees fame, sang a very similar song. However, the music and the content do not diverge from each other the way they do in "Am I Pretty?". The melody here is sweeping and just a tad melancholy, but Forte's tune is also a conversation about how we feel about ourselves. Specifically, how we feel when we compare ourselves to the razzle-dazzle of celebrity and celebrities:
…We made you beautiful
To make the tough times suitable
It's easy to see who
Made us not so equal
The TV told us
We weren't the pretty people
Who am I?
What am I?
Where do we classify in your stories?
Isn't it funny how those issues of social inadequacy that John Forte pondered in 2002 have become more poignant as we've become more social media inclined? It's funnier still that the question Forte posed back then might've finally been answered by The Maine. Where Forte wondered if the glare of celebrity would blind us to our own beauty, The Maine tells us it doesn't matter if you're beautiful like anyone else because your "pretty" is entirely your own…and that realization, lovelies, goes beyond being all up in-yo-face.
–
—
Did you miss our staff's reactions to the new "Am I Pretty?" video from The Maine? Shh, we won't tell anyone–catch up here!
Tags:
John Forte
,
The Maine