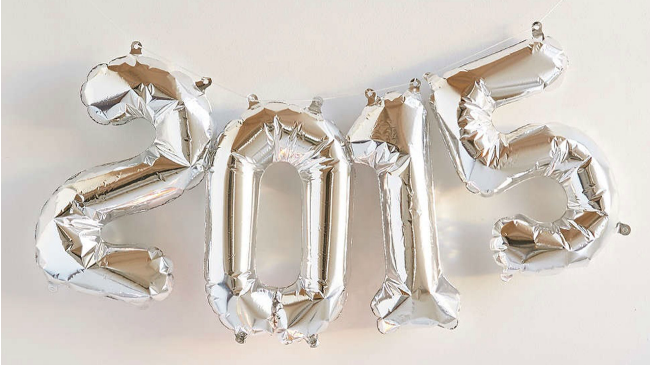 It's pretty apparent that we're writing to you from a time warp, because we're certain it's still 2008 even though we're discussing the biggest moments of 2015. Anything that happened this year that had you happy, sad, or anywhere in between can probably be found below. Check out what our staff remembers most from 2015, then let us know what you'd add to the list on Twitter.
—
Better Call Saul (Eddie Barella)
The highly anticipated prequel to Breaking Bad had a strong first season, with a pilot arguably better than Breaking Bad's premiere episode. Breaking Bad fans get a glimpse into how Bob Odenkirk's Jimmy McGill transformed into the conniving criminal lawyer, Saul Goodman. Or as Jessie Pinkman best put it in Breaking Bad, "Seriously, when the going gets tough, you don't want a criminal lawyer, you want a criminal lawyer."
Better Call Saul is set in the Breaking Bad universe with breathtaking cinematography, genius writing, and the perfect backdrop of Albuquerque, NM. All the actors are at the top of their game, including Michael McKean as Jimmy's brother Chuck. While watching Saul it was strange to think that both Bob Odenkirk and Micheal McKean are accomplished comedic actors as they delivered some of the best dramatic work of the 2015.
—
Panic! At The Disco performs "Bohemian Rhapsody" at the 2015 APMAs (Sherin Nicole)
Every time one of the TV talent show tries "it" I say the same thing, "Nobody, but nobody can sing Queen." You CAN'T do it. Your vocal chords aren't sufficiently interstellar–except maybe Adam Lambert's. But we knew Adam was a bejeweled alien living inside an Elvis-styled avatar from the start. Didn't we? So back to Freddie Mercury and how he can't be duplicated by human vocal chords… I was wrong. I said it. (Write that down, it won't happen again). During the 2015 APMAs I made my way to the front of the stage for the Panic! At The Disco performance. Brendon Urie sang "Hallelujah" then sat behind the piano and asked us all, "Is this the real life, is this just fantasy?" and then preceded to open an interdimensional wormhole into deep space by singing the frick out of "Bohemian Rhapsody" by Queen. If you'd looked around The Q Arena (now and forever to be known as the The Q[ueen] Arena) you would've seen an audience of thousands, from teens to oldtimers, with varying tastes in music, from everywhere on the planet, united in one voice. First time that happened all night. One word for that moment: stellar.
—
Brand New Song "Mene" From Brand New (Sara Scoggins)
Favorite bit of news this year was a new song from Brand New–finally! "Mene" came out this past April and it was the first new track they've given me in years. Got the chance to see them in concert twice this year and hear the track. Not a new album, but a new song is a step in the right direction.
—
The Punk Rock Renaissance (Brad Lopez)
Fifteen years ago I began the painful process of breaking up with the punk scene. The aggressive sound I loved as a teenager fell out of favor as the more marketable pop punk genre exploded in the early 2000s. I continued to follow my favorite bands but the time between albums and tours kept getting longer until I accepted the next time I saw them would be their last show.
Almost all of those bands toured in 2015, many releasing amazing new albums. The punk zeitgeist rewarded my loyalty. I cannot be more grateful. When Lagwagon toured in support of Hang in 2014, I assumed seeing them again would mean traveling to a farewell show in California. Then they were announced with the Fat Wrecked for 25 Years tour along with NOFX and Strung Out. A few months prior to that announcement, Good Riddance toured and released Peace In Our Time so I was prone to have an old, jaded punk aneurysm.
Then Millencolin emerged from a seven year slumber with True Brew late April 2015. Their sound is updated, but not in a way that my stubborn palette finds distasteful. Rather, it is the background music to my favorite memories in 2015. Millencolin played at Riot Fest with 88 Fingers Louie; a band I never expected to see live in my lifetime. Rancid played …And Out Come The Wolves beginning to end. I thought I had seen everything. I was wrong. Ten Foot Pole toured for seemingly no reason other than answering the pleas of my 18-year old self. The last time I saw them was roughly the last time I saw The Nobodys who also played in 2015.
I'm still not sure if I should interpret 2015 as closure or a new start between me and punk rock. I certainly have a different perspective on music than I did fifteen years ago but the bands I loved then are still good today, some are even better. Perhaps 2015 will mark the beginning of a punk renaissance. For now, I'm chalking it up to karma.
—
Good Charlotte Getting Back Together (Alex Bear)
My all-time favorite band announcing their return, a new song with plans for a new album, and a huge tour with All Time Low? Yup, pretty much just made my life, let alone my year. I was at my aunt's wedding when the news dropped, and let's just say her getting married was the second best thing to happen that day (okay I'm kidding, please don't tell her I said that–but it definitely made the day even better). It's been almost two months since they announced their comeback and I'm still fangirling. I can't wait to see where 2016 takes them!
—
Twenty One Pilots (Emillie Marvel)
Twenty One Pilots took over the world this year. The release Blurryface signaled the beginning of a whole new world of popular music. How often is it that you hear a band labeled ukulele screamo on the local radio station? Or see their shirts littering the hallways of a high school craft show? Or how about buy tickets to see them headline a venue that holds 10,000+? The band are on the edge of a revolution, and I personally can't wait to see what 2016 brings.
—
The 1975's New Album Tracklisting Announcements  (Eleanor Grace)
The 1975 have been announcing the tracklisting for their new record one song at a time with beautifully-staged photographs of light installations for each track. Both the photographs and the installations themselves reflect a very deliberate shift in the band's aesthetic, shedding the monochrome of their debut record in favour of a colourful new era heavily centred around the color pink. (They nearly broke the internet earlier in the year when they temporarily pulled down all of their social media, causing widespread panic about a potential breakup; the move turned out to be a symbolic death and rebirth as they moved into this new era.) Everything this band does is carefully and deliberately crafted, and announcing the tracklisting this way is just one of the many steps they have planned in bringing the hype for this record to a fever pitch ahead of its February 26th release.
—
The Maine (Sam Devotta)
I may be biased because I love them so much, but The Maine has ruled 2015. From the release of the addictive American Candy in March, to their free US shows (only a couple of months after an extensive North American tour), and their current holiday events, not to mention their endless love for their fans and John O'Callaghan's radio show, they've been everywhere this year, and I don't see anyone complaining. Here's to them continuing to be cool as shit in 2016 and beyond.
—
Star Wars Announces its Return (Hannah Pierangelo)
A lot of great things happened this year. Gay marriage was legalized. The Kansas City Royals won the world series. Jack's Mannequin reunited to celebrate the 10th anniversary of Everything In Transit. It's hard to pick a favorite, honestly. But since I am picking my favorite, I'm going to have to set aside all of those great things. My favorite thing this year isn't political, sports, or even music related. Instead, it has to do with me. My childhood. One of my favorite series to ever exist. I'm talking about Star Wars. It hasn't even happened yet, but this movie is about to change my life (probably). Growing up, my brother and I mostly watched movies together and Star Wars was always our first choice. I remember endlessly fighting over watching A New Hope (his favorite) or Return of the Jedi (my favorite). He's older, so you can guess the winner of that battle. I've seen all six movies, and I'm one of those freaks that actually enjoyed Episodes I, II, & III. I dressed up as Leia one year for Halloween. At Disneyland, I always have to ride Star Tours with C3P0 and see/crash into every planet in the Star Wars Galaxy. I wouldn't call myself a diehard or anything, but I am a pretty big fan. This is the series that I grew up with, and therefore will also force my children to love someday, too.
So the fact that Episode VII is a thing is basically the best news of the year. Plus, we are now beginning the third trilogy of Star Wars movies, meaning by Episode IX we will have a trilogy of trilogies. This alone makes me so happy. Even if the new movie isn't everything I'm imagining (although I have every reason to believe it's going to be flippin' awesome), the fact that I get to spend more time in one of my favorite fictional worlds is good enough for me. I couldn't ask for more.
—
Victorious by Panic! At The Disco (Emily Yee)
If anybody knows how to write a badass song and have a hilarious music video accompany it, it's Panic! At The Disco. "Victorious" is the kind of song you'd blast through your car speakers with the windows rolled down, spiking your adrenaline as you speed down the highway like some dramatic runaway scene straight out of a movie. It's the kind of song you'd match your gait to as you walk down the street with your headphones in, probably intimidating others with your fast pace, swinging arms, and likely lip-synching. Yet in the music video, there aren't any dramatic runaways or terrorizing of unsuspecting bystanders involved. It's even better. Brendon Urie beating up some dude twice his size? The race to walk an old lady across the street just in time? Being pelted by dodgeballs from all angles? Check, check, and check. Featuring fantastic facial expressions courtesy of Brendon (for optimal effect, try pausing the video intermittently for some great meme material), "Victorious" inspires me to live my life like I'm always going to have a bottle of champagne around, ready to pop, and a handful of confetti to fling into the air.
—
The Wonder Years' 10 Year Anniversary Shows (Hannah Hines)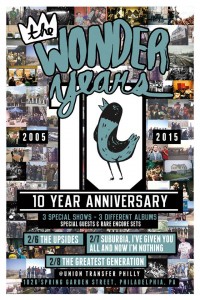 My favorite moment of 2015 would have to be The Wonder Years' 10 year anniversary shows. I was fortunate enough to score tickets to all three nights, but the best night was by far The Upsides. There's something about seeing an album played in full that makes you appreciate it more. Also, exploring the band's hometown of Philadelphia over a few days made me understand why the city is talked about so much in their songs and I left feeling more like a local than a tourist. Traveling for music is an experience everyone should add to their bucket list. Staying in a hotel with a bunch of other "pop-punk" kids DOES leads to 2am pizza parties and late night games of Pokemon; memories I'll never forget.
—
The Story So Far's self-titled album (Tess Reynolds)
In my opinion, this album is the greatest album released in all of 2015. The Story So Far is an incredible installment in the band's discography, one that provided punch and wit, unlike any album released this year. I will never forget the first time I listened to the album. I went to Target the day before the album was released and convinced one of the employees to let me buy it early because I had to have it. I listened to it in the car ride back to my house with my cousin and boyfriend, volume turned all the way up. It was a moment that perfectly fit how I feel about the music: perfect.
—
Bring Me The Horizon's Video for "Throne" (Shelby Chargin)
Bring Me the Horizon's music video for Throne is probably my top moment for 2015. 2015 was a massive year full of change, learning, and exploring for me and throughout a lot of those new experiences came a lot of self-doubt and while the song alone was amazing, the video really pushed the message of "I will not be torn down" into my head. As hardcore as Bring Me can be, there's no doubt they've been one of the most inspirational bands in my life. This music video, with all the overcoming darkness imagery, really inspired me throughout the remainder of 2015, and will continue to in the new year.