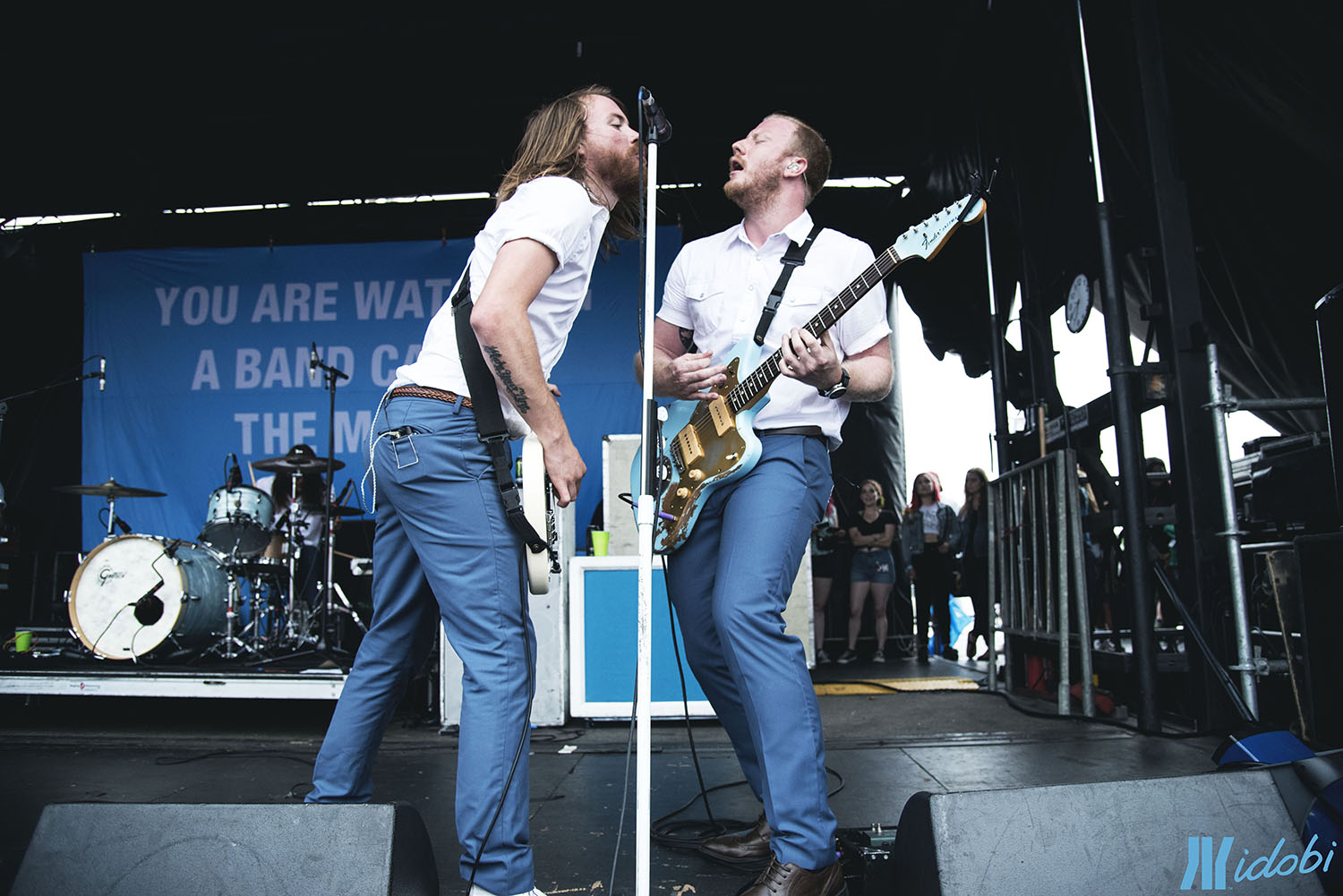 In the year 2007 from the faraway land of Arizona, a group of guys formed a band called The Maine. What follows are six easy steps to learn how to become a fan of their music. The steps are simple and (quite frankly) life-changing.
Step One: Listen to the chatter about the band ebb and flow in conversations and publications starting in the tenth or eleventh grade. This will be at the cusp of your slow departure from music for a sad while, so don't act on your impulse to listen to the music. (Of course, feel free to skip this miserable step; we wish we had.)
Step Two: Stumble upon American Candy a year after it was released and finally listen. Absorb it for weeks. Fall in love with "Diet Soda Society"; post a SpongeBob meme of "Am I Pretty?" on Facebook. Believe that "(Un)Lost" was made just for you.
Step Three: Watch The Maine from afar at Warped Tour 2016. The massive crowd won't budge, so you'll be stuck trying to sing and dance while craning your neck to see the band move across the itty bitty stage—but it's your fault for watching the beginning of another set instead of securing a spot. The Maine will be wearing matching outfits: pristine white shirts with blue pants. The banner hanging from the stage will simply read "You are watching a band called The Maine"—which is quite possibly the most efficient marketing campaign you've ever seen. As you listen to the songs, you'll watch vocalist John O'Callaghan bring a guy up on stage, figure out that he's looking for a boyfriend, and then get him in the crowd to kiss another single guy; everyone will clap and cheer. You'll also realize that this group of guys from Arizona has more albums than American Candy and you don't know them yet. Make do with random mouth movements; you'll still enjoy yourself (plus you don't know anyone here).
Step Four: Ask your friend, a die-hard The Maine fan, what album you should listen to next. He'll recommend Can't Stop Won't Stop. Buy it. Listen to it. Love it. You'll find yourself slowly converting from the sugary sweet American Candy to the techno, guitar-heavy "You Left Me." You'll think "We All Roll Along" was—once again—written for you. You'll finally get the chorus right in "Girls Do What They Want" about 75% of the time.
Step Five: Give Black & White a listen on Spotify. Torture yourself with all its amazing glory. Dream of the day you'll buy the album for yourself. "Inside of You" will give you goosebumps each time you hit replay because you need to listen to it one more time. If you're alone in your room or car, allow "Fuel to the Fire" to make you dance. (If people are around, refrain.)  
Step Six: Repeat Step Five with Pioneer and Forever Halloween until you own a physical copy of every The Maine album. Oh, and go see them in concert again, even if the above steps aren't complete.
—
Look out for more posts from us talking all things The Maine to celebrate the band's 10 year anniversary!
Tags:
8123
,
8123 Fest
,
The Maine