To be a hard rocking musician, selling thousands of albums and playing the mainstage on Vans Warped Tour all summer long, you've gotta take cues from a few bands yourself. You heard that right kids, even the bands you go (batshit) crazy over in the pit, and wait for hours to meet, and spend a good portion of your life listening to on repeat, have bands they ALSO go (batshit) crazy over in the pit, and wait for hours, and well, you get the point. No one proves this better than our buds in The Maine. The guys declare their love for their favorite artists so loudly, they've released not one, but TWO cover collections so far: Covers (Side A) and (Side B). But more on that later…
Like any music legends, The Maine did it the hard way—they started from the bottom (on Myspace) now they're here. You like that sleek Drake reference, don't you? The guys had a breakthrough complete with wearing fringes and scarves, making it pretty clear that most of their early references might have been from a bottle of Jaeger (sorry guys). As they've matured and found their sound, however, you can hear the artists who've been relevant to them time and time again throughout their lives.
Listening back through the band's catalog, it's pretty apparent the mighty decade of the 90's plays a heavy hand in who The Maine are as a band. The guys have been compared to the likes of Goo Goo Dolls and Dishwalla, and although they swear they aren't trying to callback to the time, they also aren't afraid to tell about the influences from artists like Wallflowers, Counting Crows… and Tom Petty. Frontman John O'Callaghan credits a Petty concert as a nirvana moment of his own, a feeling he can share with 8123 labelmate Nick Santino.
Not only can you hear that influence on their original tracks, but you can feel the vibes on their cover EPs as well… And that's probably because the entirety of Side A is made up of 90s tracks. "Side A is mostly stuff that we consider part of our upbringing in the 90's as 90's kids. I feel like we just wanted to do something for ourselves, do something that was real 90s just like us," guitarist Jared Monaco says. From "You Get What You Give" to "As Long As You Love Me" (which is originally poppier than The Maine's style, but not after they've had their say), it's an ode to the generation that built the band, and it's as beautiful as you'd imagine it.
But hey, what about Covers (Side B)? It was just released today, and The Maine will play it it tonight in an exclusive idobi Radio Release Day Listening Party, but where does it play into the band's sound? Well that's where the fan's influence comes in. Side B is what the kids are listening to these days, with selections from Drake, and Rihanna (John O. delivering Drake lyrics. Yeah.)
Now that we've covered everyone you've heard of, let's get to the topic of everyone you haven't. On John O's show, here on idobi Radio, he covered a new track at the end of each episode. His show Mixed Tape was filled with deep cuts from artists you might have heard of, but songs you definitely hadn't. John O joked about the band's obscure taste while talking about compiling the covers EP tracklist, saying they couldn't cover their personal favorites "because we have better taste in music than everybody else." However unknown they were to you, from The Cars "My Best Friends' Girl" to Beck's "Guess I'm Doing Fine", the songs played on the show had just as much influence on the songster, something you could hear in the passion when he performed them…and you also heard in the conversation with his father, who also goes by the name of John O'Callaghan, when he joined the show over the holidays.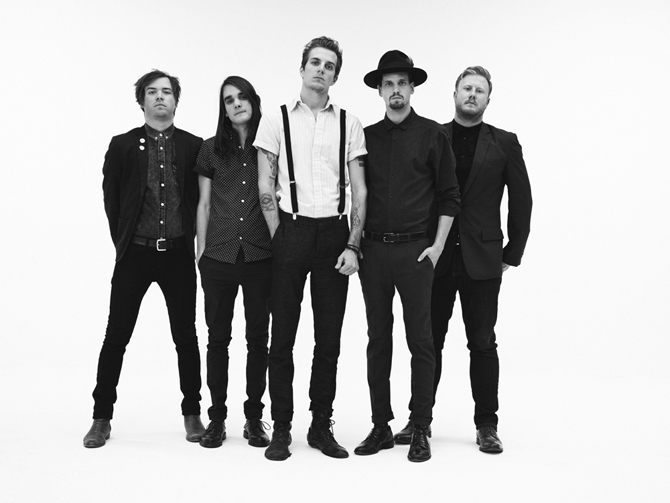 It's each little bit of influence from over the years that's added to who The Maine are today and the sound they're proud to call their own. Now that they're here, they're able to bring their own spin to each song they record. While the band sounds like they're on their own playing field with Covers (Side A), it's equally fun to hear what they bring to the table during Covers (Side B). So turn it on, turn it up, and tune in to ido.bi/player tonight to let the band guide you through the whole collection.
—
Tune in to ido.bi/player tonight at 7PM ET to hear The Maine take you through Covers Side A and B, and tell exclusive stories along the way. Only on idobi Radio!
Tags:
Covers
,
Covers (Side B)
,
Covers Side a
,
idobi radio
,
RDLP
,
Release Day Listening Party
,
The Maine