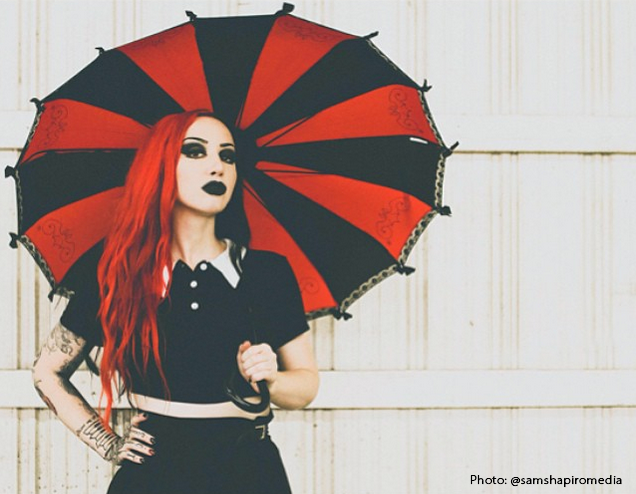 There's just a few short days left until the festivities in Cleveland begin… we know you know what we're talking about. And we also know you know the APMAs hosts Alex and Jack (some of you a little too well), so now we think it's about time you get the lowdown on this year's red carpet hosts. Reporting on the front line where all your favorite bands arrive in style, Ash Costello from New Years Day and Keith Buckley from Every Time I Die will be bringing you all the up to the minute details. First up is Ash Costello–read on to find out just what to expect from one of your official red carpet hosts of 2015!
If you make it out to Quicken Loans Arena in Cleveland, Ohio, look for the vocalist of goth-rock band New Years Day, Ash Costello. Actually, you can't miss her! Ash rocks red and black two-toned hair and a signature goth style that's unmistakeable.
She hails from Anaheim, California, but despite sharing her hometown with Disneyland, Ash isn't exactly a Disney princess, although she did work there at one time. Ash told Alternative Press that she used to be a chipmunk, a penguin from Mary Poppins, and a gingerbread cookie. Swap the sparkly ball gowns for leather corsets, black lace, and spiky jewelry and Ash seems more like a gothic beauty from a vampire flick.
But Ash is a huge fan of horror movies. In an interview with Examiner, Ash explained that her grandmother was a practicing Wiccan and worked in theater production on horror films. "I grew up with Fangoria and severed body parts (from her grandma's work) lying around the house," Ash said. One of her favorites is Texas Chainsaw Massacre.
The love for horror helps define New Years Day, too. The band's sound has been called "haunted mansion rock" and might be the perfect thing to listen to at a creepy Halloween party. Ash explains that she keeps an open mind about the supernatural. "I just feel that there are so many unanswered questions in this world that there is no way of knowing for sure if something magical does or does not exist," she told Revolver Magazine last year. "I keep an open mind when it comes to the unknown and am never truly set in my way on any one belief."
The band's gothic horror style may play a lot into their rock music, but they always keep the music real. Ash sings about real problems and tries to turn problems into positives. About the band's EP released last fall, Ash said:
"We have… dealt with many hardships as we discovered who our real friends were and real enemies. The people who love you for you, and the people who are never satisfied with anything you do. It's something we know everyone can relate to it on their own level. The world can infect us with its negativity, and it's ok to struggle with it. That's truly what Epidemic is about–owning the diseased parts of us and turning it into a strength."
The band will release their third studio album Malevolence, in October. Ash and her band just wrapped up a massive tour with Motionless in White, For Today, and Ice Nine Kills this spring, and they're also playing all summer on the Vans Warped Tour, so be sure to catch their set. You can check out New Years Day on Facebook and Twitter.
Voting for the APMAs has closed, but tickets to the award show are still available here. Or, you can tune into all the fun on AXS Television on July 22nd to see a live broadcast.
Tags:
ALTERNATIVE PRESS MUSIC AWARDS. APMAS. ASH COSTELLO. EVERY TIME I DIE. FOR TODAY. ICE NINE KILLS
,
keith buckley
,
Motionless In White
,
New Years Day