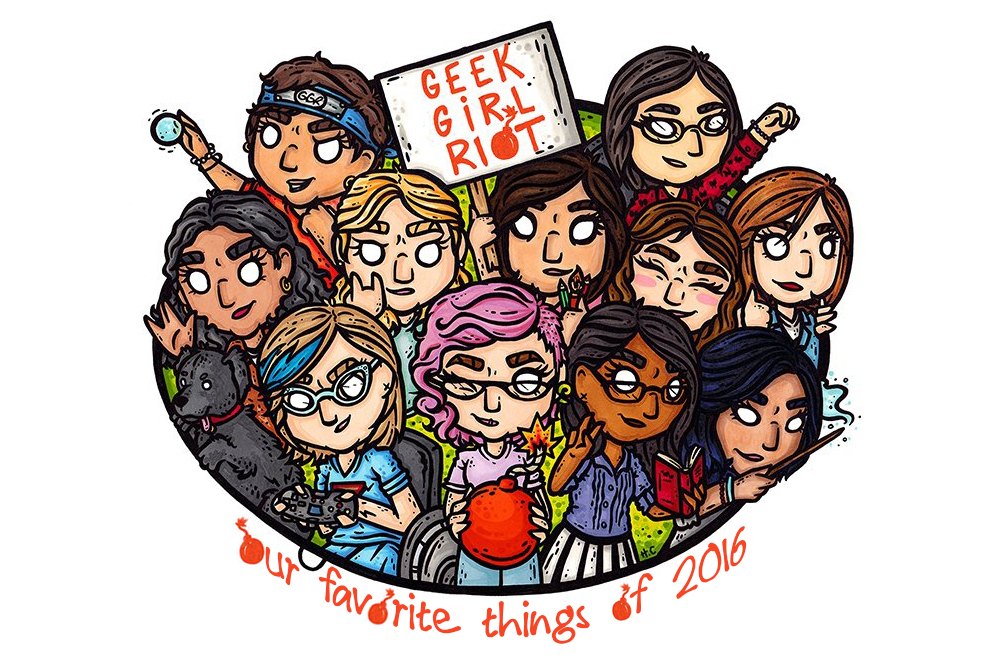 It's been one hell of a year—and more than ever, we're grateful to all the creativity in the world that has kept us geeking out and fighting on. Our Geek Girl Rioters would like to thank you for listening, and today they're sharing some of their favorite shows, books, movies, and moments of 2016, as well as a few other tidbits (including a cameo from the Delorean, because our show is powered by 121 gigawatts of pure geekery, after all). Get to know our Rioters just a little bit more below, and see you all in the new year!
—
Sherin Nicole

Great 8:
1. This Is Us – The writing on this show is genius. I adore it. Watch it.
2. Dirk Gently's Holistic Detective Agency – it started off a bit too precious but then it blossomed into a wonderful adventure through synchronicity, karma, and full on weirdness. Such a good time.
3. Goblin (Korean Drama) – it has everything I love: great writing, fantasy, action, a warrior poet hero who has a vulnerable side, a backstory unfurling through time, mythic SWORDS, giggle-until-you-snort moments, oh-my gosh-my-face-is-wet moments, a heroine who does what she wants, surprises, romance…It's so damn good.
4. Atlanta – It's so smart.
5. Westworld – It wasn't my favorite but some of the storylines stunned me, the production design was gorgeous and I really need to talk about it.
6. The Flash, Season 3
7. Pitch – Major League Baseball's first female player takes on expectations, sports heroes, social media, and daddy issues.
8. Crazyhead – Absolute craziness erupts in a pair of female demon hunters' lives and yet they still have time for awkward social moments. "They tell you they lose [their phones]. They don't want to call you because you totally weird them out."
Three to See:
1. Arrival
2. Deadpool
3. Moonlight
Honorable Mentions: Zootopia and La La Land
Buy the Book:
Saga (ongoing comic book series)
—
Sam Devotta

Great 8:
1. Sherlock: The Abominable Bride
2. Adventure Time
3. Doctor Who – I just started watching it this year and LOVE it
4. Brooklyn Nine-Nine
5. Black-ish
6. The Delivery Man
7. Broadchurch
8. Buffy the Vampire Slayer – I'm rewatching it for the first time in years and it still—mostly—holds up
Three to See:
1. Fantastic Beasts and Where to Find Them
2. Deadpool
3. The Jungle Book – the animals look so real!!!
Buy the Book:
A Darker Shade of Magic – V.E. Schwab because it introduced me to my new favorite author and also there's a cross-dressing lady pirate.

Favorite Things of 2016:
My favorite thing of 2016 was the trailer for Sherlock season four. It's been several months since that first teaser came out and I still watch it at least once a week. Not only does it get my heart racing and my mind whirling, but it was also the catalyst for my first report on Geek Girl Riot back in August. This January, I'm going to be a mess of emotions and it will all be Benedict Cumberbatch's fault.
—
Alex Bear

Great 8:
1. Unbreakable Kimmy Schmidt
2. House of Cards
3. Crazy Ex-Girlfriend
4. Master of None
5. Jessica Jones
6. Gilmore Girls: A Year in the Life
7. Lucifer
8. Preacher
Three to See:
1. Deadpool
2. Fantastic Beasts and Where to Find Them
3. Rogue One
Rejection Section:
Whitewashing. And being "mansplained" to when I bring it up that "movies just won't sell with female/non-white, non-big names". Can you smell that? Because that's the biggest pile of bullshit I've ever encountered.
—
Alice Wong

Great 8:
1. Insecure
2. Orphan Black
3. Better Call Saul
4. Stranger Things
5. The Night Of
6. Mr. Robot
7. Queen Sugar
8. Luke Cage
Three to See:
1. Finding Dory – a great representation of disabled characters and of a disability community in my opinion
2. Captain America: Civil War – not as good as the Winter Soldier but close and a shit ton better than X-Men Apocalypse and Batman v Superman
3. Keanu – because I like cats, George Michael and of seeing Key & Peele on the big screen
Rejection Section:
I never want to see any more Asian characters whitewashed in movies. I don't think that'll happen but I can still wish it. Period. I'm also sick of POCs having to explain to folks why this matters and having that interaction portrayed as 'sensitive,' 'PC,' or 'angry.' For example, the recent exchange between Margaret Cho and Tilda Swinton and the apparent attempt to re-frame the exchange by Tilda Swinton's PR people in Jezebel and Vanity Fair. Gene Denby's Twitter thread on the power differential between Cho and Swinton and the expected labor of POCs was spot-on.
—
Soma Brodhun

Great 8:
1. Stranger Things
2. Game of Thrones
3. The 100
4. Veep
5. Luke Cage
6. Fresh Off the Boat
7. Black Mirror
8. Westworld
Honorable Mention: The OA dropped this month with little fanfare but this little experiment packs a wallop. It will make you in turns angry, uncomfortable, and intrigued. I'm still not sure if I liked it or hated it.
Three to See:
1. Rogue One
2. Fantastic Beasts and Where to Find Them
3. Deadpool
Honorable Mention: The Witch
Buy the Book:
Pretty Girls – Karin Slaughter. This book is a punch to the gut.
Also, American Gods by Neil Gaiman. Yes I know it's not new, but I re-read it a few months ago in prep for the TV series coming out and rediscovered just how good it is. Seriously, read it again…you will thank me.
Rejection Section:
Remakes….seriously, stop it. Okay, after Duck Tales..then no more remakes.
Revenge of the Nerds – We need to be better at inclusion and drop the whole "I liked that before it was cool" attitude. We need to stop trying to win the crown of geekdom. There is room for all of us!
2017 Delorean:
What I would love to see in 2017…I would love for someone to take on the Myth books by Robert Aspirin. My favorite was Another Fine Myth. My brother introduced me to these books when I was 8, at the same time that he started bringing me to hang out while he and his friends played DnD. They were my first intro to Sci Fi & Fantasy and I always go back to them.
Also, I will never forgive SciFi for canceling the Harry Dresden TV show after half a season. That one hurt worse than Firefly. So I will always wish for someone to give us some more Dresden Files.
—
Erin Hawley

Great 8:
1. Mariah's World – For obvious reasons – I'm a super lamb, and adore getting a more intimate glimpse of my favorite diva.
2. Designated Survivor – Total fluff mixed with an engaging mystery. The acting and direction are often hilariously bad, and the plot is full of holes, but it's still an enjoyable watch.
3. The Walking Dead – I debated whether to include this or not, because I think TWD has finally lost me. Like Supernatural, the show started out fantastic, but became too aware of its own fan base and weighs down the episode with boring tension that ultimately goes nowhere. But I'm including it here, because I do love previous seasons and it's one of the few current TV shows I watch.
4. Speechless – I also debated on including this, but I want to since it's so ground-breaking in terms of disability representation. It's not for me (jokes fall flat, can't stand the family), but I recognize its importance and everyone else I know seems to love it.
5. Timeless – Cheesy and fun. I like history and time travel shows, so it was an automatic watch.
6. Parks and Recreation – This last month, I found out P&R had an ENTIRE season (7) I didn't know existed! It was a lovely surprise, and just what I needed after a stressful week.
7. The Leftovers – I watched this because of Christopher Eccleston. It's disturbing at times, but it keeps you hooked in with suspense.
8. Single Dad Seeking – My mom watches reality TV dating shows, and one day I went into the living room as she watched this. It sucked me in, lots of drama with an interesting twist. A bunch of single dads meet women they've talked to online, and they stay with them for a month. Better than The Bachelor, and you can't look away – mostly because some of the dads on the show are bizarre as hell.
Three to See:
1. Star Trek Beyond – Because Star Trek. Better than the second movie, and it felt the most like the original series. Great chemistry between the cast, which is why TOS works so well.
2. For the Love of Spock – Notice a theme yet? I funded this movie, and it did not disappoint at all. Made with love by Leonard Nimoy's son, incredibly moving and…fascinating.
3. Finding Dory – Cute, charming, and a commentary on disability and interdependence.
Buy the Book:
Saga (comic book series) – Unique, and did not want to stop reading. Characters have realistic relationships, and it manages to deal with heavy themes while keeping a sense of comedy and lightness throughout.
—
Angie Henry

Great 8:
1. Stranger Things – So much to love about this series from the performances to the plots! And it completely nailed the 80's.
2. Erased – Edge of your seat psychological suspense/thriller, featuring time travel.
3. Fleabag – Hysterically funny, profane, and heartbreaking.
4. Crazyhead – Two strong females leads who perfectly mix badassery, social awkwardness, and demon hunting.
5. The Librarians – Any show that portrays kickass librarians has a fan in me for LIFE!
6. Flip Flappers – Different, edgier take on the magical girl genre.
7. River – Excellent performance by Stellen Skarsgard as an unstable homicide detective who sees the ghosts of murder victims.
8. Marcella – Intense and emotional performance by Anna Friel as a homicide detective trying to save her marriage and solve a serial murder case.
Honorable Mention: Occultic;Nine – Plot keeps you on your toes!
Three to See:
1. Deadpool
2. Zootopia
3. Fantastic Beasts and Where to Find Them
Honorable Mentions: Miss Peregrine's Home for Peculiar Children, Spectre, Bourne, and Doctor Strange
Best Female Lead:
Judy Hopps Voiced by Ginnifer Goodwin
—
Cindy Tenicela

Great 8:
1. Westworld
2. The Walking Dead
3. Fear The Walking Dead
4. Stranger Things
5. The Night Of
6. Silicon Valley
7. Black Books – not new in 2016 but I just started watching it
8. Judge Judy – guilty pleasure
Three to See:
1. La La Land
2. Deadpool
3. War Dogs
Buy the Book:
1. Briggs Land (comic) by Brian Wood
2. Non Fiction Book: In a Different Key: The Story of Autism by John Donvan and Caren Zucker
3. Fiction Book: Let's Pretend This Never Happened and Furiously Happy by Jenny Lawson
Favorite Things of 2016:
CONVENTIONS!! Magfest, Otakon, Escape Velocity, Awesome Con, STEM Fest, Baltimore Comic Con, NYCC. 
Other Live Events: Making A Murderer Live Talk, Cherry Blossom Festival, and Come From Away the musical
Rejection Section:
1. FAKE NEWS and the idiots who believe it
2. Social media comments – there should be an IQ test that doesn't let you comment if you're an idiot
3. Trump – PLEASE JUST GO AWAY
2017 Delorean:
Could someone PLEASE bring Brian Wood's DMZ to TV. The reason I'm so excited about Briggs Land coming to AMC is I'm really hoping it opens the door for DMZ.
—
Tsuki

2016 Gamer's Choice:
1. Stardew Valley – Released back in Feb has been a hit. A inexpensive and fun experience that anyone can easily pick up. It is a relaxing game to play.
2. Overwatch – Since its anticipated release the game has quickly gained popularity. The multiplatform moba shooter is a ton of fun for those who want something a little different compared to the other mobas out there. And the diverse cast of characters make this game feel extremely inclusive. #BOOP
3. The Division – The story of this game combined with the amazing visuals of NYC make this a must play. The story is somewhat dark but I found it extremely interesting. The game is simply stunning and with the added features recently you can come back after a little break for some challenging game play.
4. Watchdogs 2 – This game is one of the most fun experiences I have had in a long time. The story and missions in this game are more light hearted and fun. If you enjoy the movies/TV such as Hackers, Mr Robot, etc then you really enjoy this game. Did i mention that the colorful world of San Fransisco is stunning. Because the game is also pretty. Added bonus the unique pixel-esque art in the game is also really cool.
5. RE:core – Even though I just started this game I was able to jump in and experience a ton fun. I have a feeling that I am really going to enjoy this game. Plus robo-dogs are cool.
Tags:
Arrival
,
Black Mirror
,
Deadpool
,
Fantastic Beasts and Where to Find Them
,
Geek Girl Riot
,
GGR
,
Gilmore Girls
,
Luke Cage
,
Master of None
,
Overwatch
,
Pitch
,
Preacher
,
Rogue One
,
Star Trek
,
Star Wars
,
Stranger Things
,
The Division
,
The Walking Dead
,
Unbreakable Kimmy Schmidt
,
Westworld