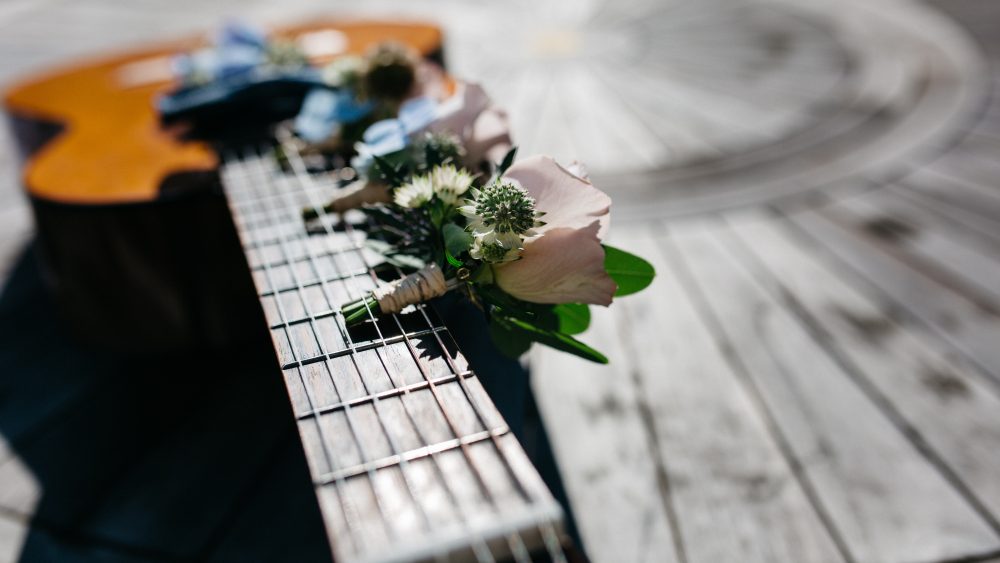 What better way to kick off a weekend than with new music? Fridays are always chock full of the latest songs and albums ready to be the soundtrack to everyone's antics, and here you'll find some of the week's standout releases. Whether you're ready to spin an anticipated song from a favorite artist or just taking a look at what's out there, there's a whole lot of tunes to dive right into. Who knows—maybe you'll find your next obsession.
Meghan Trainor – "No Excuses"
Queen of sass Meghan Trainor makes a triumphant return to the pop game with her new single, "No Excuses." Influenced by the recent Time's Up and Me Too movements, Trainor's fiery gem demands respect from all those who jam to it, and especially the ones who the track is dedicated to. Her upcoming album is slated for release later this year.
Chvrches – "My Enemy"
For their new album Love Is Dead, electro-pop act CHVRCHES is doing something they've never done before: Work with outside producers. As a result, the songs we've gotten thus far from the record show off a slightly refined version of the band while still maintaining their identity. The Greg Kurstin-production touch comes through nicely on "My Enemy", a synth-laden collab with The National's Matt Berninger.
Rae Sremmurd – "Powerglide"
Superstar rap duo Rae Sremmurd are doing something special with their new albums and the fact that "albums" is plural says all you need to know. For their upcoming SremmLife 3 triple-disc record, Rae are dishing out a joint full-length along with solo records from both members. Even though three songs from the respective albums dropped this week, there's no denying the tenacity of Rae when they hit the booth together—"Powerglide" is a natural banger from start to finish.
Vinyl Theatre – "Feel It All"
Having just departed Fueled By Ramen, alt-pop group Vinyl Theatre have something to prove. The Wisconsin trio escape their comfort zone on "Feel It All", leaving behind high octane rock in exchange for a building pop-rock anthem in vein of Thirty Seconds to Mars. Leaving a label can be tough for a band to adjust to but Vinyl Theatre are taking it in stride.
Flo Rida – "Dancer"
Pop-rap guru Flo Rida churns out another hit—because, duh—on his ridiculously catchy new single "Dancer." Acoustic guitar strums are a force to be reckoned with as they provide the meat of the melody but Flo's explosive chorus is undoubtedly the true highlight.
Hawthorne Heights – "Pink Hearts"
On their first full-length in five years, Hawthorne Heights are going back to basics on the upbeat new single "Pink Hearts." There's no emo anthem here though—the track is all about growing older with an optimistic tone to it. Off the album titled Bad Frequencies, chances are there'll be some heavier cuts in line with what they've been doing for over a decade but this new era of Hawthorne Heights starts off with a spring to its step.
Knuckle Puck – "Conduit" (Shifted)
After just releasing their excellent full-length Shapeshifter late last year, Knuckle Puck are giving fans something a little extra when it comes to more music. Out on April 6th, the pop-punk heroes are planning Shifted—a five song EP featuring re-worked versions of songs off Shapeshifter. On the "shifted" version of "Conduit", Knuckle Puck transform the track into an atmospheric acoustic number with piercing drum beats.
—
J-Hope – Hope World
The guys of BTS live and breathe music 24/7—they're also super talented solo, too—so it's no surprise that they want to channel their creativity down different avenues during some BTS downtime. Member J-Hope is unveiling his dancey and rhythmic mixtape, Hope World, bringing listeners into the mind of an artist whose personality doesn't come across in BTS nearly as much as it should. Seven tracks in length, the club smash "Daydream" launches Hope World into the ranks of some of the best k-pop released this year.
"Weird Al" Yankovic – "The Hamilton Polka"
"Weird Al" Yankovic is back in the best way possible as the parody artist unveils an instant classic—Hamilton but polka. Yankovic adds to his growing list of polka medleys with one that includes songs from the megahit musical Hamilton—and the best part is that you don't have to pay $2,000 to listen to it. Part-hysterical and part-really-freakin'-impressive, Yankovic is still on top of his game even after 30 years in the biz and counting.
Chris Cornell – "You Never Knew My Mind"
Legend meets legend as Chris Cornell covers Johnny Cash's poem "You Never Knew My Mind" for an upcoming Cash tribute compilation. The posthumous Cornell cut is an adaptation of words that Cash wrote in 1967. Cornell translates it into a haunting piece with great vocals that would have made Cash proud.
DJ Khaled – "Top Off"
(feat. Jay Z, Beyoncé, and Future)
The only thing more impressive than DJ Khaled's ear for a hit is his phone book—it's partly the reason why his new single, "Top Off," may be his next number one. Featuring a stacked line-up including Jay Z, Future, and Beyoncé, none outdo the others on this aggressive cut. It's a perfect storm of heavy hitters that smash it out of the park. Plus, a rapping Beyoncé is never a bad thing.
Other new releases:
Parkway Drive – "Wishing Wells"
Coast Modern – "Electric Feel"
Like Pacific – "Sedatives"
The Hunna – "Y.D.W.I.W.M."
Everything Everything – A Deeper Sea EP
Fickle Friends – "Wake Me Up"
The Neighbourhood – "Nervous"
Cheat Codes – "Put Me Back Together"
Blossoms – "I Can't Stand It"
Unknown Mortal Orchestra – "Not in Love We're Just High"
Young Rising Sons – "Whiskey"
The Vaccines – "Put it On a T-Shirt"
Jack White – "Over and Over and Over"
Logic & Marshmello – "Everyday"
Gucci Mane – "Solitaire"
Torey Lanez – Memories Don't Die
Carlos Vara – "Numb"
Mikky Ekko – Advance Copy EP / "Moment"
Moby – Everything Was Beautiful, and Nothing Hurt / "This Wild Darkness"
Little Dragon – "Best Friends"
XXXTENTACION – "SAD!" / "changes"
Nicky Jam, J Balvin – "X"
MNEK – "Tongue"
Tags:
Beyonce
,
chris cornell
,
CHVRCHES
,
DJ Khaled
,
Flo Rida
,
Fresh Pressed
,
Future
,
Hawthorne Heights
,
j-hope
,
Jay-Z
,
Joe DeAndrea
,
Knuckle Puck
,
Meghan Trainor
,
new music
,
New Music Friday
,
Rae Sremmurd
,
The National
,
vinyl theaatre
,
weird al yankovic