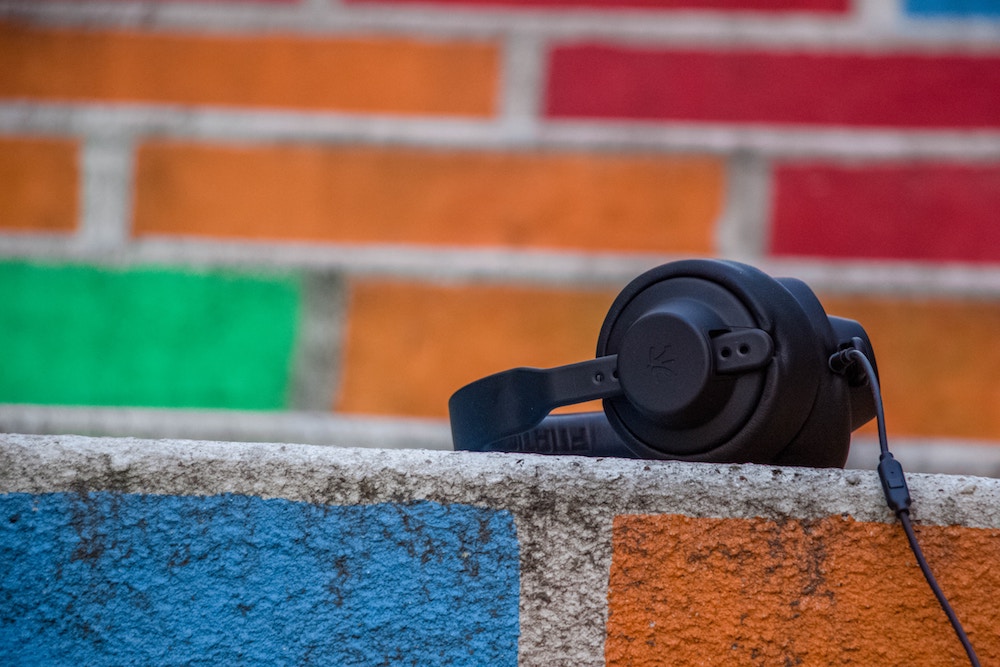 What better way to kick off a weekend than with new music? Fridays are always chock full of the latest songs and albums ready to be the soundtrack to everyone's antics, and here you'll find some of the week's standout releases. Whether you're ready to spin an anticipated song from a favorite artist or just taking a look at what's out there, there's a whole lot of tunes to dive right into. Who knows—maybe you'll find your next obsession.
Dashboard Confessional
– Crooked Shadows
15 years later and we're still screaming our lungs out to "Hands Down," but we've also been lucky enough to have Dashboard Confessional create new classics since. Crooked Shadows is the first Dashboard record in almost nine years, but you wouldn't realize it after listening. Only nine tracks deep, Chris Carrabba & Co. keeps things concise with their ageless sound, taking you on a memorable ride with heartfelt, soaring jams.
Various Artists – Fifty Shades Freed
(Original Motion Picture Soundtrack)
Say what you will about the Fifty Shades franchise, but the soundtracks that accompany them are always fire. Fifty Shades Freed is no different—the compilation to the trilogy's swan song is jam-packed with hits like Hailee Steinfeld & BloodPop's collab, "Capital Letters," and Liam Payne & Rita Ora's sexy dance smash, "For You." There's even the inclusion of Ellie Goulding's Fifty Shades of Grey track, "Love Me Like You Do," 'cause hey, why not?
Brian Fallon – Sleepwalkers
The Gaslight Anthem frontman Brian Fallon heads down a blues-y/Americana route for his latest solo album, Sleepwalkers. Following up 2016's Painkillers, Sleepwalkers delves deep into Bruce Springsteen influences while incorporating a pop vibe that helps make it his most accessible offering to date. "My Name is the Night (Color Me Black)" and "Forget Me Not" lead the pack as Sleepwalkers' standout tunes, but Fallon's raspy vocals will be what keeps you coming back for more.
Calvin Harris – "Nuh Ready Nuh Ready"
(feat. PartyNextDoor)
Calvin Harris proved to be one of the best in the business with the release of last year's record, Funk Wav Bounces Vol. 1. Straying away from his patented EDM flair that made him a household name, the artistic stylings of Funk Wav's trop-pop made it a breath of fresh air in the genre. Harris isn't slowing down for 2018 either—the producer enlists PartyNextDoor on his new track, "Nuh Ready Nuh Ready," but it isn't exactly Funk Wav Bounces Vol. 2. The song finds Harris dabbling in a dancehall-influenced number that sounds a little like a Major Lazer cut.
Rae Sremmurd – "T'd Up"
"T'd Up," the new single from rap duo Rae Sremmurd, is only the start of what is going to be a wildly prolific year for them. While the song is part of their upcoming project, their next album will actually be a triple-disc effort made up of a joint LP, then solo records from members Swae Lee and Slim Jxmmi. It's a little bit like what OutKast did with Speakerboxxx/The Love Below, but will Rae come close to that record's legendary status? "T'd Up" is high-octane fun—and with producer Mike Will Made-It at the helm anything is possible.
The Wonder Years – "Sister Cities"
Emotion is The Wonder Years' middle name and they're making it known with the first taste—the title track—off their upcoming album, Sister Cities. Powering through with a vengeance, "Sister Cities" puts the band's musicianship on display with melodic riffs and thunderous drums that accompany an all-too-catchy vocal line. Luckily, the new record isn't too far away: The Wonder Years' fifth full-length arrives on April 6th via Hopeless Records.
Noah Cyrus – "We Are…" (feat. MØ)
Max Martin and Savan Kotecha are basically the Michael Jordan and Scottie Pippen of pop music, and they prove it each time they get together for a song. On Noah Cyrus' latest bop, "We Are…," the two craft a bubbly track with an all-out anthemic chorus, building the hype for an upcoming Cyrus album to insurmountable heights. Titled NC-17, her debut looks like it's taking the shape of something special.
Various Artists – Black Panther The Album
(Music From and Inspired By)
It's safe to say that the upcoming Black Panther movie is going to be pretty iconic and it hasn't even been released yet. Glowing reviews galore, the film gives a mass media representation of black culture to a level that empowers and is sorely needed in society today. Similarly, rapper Kendrick Lamar has had the same kind of effect on hip-hop—when you combine the two, you get the Black Panther soundtrack with Lamar's DNA planted all over it. The curation results in brand new Lamar tunes that includes a dazzling collaboration with The Weeknd—it's a "can't miss" record for sure.
LOLO – "Leaning"
Although she may be known for her features on Panic! At The Disco's "Miss Jackson" and Matt Nathanson's "Headphones," singer/songwriter LOLO doesn't need those credits to prove she's the real deal. After releasing her excellent debut record in 2016, LOLO is back with a new single in "Leaning" and it's just what new listeners need to fall in love. A minimalistic but effective approach, LOLO lets her voice do all the talking with a powerful performance.
Other new releases:
MGMT – Little Dark Age
Coin – "Growing Pains"
Franz Ferdinand – Always Ascending
We Are Scientists – "One In One Out"
Rolo Tomassi – "Aftermath"
Ezra Furman – Transangelic Exodus
Chelsea Lankes – "Easy"
Ash – "Buzzkill"
Her – "Neighborhood"
James Bay – "Wild Love"
Ne-Yo – "Good Man"
Marshmello & Anne-Marie – "Friends"
Tags:
Black Panther
,
BloodPop
,
Brian Fallon
,
Calvin Harris
,
Dashboard Confessional
,
Ellie Goulding
,
Fifty Shades Freed
,
Fresh Pressed
,
Hailee Steinfeld
,
hopeless records
,
Joe DeAndrea
,
Kendrick Lamar
,
Liam Payne
,
lolo
,
MAJOR LAZER
,
matt nathanson
,
Max Martin
,
Mike Will Made-It
,
new music
,
New Music Friday
,
Noah Cyrus
,
OutKast
,
Panic! At The Disco
,
PartyNextDoor
,
Rae Sremmurd
,
Rita Ora
,
Savan Kotecha
,
Slim Jxmmi
,
Swae Lee
,
The Gaslight Anthem
,
The Weeknd
,
The Wonder Years