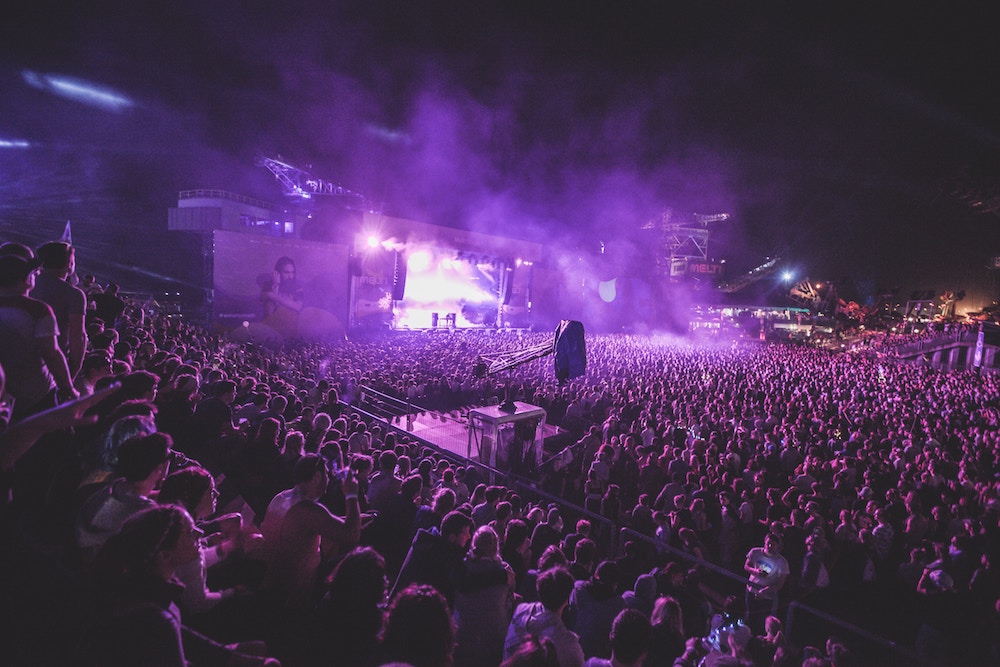 What better way to kick off a weekend than with new music? Fridays are always chock full of the latest songs and albums ready to be the soundtrack to everyone's antics, and here you'll find some of the week's standout releases. Whether you're ready to spin an anticipated song from a favorite artist or just taking a look at what's out there, there's a whole lot of tunes to dive right into. Who knows—maybe you'll find your next obsession.
Fall Out Boy – Mania
Fall Out Boy has emerged from the Chicago hardcore scene, became a staple in pop-punk, survived a break-up, saved rock and roll, and with their sixth full-length, Mania, it feels like they're just getting started. Mania leaves no time for filler as the output only offers 10 songs, but those 10 make a huge impact: "Wilson (Expensive Mistakes)" is a career defining song for the band, while "Heaven's Gate" proves that frontman Patrick Stump's vocals only get better with age.

The Chainsmokers – "Sick Boy"
twenty one pilots have been MIA lately, so The Chainsmokers are coming in hot to capitalize big time. The duo's latest single, "Sick Boy," drops their patented EDM act for a glimmering pop anthem—definitely something out of the handbook of Tyler Joseph mixed with a little of Jon Bellion. It's a change of pace for the "Closer" stars—but one that hits just as hard as their material usually does.

Justin Timberlake – "Supplies"
It's tough to come to terms with but we should probably just accept that *NSYNC is never coming back. The good news is that Justin Timberlake's new track "Issues" sounds pretty dang close to what the group may have sounded like in 2018 anyway. The latest Man of the Woods song is yet another Neptunes-produced number and the first time they've worked with solo JT music since his Justified debut. With a light hip-hop feel, Timberlake's pop vocal lines never miss a beat.
Waterparks – "Not Warriors"
For a pop-punk band, Waterparks are proving to be quite eclectic when it comes to their upcoming album Entertainment. "Not Warriors", the third song released from the LP thus far, takes Entertainment in another new direction for the band—a healthy dose of rock with added electronic vibes to bring their uniqueness to another entertaining level.

Moose Blood – "It's Too Much"
Releasing the closer of your album before its release date is almost like a "spoiler alert" for music. Sometimes people want that kind of surprise and, for Moose Blood fans, it might just give a little bit of insight into what the record is all about. "It's Too Much" is an emotionally-charged rocker with a steady guitar line before it bursts open in its bridge, ending a record that will hopefully pack as much power as the track that finishes it.

Betty Who – "Ignore Me"
Betty Who is an artist impossible to ignore. With her pitch perfect pop, she's been one of the most exciting musicians in the genre—with two excellent LPs to boot (her latest, The Valley, came out last year). Now, as an independent artist, Betty's letting her creativity flow free. "Ignore Me" is a simplistic dreamy tune with strong points vocally that highlight her pride, power, and conviction.
Circa Survive – "Chances Are"
To raise money for the ongoing relief effort in Puerto Rico, Circa Survive is doing their part by releasing a cover and donating all proceeds to the cause. They're taken on Bob Marley's "Chances Are" in a collaboration with Dub Trio to give the island tune an alt makeover. It's a surprise to no one, but frontman Anthony Green is a natural when it comes to making a song his own—with his singular voice—and he does so here with ease.

Head here to pick up "Chances Are" and donate to the hurricane relief effort for Puerto Rico and the Virgin Islands.
Bleachers – "Alfie's Song
(Not So Typical Love Song)"
Marking the first material since last year's album, Gone Now, Bleachers kicks off 2018 with a bang with "Alfie's Song." Taken off the soundtrack to the upcoming film Love, Simon, musician Jack Antonoff was born to pen feel-good songs with substance. This infectious pop number is nothing new when it comes to what Antonoff is known for but it solidifies his chokehold on the genre.
Of Mice & Men – Defy
Losing a vocalist is never easy—oftentimes a band just becomes a shell of themselves with someone new at the helm. For Of Mice & Men it was the departure of frontman Austin Carlile that led to the band's fifth studio album, Defy. Stepping into his shoes is bassist Aaron Pauley. Pauley helps keep things familiar, but what's important is the band's metalcore is hardly watered down—they've got a new lease on life and Defy proves it with every riff.
Dashboard Confessional
– "Heart Beat Here"
It isn't realistic to expect the Dashboard Confessional of old on Crooked Shadows, the band's first full-length in nearly a decade. Still, the latest track, "Heart Beat Here," shows that some qualities are never lost, no matter how much time has past. Dashboard fans may remember that the song was actually released in 2016 as a sneak-peek into what Chris Carrabba was cooking up in the studio, but this official album version just helps make the new era a reality. The Crooked Shadows single is an optimistic acoustic tune with Carrabba laying his heart out on the line, and that's when Dashboard is at their best.
Other new releases:
AWOLNATION – "Handyman"
The Decemberists – "Severed"
Troye Sivan – "The Good Side"
Alvarez Kings – "The Other Side of Sadness"
Editors – "Magazine"
Maroon 5 – "Wait" (Chromeo Remix)
Moon Taxi – "Let the Record Play"
The Eels – "The Deconstruction"
Andrew WK – "Music is Worth Living For"
Cashmere Cat – "Miss You" ft. Major Lazer And Tory Lanez
George Ezra – "Paradise"
Rudimental – "These Days" ft. Jess Glynne, Macklemore & Dan Caplen
J Balvin – "Machika"
Mikky Ekko – "Not The One"
LIVVIA – "Catch A Body (feat. Quavo)"
Kylie Minogue – "Dancing"
Remy Ma – "Melanin Magic (Pretty Brown)" ft. Chris Brown
Kimbra – "Human"
Bella Thorne – "Burn So Bright"
Porches – The House / "Goodbye"
Rafferty – White Flower EP
Family Force 5 – "Fire on the Highway"
Tinashe, Offset – "No Drama"
Mt. Joy – "Jenny Jenkins"
Tags:
Betty Who
,
Bleachers
,
Circa Survive
,
Dashboard Confessional
,
Fall Out Boy
,
FOB
,
Fresh Pressed
,
Justin Timberlake
,
Moon Taxi
,
Moose Blood
,
new music
,
New Music Friday
,
Of Mice & Men
,
The Chainsmokers
,
waterparks