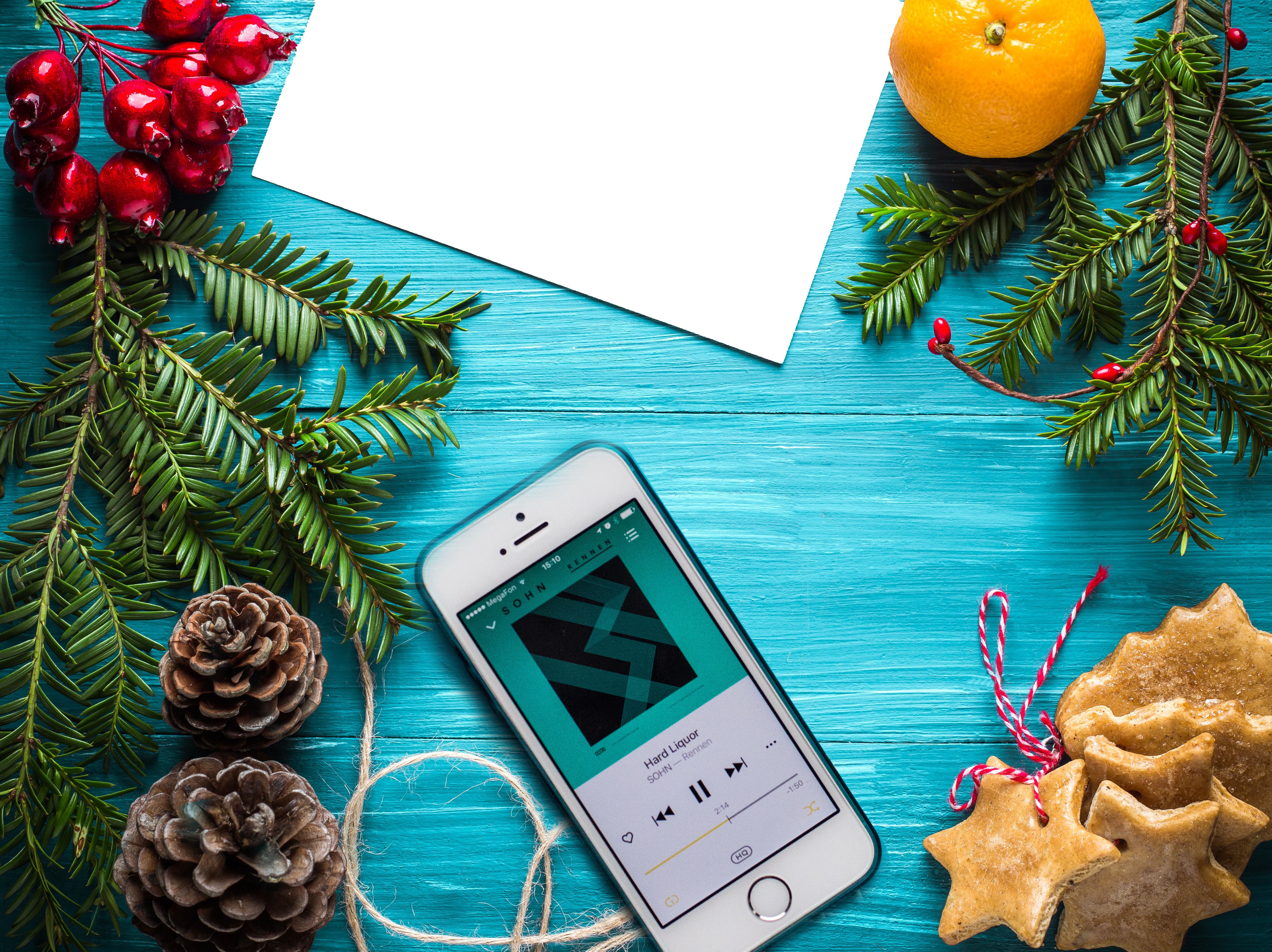 What better way to kick off a weekend than with new music? Fridays are always chock full of the latest songs and albums ready to be the soundtrack to everyone's antics, and here you'll find some of the week's standout releases. Whether you're ready to spin an anticipated song from a favorite artist or just taking a look at what's out there, there's a whole lot of tunes to dive right into. Who knows—maybe you'll find your next obsession.
Panic! At The Disco – "Feels Like Christmas"
Throw Brendon Urie's voice onto anything and it becomes a marvel. The man can make a phonebook sound amazing, but we much prefer those pipes set to Panic! At The Disco songs—whether they're theatrical, folky, or just plain dancey. This time, Urie delivers a Christmas tune just in time for the holidays and who knew they'd go so well together? "Feels Like Christmas" is a pitch-perfect pop anthem, and it'll have you wishing the season never ends.
—
Migos – "Stir Fry"
It only took one song to prove that Migos and Pharrell were a winning combination. The rap trio links up with Pharrell on their funky new single "Stir Fry," a Culture 2 track that reinvents their previous trap stylings with something much livelier. The production is the highlight as expected, and it should only be the tip of the iceberg when it comes to the quality we get from Migos' next project.
Kesha – "This Is Me"
2017 is the year of Kesha, and rightfully so. Along with her comeback album and a couple Grammy nominations to go along with it, her resurgence is an inspiring look at an individual who refuses to give up. So, with her album in the books and a promising 2018 on the horizon, we're in luck when it comes to more music: Kesha is offering up a song for the new movie, The Greatest Showman, titled "This Is Me." An inspiring slow-builder, Kesha's vocals are the song's driving force through and through.
Travis Scott & Quavo
– Huncho Jack, Jack Huncho
Migos are basically a supergroup to begin with, but when you take the trio's heavy-hitter in Quavo and throw him in the studio with Travis Scott, it only becomes a bigger monster. The two get together for a joint album titled Huncho Jack, Jack Huncho, joining a list of solid collab records this year that includes Future/Young Thug and Big Sean/Metro Boomin. Huncho Jack is a dark LP, even though this combo has no issue lighting up the room.
Good Charlotte – "Awful Things"
Paying homage to a musician lost far too soon, Good Charlotte release a cover of the late Lil Peep and his track, "Awful Things." The band actually performed it live earlier this month at Peep's memorial service, but this version is a proper way to have it for on-the-go listening, ensuring that his memory never fades.
Sammy Adams – "Checkmark"
Sammy Adams has always been one of music's best kept secrets, even despite all of the success that he's had. He can kill it with his pop singles like "All Night Longer" or "L.A. Story," and he can also get a little more gritty like he does on his latest track, "Checkmark." Barely 2:30 in length, Adams gets straight to the point on the trap-influenced banger.
Imagine Dragons & Khalid
– "Thunder/Young Dumb & Broke"
Imagine Dragons were never your standard radio rock band, and perhaps their willingness to try new things is a reason for their longevity. In terms of collaborations, they've got a history that includes Kendrick Lamar, Lil Wayne, K.Flay, and more. In this new mashup that combines their hit single "Thunder" with Khalid's "Young Dumb & Broke," the band further expands their soundscape with a mix that works incredibly well.
Best Ex – "Last Christmas"
Shout out to Wham! for making a Christmas song that never gets old no matter how many times it's covered. The classic "Last Christmas" is taken on by bubbly pop-rock act Best Ex, who makes the track her own with minimal instrumentation but maximum Christmas spirit.
Machine Gun Kelly – "Habits"
Joining "The Break Up," "Habits" is the second track featured on the re-release of Machine Gun Kelly's Bloom out this week. Both songs are solid and amongst the best Bloom has to offer, but "Habits" has a wildly catchy chorus and a vulnerability that's hard not to admire.
Thirty Seconds To Mars
– "Walk on Water" (R3hab Remix)
However long it takes for Thirty Seconds To Mars to release a new album, the most important thing is that we still have "Walk on Water" to hold us over. The incredible arena rock anthem gets a remix by Dutch DJ R3hab, and the result is a mix that includes electronics in a way that isn't overbearing—it fits so naturally as if this is how the song should have sounded all along.
Other new releases:
Weezer – "Happy Hour" (Lefti Remix)
Black Veil Brides – "The Last One"
Gucci Mane – El Gato: The Human Glacier
Chris Webby – Wednesday
Cardi B – "Bartier Cardi"
Tyga – "Temperature"
Sugarland – "Still the Same"
Mat Kearney – Mat Kearney EP / "Don't Cry For Me"
Cassie – "Don't Play it Safe"
The-Dream – "It's Yo Birthday"
PLAZA – "All Mine"
Scavenger Hunt – "Ghosts"
Dropgun & Natan Chaim – "Really Mine"
Tags:
Best Ex
,
Fresh Pressed
,
Good Charlotte
,
Imagine Dragons
,
Joe DeAndrea
,
Khalid
,
Machine Gun Kelly
,
Migos
,
new music
,
New Music Friday
,
Panic! At The Disco
,
Quavo
,
R3hab
,
Sammy Adams
,
Thirty Seconds To Mars
,
Travis Scott