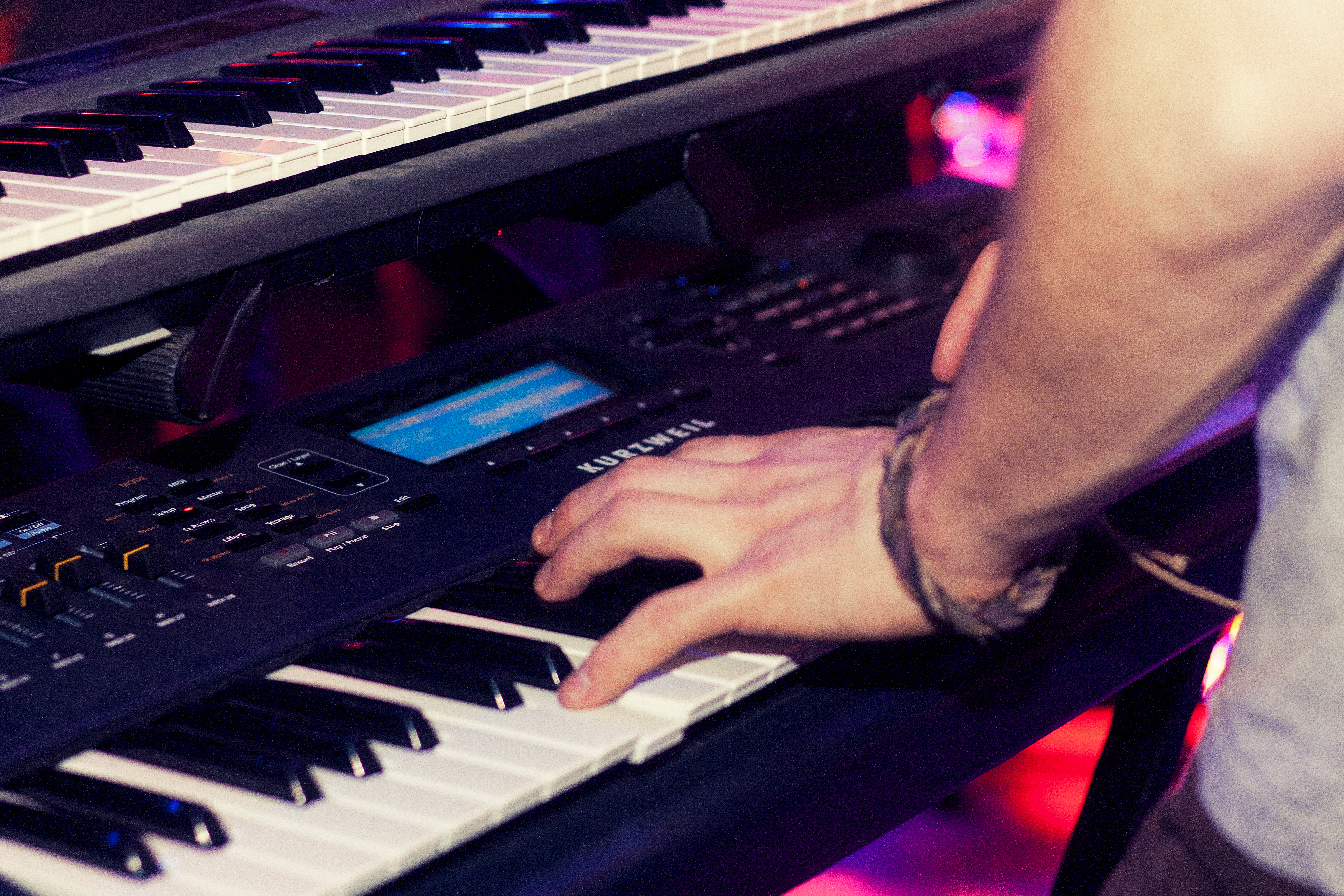 What better way to kick off a weekend than with new music? Fridays are always chock full of the latest songs and albums ready to be the soundtrack to everyone's antics, and here you'll find some of the week's standout releases. Whether you're ready to spin an anticipated song from a favorite artist or just taking a look at what's out there, there's a whole lot of tunes to dive right into. Who knows—maybe you'll find your next obsession.
All Time Low – Last Young Renegade
When you think about bands that came up in the pop-punk scene with All Time Low ten years ago, you realize that they… don't really exist anymore. The Baltimore quartet has quietly become a staple for consistency in the genre—both with longevity and quality of work—and now after seven full-lengths, they prove that they won't be slowing down. Signing with powerhouse label Fueled By Ramen for their latest record, Last Young Renegade, All Time Low are as lively as ever on what is arguably their best outing to date. "Dirty Laundry" has the band breaking new boundaries musically while "Last Young Renegade" is a textbook lesson in pop-punk domination.
Halsey – Hopeless Fountain Kingdom
Despite all of the success that Halsey has had so far in her young career, she's still fighting to find her voice. With most of that success attached to other artists like The Chainsmokers and Justin Bieber, her sophomore full-length, Hopeless Fountain Kingdom, acts as an all-out attempt to reach household name-status, and she shouldn't have a problem coasting to that finish line. As Kingdom finds Halsey replicating some of the finest pop stars in the business, she adds her enough of her own spin to turn this LP into a sure-fire Grammy in the making.
Bleachers – Gone Now
As hard as it is to come to terms with the fact that Fun. is probably done forever, what we continue to receive from Jack Antonoff more than makes up for it. From penning songs for Taylor Swift, Sara Bareilles and Lorde to his excellent debut album, Strange Desire, Antonoff's solo career as a writer and with Bleachers has transformed from a passion project to the marquee attraction. With Bleachers' follow-up, Gone Now, Antonoff heads deeper into his melting pot of influences—rock, horns, and retro 80's vibes are all laced with the finest of pop hooks. It's never sounded better, and Antonoff has never been more on top of his game.
Foo Fighters – "Run"
Foo Fighters surprised fans this week by dropping a brand new song—their first material since 2015. What isn't a surprise, however, is just how much this song completely rocks it. With their brief hiatus now at a close, the band are back with a fire lit under them, and "Run" displays it awesomely. It clocks in at five minutes in length, but it's over before you know it: blistering guitar riffs help speed up the tempo while booming drums are the backbone for the super solid comeback single. If this is what we can expect from new Foo in the future, it'll be worth the wait.
Dua Lipa – Dua Lipa
It's an album that's been through it all. Originally set for release in September of 2016… then delayed until February of this year… then delayed again until June, it's safe to say that rising star Dua Lipa is probably pretty amped that her record is finally out. At first glance, you'd think delaying a record this much would already be a nail in the coffin, but for Lipa, she's only gotten bigger during the wait. Already nabbing a couple of UK hits with songs off the record, she's slowly making her way stateside with some writing credits with The Chainsmokers and a feature on Martin Garrix's "Scared To Be Lonely." On her self-titled debut, Lipa separates herself from the pack with strong vocals and destined hits in "Lost In Your Light" and "Be The One."
Hawthorne Heights – "Push Me Away"
Hawthorne Heights are gearing up to hit the road this summer on Warped Tour, but not before they release a new song that they may just be adding to their setlist. "Push Me Away" is loud and in-your-face, and those are still essential qualities to new HH music even after all these years. It hasn't gotten old, and the track ultimately sounds like it came straight out of 2005 in the best ways possible.
Major Lazer – Know No Better EP
Diplo & Co. never shy away from putting an early chokehold on everyone's summer, and after a listen to the surprise Know No Better EP, you'll be glad that they did. Major Lazer return with a six song shocker after announcing the title track as a single. The single undoubtedly runs the collection here; featuring a star cast of Camila Cabello, Travis Scott, and Quavo, the two rappers turn the verses into an Auto-Tune dream while Cabello croons a memorable hook. The rest of the EP is solid as well, and it's expected to be a precursor to the DJ trio's upcoming album out this year.
Dance Gavin Dance – "That's What I Like"
Everyone's favorite compilation is back! Fearless Records is dishing out yet another installment of their Punk Goes… series, and this time, it's the 7th edition of Punk Goes Pop. Out on July 14th, the cover album features the likes of State Champs taking on Shawn Mendes' "Stitches" and Capsize giving Drake's "Fake Love" a go. In honor of the announcement, the label releases a taste for what's to come: Dance Gavin Dance covering Bruno Mars' hit, "That's What I Like." It's the strangest of combinations, and the result is about as hilarious as you'd imagine. Mixing it up between screaming and clean vocals, this is DGD's way of saying that Punk Goes Pop Vol. 7 is going to take listeners for a ride.
Lorde – "Perfect Places"
With only two weeks left to go until Lorde unveils Melodrama, we've got a decent idea about how the record is going to take shape, and things are looking good. After the left-field single "Green Light" and heartstring-tugger "Liability," the latest cut we're hearing is the boppy "Perfect Places." The track, which will serve as the record's closer, is a dark poppy number perfect for a party atmosphere, as synth sprinkles around an anthemic chorus. Another link up with Bleachers' Jack Antonoff, each collab between the two shows that every song they make together is basically magic.
Other new releases:
LANY – "13"
Hey Violet – "O.D.D."
Phoenix – "Goodbye Soleil"
Portugal, The Man – "So Young"
Alt-J – Relaxer
Dan Auerbach – Waiting on a Song
Arcade Fire – "Everything Now"
The War On Drugs – "Holding On"
Joywave – "Shutdown"
Great Good Fine Okay, Before You Exit – "Find Yourself"
Ansel Elgort – "You Can Count On Me"
Julia Michaels – "Uh Huh"
Bea Miller – chapter two: red (EP)
Flogging Molly – Life Is Good
Fifth Harmony – "Down"
PARTYNEXTDOOR – "Rendezvous"
Alec Benjamin – "I Built a Friend"
Ne-Yo – "Another Love Song"
2 Chainz, Travis Scott – "4 AM"
Olly Murs, Louisa Johnson – "Unpredictable"
VERITE – "Saint"
Elton John, Jack White – "2 Fingers of Whiskey (Music from the American Epic Sessions)"
Dispatch – "Painted Yellow Lines"
H.E.R – "Lights On"
Amber Coffman – "City of No Reply"
Hillsong United – "Shape Of Your Heart"
Cody Lovaas – "Bodies"
Tags:
All Time Low
,
ATL
,
Bleachers
,
Dance Gavin Dance
,
Dua Lipa
,
Foo Fighters
,
Fresh Pressed
,
Halsey
,
Hawthorne Heights
,
Lorde
,
MAJOR LAZER
,
new music
,
New Music Friday