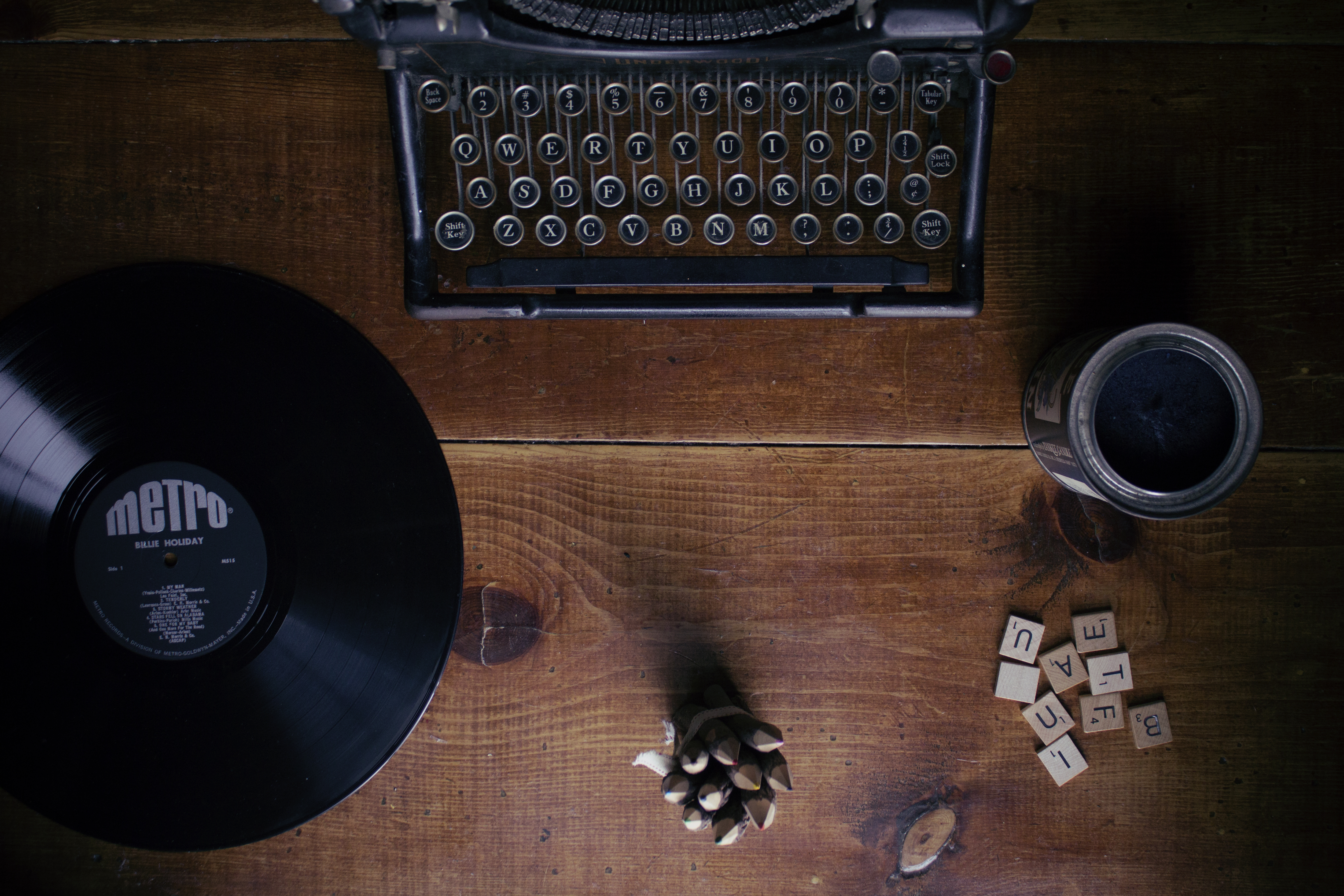 What better way to kick off a weekend than with new music? Fridays are always chock full of the latest songs and albums ready to be the soundtrack to everyone's antics, and here you'll find some of the week's standout releases. Whether you're ready to spin an anticipated song from a favorite artist or just taking a look at what's out there, there's a whole lot of tunes to dive right into. Who knows—maybe you'll find your next obsession.
Fall Out Boy – "Young and Menace"
Fall Out Boy decided to end weeks of teasing torture when they finally unveiled the secret behind the curtain: a brand new album with a blistering lead single. Titled M A  N   I    A, "Young and Menace" comes storming out of the gates and continues the trend of the guys always trying to do something different when it comes to the first taste of new music. It sure is different—equipped with a bass drop and booming drums, it'll make you go "What did I just listen to?"—but that's probably the band's goal. Unfortunately, we'll be waiting a while until the full LP hits our ears; the record is due out on September 15th.
New Found Glory –
Makes Me Sick
If you thought this was just another pop-punk album, you'd be dead wrong. New Found Glory are back and better than ever with their ninth overall full-length, Makes Me Sick. You've got your standard NFG hooks and choruses here ("Party On Apocalypse," "Say It Don't Spray It"), but the return of synth and some fantastic riffs really help make the record standout as one of the band's best of their illustrious career. The best part? They'll only keep getting better.
Blink-182 – "6/8"
Blink-182 calls their latest song—and latest cut from their upcoming California deluxe re-issue—the "strangest" song they've ever recorded. Well, they're not wrong. "6/8" (named because of its time signature) is aggressive and in-your-face in the best ways possible, and it's nice to know that through all the pop-centric numbers and joke tracks, Blink still figures out how to keep things fresh and exciting.
Trace Cyrus – "Lights Out"
The days of Metro Station ruling the charts may be over, but frontman Trace Cyrus is looking to keep their legacy alive by way of his new solo career. His debut song, "Lights Out," will bring back those "Shake It" memories with ease, even if the new tune isn't exactly made for the dancefloor. Still, with his voice clashing into a wave of electronica and a catchy piano line, perhaps he's paving the way for the next generation of Trace Cyrus teen anthems.
Cashmere Cat –
9
Norwegian producer Cashmere Cat is quickly emerging as one of the most intriguing DJs in the game, and his new record, 9, shows that his past credits (The Weeknd, Charli XCX) were far from a fluke. With 9 sporting guests such as Ty Dolla $ign, Selena Gomez, and Camila Cabello, there's no style that goes untouched under the supervision of Magnus Høiberg/Cashmere Cat, and we wouldn't want it any other way.
OneRepublic – "No Vacancy"
Ryan Tedder & Crew are here with a new song, and it seems like it's one of their most important in a long time. According to Tedder, he says he basically pulled the plug on last year's album cycle due to anxiety and exhaustion, but the good news is that he's feeling much better. "No Vacancy" is the first cut we're hearing from this new-look OneRepublic, and with Stargate behind the boards, you can expect that it's a banger. Much more upbeat and livelier than anything found on Oh My My, "No Vacancy" shows off the band's vision as clear as day.
Katy Perry – "Bon Appetit"
Hungry? Good, because Katy Perry is dishing out a hefty dose of sweetness with her latest track, "Bon Appetit." A mid-tempo pop jam, "Bon Appetit" shows Perry hasn't lost a bit of her flair—despite the lengthy absence—and a guest appearance from Migos makes it all the more palatable. She's no stranger to hip-hop collaborations either, some of her biggest hits to date include joint efforts with the likes of Juicy J and Snoop Dogg. Migos may soon be joining her for a couple more accolades now too.
Imagine Dragons – "Thunder"
Despite being the kings of arena rock, Imagine Dragons certainly know their way around a breezy pop song. Look no further than "It's Time" and "On Top of the World." Looking to follow in those footsteps, the band delivers "Thunder"—a track presumably off their upcoming record due out this year. With minimalist production, frontman Dan Reynolds drives the track vocally as the hooks bounce off a lively beat. Though the album will probably vary in sound, Imagine Dragons strike gold when they head into this direction.
Hailee Steinfeld – "Most Girls"
Hailee Steinfeld has a way of creating a new song that sounds incredibly familiar but innovative at the same time. "Most Girls" doesn't have Zedd on its team of producers like her hit "Starving" did, but it does have OneRepublic's Ryan Tedder…and that's pretty much the next best thing. An empowering female anthem, "Most Girls" explodes with its tropical house-esque chorus and it's bound to put a chokehold on pop radio in the future.
Logic – "1-800-273-8255" feat. Alessia Cara, Khalid
Logic is gearing up to release his third studio album, and his latest song may prove why it'll be more than worth the purchase. In partnership with the National Suicide Prevention Lifeline, "1-800-273-8255" is titled for the network's phone number in order to raise mental health awareness. Logic says, while he personally hasn't dealt with suicidal tendencies, he hopes the song can help save somebody else's life. The release would've been a meaningful addition to the 13 Reasons Why series soundtrack—making sure the message "it gets better" was heard and felt. Logic's emotionally-driven collaboration with Alessia Cara and Khalid will be featured on Everybody, out May 5th.
Prince – "Electric Intercourse (Studio Version)"
A track deep from the vault of unheard Prince music has now surfaced, thanks to the upcoming deluxe reissue of his 1984 classic, Purple Rain. Talk about a surprise: "Electric Intercourse" was only previously played live, and nobody even knew that a studio version existed until its release today. The deluxe edition of Purple Rain arrives on June 23rd, and it's going to be filled with additional unreleased material—"Electric Intercourse" is only the tip of the iceberg.
All Time Low – "Life of the Party"
The hype for All Time Low's upcoming album, Last Young Renegade, is reaching insurmountable levels thanks to the release of singles like the title track and "Dirty Laundry". Now, with "Life of the Party" out, the band is showing another side of the record, and it's totally out of left field. True to its name, chilled out verses supplement an explosive chorus—it's the perfect weekend party jam. Most notably, though, Alex Gaskarth belts out in way we've never heard before, and it's pretty much what All Time Low-dreams are made of.
Other new releases:
Gorillaz – Humanz
Portugal. The Man – "Number One"
Phoenix -"J-Boy"
Foster the People – III
Foster The People – "S.H.C"
X Ambassadors – "Torches"
The Chainsmokers – "Something Just Like This (Jai Wolf Remix)"
DJ Khaled – "I'm the One"
Machine Gun Kelly – "Let You Go"
Sylvan Esso – "The Glow"
Steve Aoki – "Without U"
Gnash – "Belong"
Kygo, Ellie Goulding – "First Time"
Feist – "Any Party"
Mary J. Blige – "Strength of a Woman"
Wale – SHINE
Sean Paul – "Body" feat. Migos
Jasmine Thompson – "Old Friends"
Anik Khan – "Kites"
Whethan – "love gang (feat. Charli XCX)"
Tags:
All Time Low
,
ATL
,
Blink-182
,
Cashmere Cat
,
Fall Out Boy
,
FOB
,
Fresh Pressed
,
Hailee Steinfeld
,
Imagine Dragons
,
Katy Perry
,
Logic
,
New Found Glory
,
new music
,
New Music Friday
,
NFG
,
OneRepublic
,
Prince
,
trace cyrus