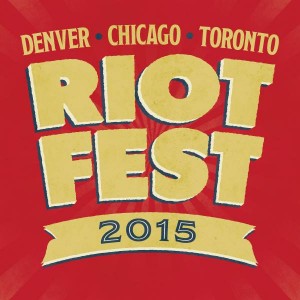 Today I am 17 again. With Less Than Jake, GWAR and Cold War Kids all playing on the second day of Riot Fest Denver, I had no choice but my to let my inner fangurl come out to play.
I've only had raw meat thrown at me twice in my life, and once was at a GWAR show. So, at 3 o'clock this afternoon, I pushed my way to through the crowd (duh), not all the way toward the front, it's a GWAR show and I wasn't ready to be painted blue and red — and prepared for the show. Just like when I was a little fangurl, I still felt like I was inappropriately too young to be at a GWAR show. In all honesty, though, this may have been because they were yelling "This shit will get inhumane and illegal!"
Back in the day of sneaking into shows I had clearly not purchased tickets to, I saw Less Than Jake and Cold War Kids in a college gymnasium at a school I was obviously not old enough to even attend. Seeing Less Than Jake this afternoon transported me back to the Colorado School of Mines campus, slam dancing with a room full of sweaty nerds the first time I saw their set.
The next year, I sneaked into the same geek festival — literally, this was a celebration for engineering majors to "let loose" with bands they had never heard of because they were too busy studying — where I cried my fangurl eyes out to Cold War Kids. This was yet again a group that nobody but me and a select few students knew of, so I worked my way up to the front to make sure they could see my tears during "Hang Me Up to Dry."
Tonight, as Cold War Kids played "Hospital Beds," I thought back to junior year video production in high school, and everything 17-year-old Lauren was going through at the time. As I continue fangurling this evening — fighting back tears per usual — I'll drink a beer to emo Lauren while the music of her high school years rings through the festival.
Confessions of a Fangurl at Riot Fest Denver is an ongoing series taking place this weekend, August 28-30, documenting the music, emotions and history associated with the festival and its artists. Waterproof mascara encouraged
Tags:
Riot Fest