The Alternative Press Music Awards is making its second annual appearance this year in Cleveland on July 22nd. Because I grew up in Cleveland, I had the privilege of watching many of this year's APMAs nominees perform live early on in their careers. Some of these bands have been a part of my life since I was 13, while others are a bit newer to me. When I think about all of the journeys I've taken with them as people, and to see them perform live–just in this city alone–I can't help but feel a sense of pride about where they're going, but more so where they've been.
All Time Low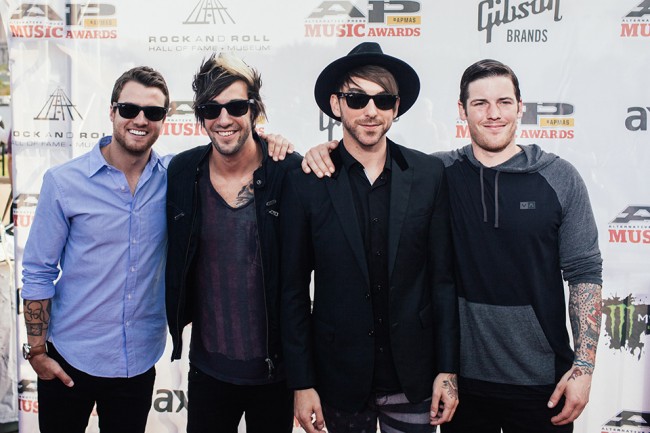 My memory lane of All Time Low and Cleveland spans seven years, ten shows, and now the APMAs. I could name each show, all the friends who've come in and out of my life through ATL, and list all the places Alex, Jack, Rian, and Zack have taken me. But the things that stick with me most are the moments I've watched them grow from performing at Peabody's in the prime of their emo phase (i.e. swoopy hair, Nike dunks, neon Glamour Kills shirts, etc.), to mature men openly wearing One Direction t-shirts. While the perverse jokes, the boys themselves, and the family feel of the crowd hasn't changed, the sheer size of the show, the length of the setlist, and their future has only grown. Seeing Alex & Jack host the APMAs at the Q Arena, where I once saw Justin Timberlake perform, solidifies my confidence All Time Low is going on to greater things. It also makes me less shifty about the money I invested in them through The Hustler Club, merch, and tickets. The APMAs are one way we can give ATL the credit and recognition they deserve. The awards not only acknowledge their dedication to their fanbase, but allows the fans to see how much they have grown since those early days. The Alternative Press Music Awards being held at a venue as big as the Quicken Loans Arena is only the beginning for bands like All Time Low. I've seen them as rockstars since the ripe age of 14, and now, at 22, everyone is seeing them as rockstars.
Bring Me The Horizon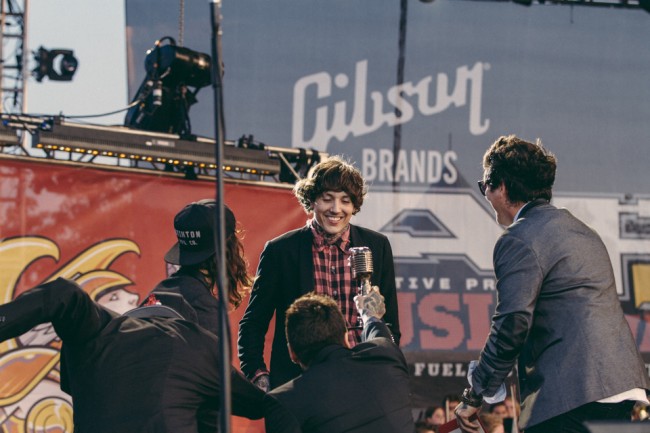 I don't think anything compares to the second time I saw Bring Me The Horizon in November 2010 at House of Blues Cleveland. BMTH attracted a sold out, jam-packed crowd, that had people outside fighting to get in. Their stage presence, even back then, was clearly meant for bigger venues and tours. That night, I was alone at a show for the first time ever, and I was able to watch them objectively. Their album There Is a Hell, Believe Me I've Seen It. There Is a Heaven, Let's Keep It a Secret was facing a lot of backlash from their fanbase, but the performance and confidence they had behind it allowed me to become more self-assured during a time of uncertainty in my own life. Like watching them live, seeing them nominated for Best Music Video makes me proud. Their videos, like "It Never Ends", "Blacklist", and of course "Drown", have always been a point of creative expression that rivals their stage presence and performance. These music videos use imagery of BMTH bleeding out, as monsters, and sometimes spiders to convey their musical message. Their story is filled with hardships and rough times, many of which frontman Oli Sykes openly admitted and thanked his fans for helping him get through at last year's APMAs. The sheer happiness that a metalcore band is able to ignite in people of all ages, genders, and races, is a testament to how much they work, and how far they have come. BMTH's nomination for "Drown" is a direct reflection of Bring Me's ability to remain creative and relevant in the scene.
State Champs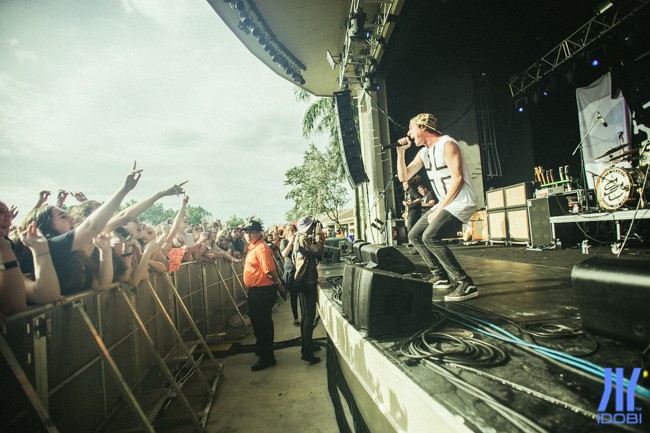 Leaving Cleveland for college was one of the hardest things I've ever done. Giving up seeing my favorite bands at venues that were practically second homes to me sucked, but giving up seeing newer bands touring with my favorite acts was the worst part. Although I saw smaller bands in Arizona like State Champs, there's nothing quite like seeing a band perform in Cleveland for the first time. State Champs has withstood the lull in appreciation of pop-punk, and helped make its comeback into almost mainstream media larger than ever. They are a band that has seen everything from tiny crowds at non-sold out venues to giant sold out crowds in Australia in just one year. When I think about the growth of the two previous bands, and the position State Champs is in now, I feel lucky to have joined the ride when I did. State Champs' music, and DiScantio's distinctive voice, captured the attention of some of the largest bands in the scene (5 Seconds Of Summer, ATL, etc.) who took them out on tour. They've beaten the odds of most of the up and coming pop-punk bands in our scene, and it makes them very much a front-runner for Best Underground Band this year. For bands of their size and stature, the APMAs are a way to make them, and their fans push for much more. Their new album is being released this fall, and it's not a far-off assumption to say next year State Champs will be all over the APMAs.
The APMAs being held in Cleveland isn't just about being the home of Alternative Press. It's about showcasing bands in a city that not only helped them grow but proved the benefits of the evolving alternative scene–which will always have an impact on success outside the scene itself. It's why we bring back legends, such as Slash, Joan Jett, Ice-T, DMC, Coolio and many more, who got their start on the covers and pages of AP. 2015 has brought the opportunity to honor the bands both with the Skullies, and in the Rock and Roll Hall of Fame Alternative Press Exhibit. I've lived these moments, and walked that musuem enough times to call it home. Now, I feel lucky enough to be a part of the alternative scene and its mark on music history, beginning with the APMAs. If you aren't heading to the show itself, don't forget to tune in to idobi on Wednesday July 22nd at 4pm EST/ 1pm PST for LIVE red carpet coverage.
Tags:
All Time Low
,
Alternative Press Music Awards
,
APMAS
,
Bring Me the Horizon
,
State Champs