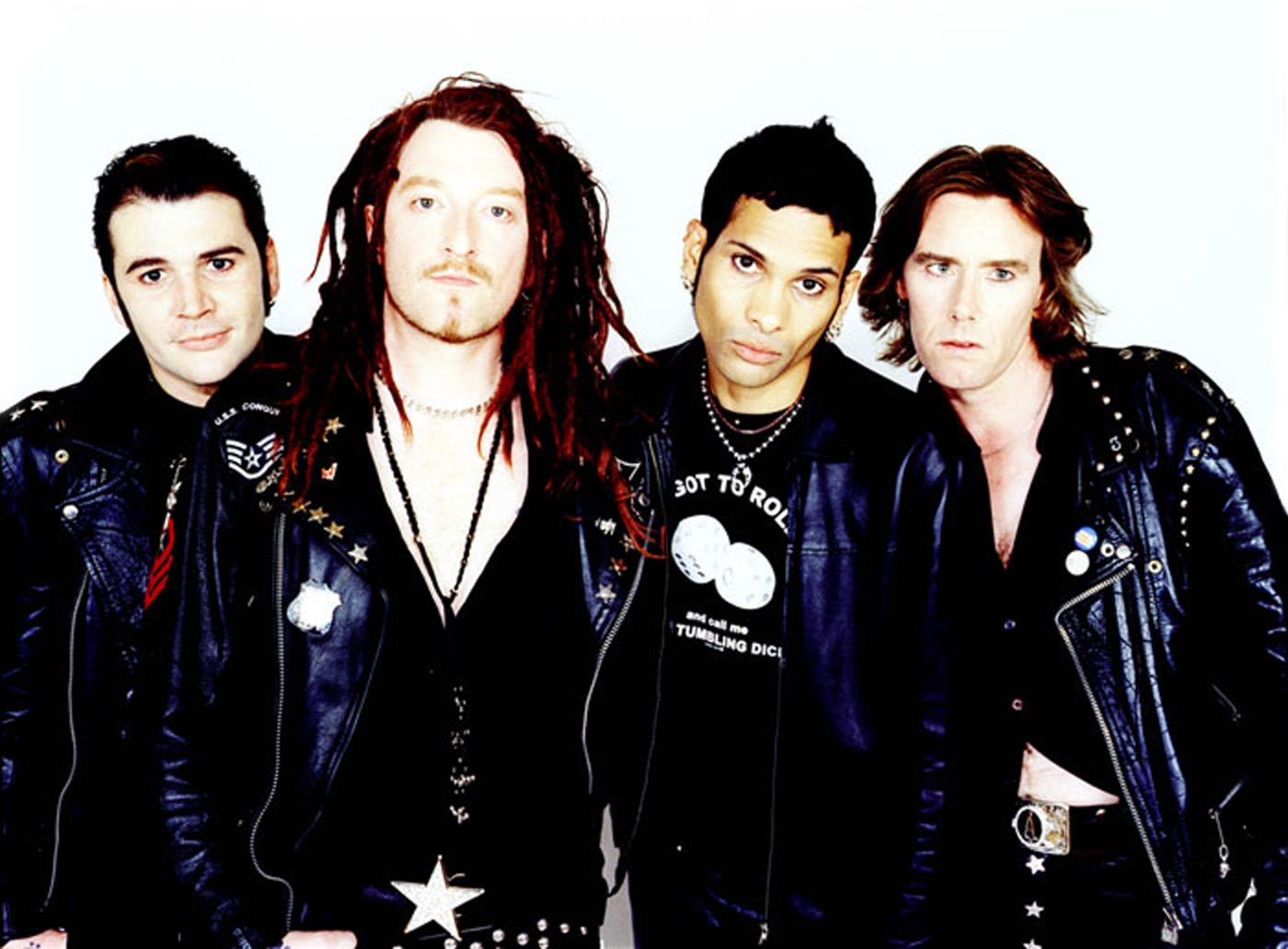 Wild at heart…
Music is a wonderful thing, and part of its many-faceted joy is the fact that there's a song, or even an album, for every mood. And of course, art is subjective. So one person's breakup album will have no real effect on somebody else. The song one person plays when celebrating a promotion is like nails on a chalkboard to somebody else. This is fine, and it's how it should be. Music allows us to celebrate our differences. And everyone should be able to like whatever they like, and ignore things that they don't find interesting. Such is life. All of that said, everyone, and I mean everyone, should know about The Wildhearts.
I embarked on my career in music journalism in 1999, at which point The Wildhearts was 10 years old and had provided the soundtrack to my late teens and early 20's. The main man, Ginger, formed the band in Newcastle, England, after spells in English blues-rockers The Quireboys (known as The London Quireboys in the States) and New York sleaze rockers The Throbs. 
Both of those groups were great (and still are, The Quireboys and The Throbs are still playing shows). But Ginger's role in both was as the sideman, and he was destined for far, far greater things. There was simply no clue from his guitar parts on The Quireboys' "Mayfair" single that we were listening to one of the great songwriters of the next 30 years (and counting). But I will happily make that case.
Earth Vs.
The first two EPs, Mondo Akimbo a-Go-Go and Don't Be Happy… Just Worry, both released in 1992, laid the foundation. If this were any other band, those two EPs (later repackaged as one mini-album) would be the peak. In the case of The Wildhearts, they were simply a taster. A tease. Because the following year saw the release of one of THE great rock 'n' roll albums: Earth Vs. The Wildhearts. 
I often ask musicians during interviews about the albums that changed their lives—those records that had such a massive impact that it altered the way they viewed other records. One of those was very definitely Earth Vs. for me. Everything that I adored (and adore) about music had been smashed together into the most wonderfully unstable, unpredictable, technically-brilliant noise. And the songs were so beautifully constructed – catchy as almighty hell, relatable, and heavy. It was all there.
Ginger wrote a b-side which later became a fan favorite called "29 X the Pain" where he pays homage to his influences, and that song reveals all you need to know: The Replacements, Husker Du, Beatles, Stones, Sex Pistols, Kiss, Cheap Trick, Clash, Ramones, Blue Oyster Cult, Stiff Little Fingers, Queen, Starz, Jason & the Scorchers, Big Black, The Damned—the song really is a recipe for creating The Wildhearts.
The Wildhearts has a healthy underground following in the UK, and other countries around Europe and in Asia, but they remain largely unknown in the USA. Occasionally, I'll see someone with a Wildies (as they are sometimes affectionately known) shirt on, and it's like seeing a family member. I know that person has a refined musical palate. Either that or they're British.
Still, it's a shame that the name isn't more widely known, and I'm saying that for your sake. This is a band with a back catalog that includes no duds. Eight studio albums, three EPs, a bunch of live and compilation albums, and not a one of them is crap. Sure, some are better than others but most of that is subjective.
Endless Nameless
In 1997, when at least some of the band members were engaged in a battle with seedy substances which coincided with a flirtation with the mainstream in terms of music videos getting on television and a bit of radio play, they put out an album called Endless Nameless. Fans still debate the record's merits, or lack of. It's the darkest album they ever released, and Ginger still mischievously says it's his favorite. The distortion was dialed up, the lyrics are extremely heavy, and some critics called it unlistenable at the time.
They were wrong. 20 years on, and this controversial album has dated extraordinarily well. With every listen, it's possible to peel away a layer and reveal what are in fact songs as catchy as anything in the arsenal. I mention this as a means to demonstrate that even the album widely considered The Wildhearts' worst is ridiculously good.
For those of you who are going to trust me, the real joy is that you have such a large amount of material to discover. And the pool gets deeper when you realize that Ginger has released a bunch of solo albums, all of which are great. He's been a member of other bands and side projects, and all of those records are fantastic too. Check out the arena rock of SilverGinger5, the garage brilliance of Supershit 666 (with Dregen from Swedish glam-punks the Backyard Babies and Nicke Royale of the Hellacopters), and the quirky joy of Clam Abuse (with Alex Kane of Life, Sex & Death, AntiProduct, and currently Little Caesar and Shark Island).
More recently, Ginger has assembled an industrial-ish/metal/noise band called Mutation that, like Endless Nameless, polarizes fans, but the songs are there if you listen hard enough. He also has a punky, poppy (but not pop-punk) project called Hey! Hello! that, again, is magnificent.
Dig deeper still, and you realize that many of the people who have been in The Wildhearts alongside Ginger have released amazing albums with other bands or under their own name too. Check out anything by CJ Wildheart, Honeycrack, The Jellys, The Yo-Yo's, Plan A—the list goes on and on. Ginger knows to surround himself with brilliance.
At the start of this column, I said that one of the great things about music is that there's a song, or even an album, for every mood. Well, here's when I deftly come full-circle, because the great thing about being a fan of The Wildhearts and Ginger is that there absolutely is a song, or even an album, for every mood. The man is frankly brilliant; history will elevate him into the upper echelons, the premier league, of rock 'n' roll songwriters.
The good news: 30 years on and he's still just getting started.
—
"Callwood at the Cooler" is a bi-weekly column which will see me waxing lyrical about events in the news, pop culture and the etc. Sometimes it'll be light, other times not-so when the rant/monolog demands. The subject matter will vary dramatically so expect anything and keep coming back.
Tags:
AntiProduct
,
Backyard Babies
,
Beatles
,
Big Black
,
Blue Oyster Cult
,
Callwood at the Cooler
,
Cheap Trick
,
CJ Wildheart
,
Clam Abuse
,
Clash
,
Ginger Wildheart
,
Hellacopters
,
Honeycrack
,
Husker Du
,
Jason & the Scorchers
,
Kiss
,
Life Sex & Death
,
Little Caesar
,
Plan A
,
Queen
,
Ramones
,
Sex Pistols
,
Shark Island
,
SilverGinger5
,
STARZ
,
Stiff Little Fingers
,
Stones
,
Supershit 666
,
The Damned
,
The Jellys
,
The London Quireboys
,
The Quireboys
,
The Replacements
,
The Throbs
,
The Wildhearts
,
The Yo-Yo's