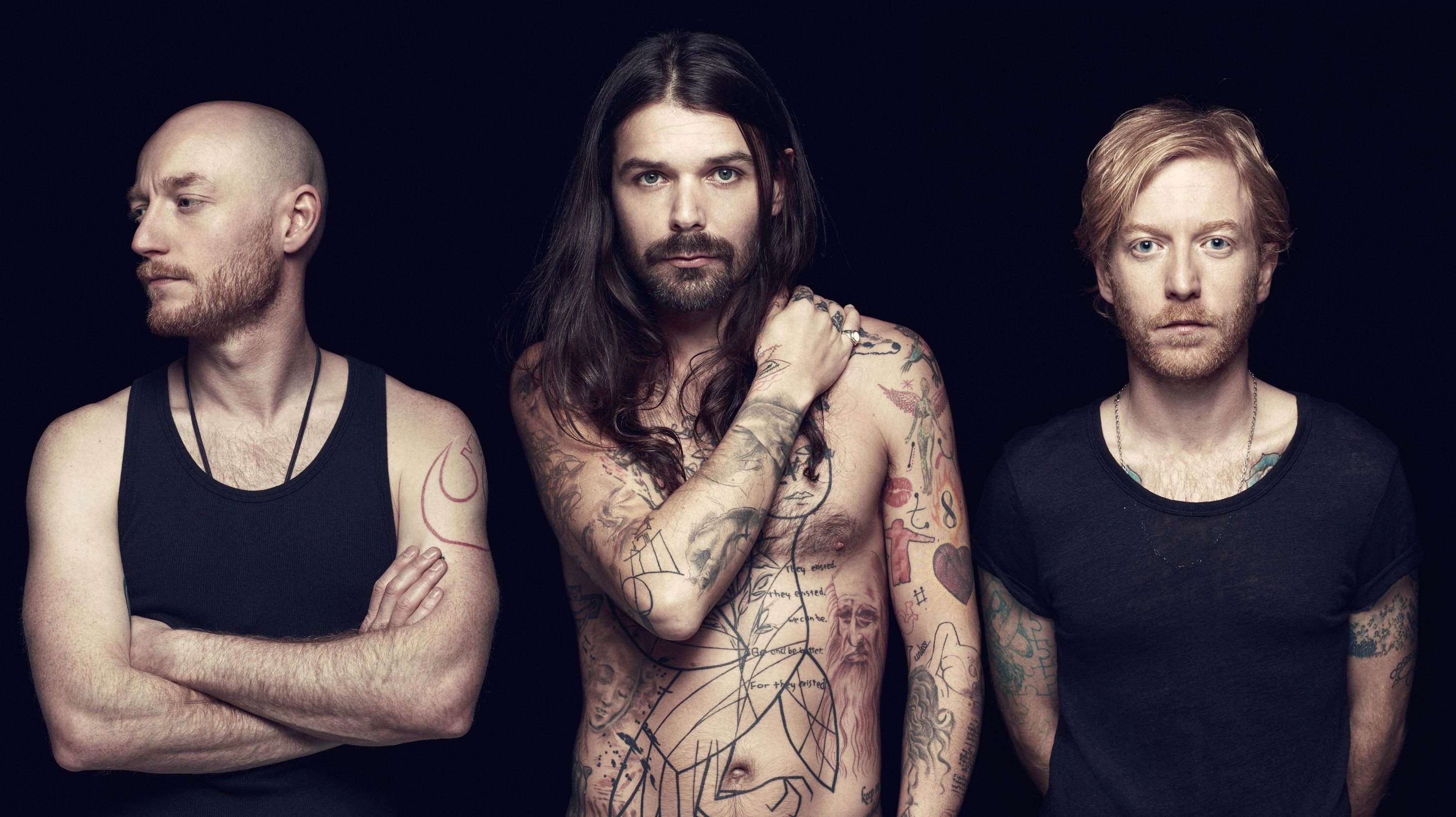 "Having the support of people so far from home is amazing."
For part one of our interview with Biffy Clyro, click here!
The next time I catch up with Biffy Clyro, it's the day of a show, about midway through their North American tour. I stand in a small lot behind the venue with the other half of the band, the Johnston twins, Ben (drums) and James (guitar). There's a slight chill in the air, so they're bundled up in winter jackets (naturally, I'm wearing a Biffy Clyro sweatshirt from their last tour). They've just finished a video interview, and James takes a minute to light a cigarette before they start telling me how the tour has been going.
"It's been amazing," says Ben. "So far, the rest of America was great. We've had more people coming than we ever thought we'd get," he continues, acknowledging that Biffy Clyro is a "bit bigger" across the pond compared to North America (the last time they played the famous Reading & Leeds festival, they were the headliners). "It's great fun to play sweaty little clubs, to see the whites of people's eyes…everyone knows all the songs. I thought we were still starting out in America."
"It's been a few years since we've been here…it feels like we've really got momentum [this time]. Having the support of people so far from home is amazing," says James.
By this point, they've played The Fillmore, the iconic venue that the band was so excited for, and when I ask them how it went, they eagerly recount the night for me. "It was nice and full, a dream come true," enthuses Ben. "People were piling over the barrier every couple of minutes, going crazy," says James.
They occasionally talk over each other—as siblings often do—but for the most part, the twins take it in turns to answer. Like Simon Neil, they are gracious, and, thankful to the people who make all of this possible. "We've got great fans, people are really nice to us," says James. "It's so sweet to travel so far and see people that you share something in common with, even if it's just that you like the band…We want to be part of people's lives."
"If we can, if people are willing to wait around, we're more than willing to spend time meeting fans [after the show]," adds Ben.
I ask them who in the industry they'd love to work with, and they readily list a handful of people, including Weezer's Rivers Cuomo. "We've always had a burning desire to work with Fiona Apple," says Ben. James chimes in with "Mark Kozelek [Red House Painters, Sun Kil Moon]. He's batshit crazy…but he has such a mournful voice, and great melodies."
When it comes to other people's music, they're clearly passionate; I mention the Scottish music scene, and Ben is quick to recommend Fatherson, whose sound he describes as "[Glasgow's] Twin Atlantic, mixed with Biffy Clyro." "Glasgow's a hotspot," he says. "[The music scene] has always been healthy, and it's never been tied down to one genre, it's always been varied." James names Elliot Smith's 'Everything Means Nothing to Me' as a song he wishes he'd written. "It's a sad song [but] it has a sweet melody." When I ask if they'd ever cover it, he laughs. "We're not tired of playing our own songs yet."
"If we can, if people are willing to wait around, we're more than willing to spend time meeting fans."
Both of them studied sound engineering in college and love the production side of music (Ben explains that they're usually the ones to record the band's demos), and they hint at Simon Neil's solo project. "Simon is keen on working on soundtracks," says Ben. "He's definitely capable of writing music [that could] score some movies." But for the most part, they're dedicated to Biffy Clyro. "We're totally fulfilled with everything we're doing here," says James.
As a physical representation of their affection for the band—and each other—the band members have a couple of matching tattoos, including one long piece celebrating Ellipsis that stretches across all three of their backs. "It's a way to mark our shared history, our shared future," explains James, referring to it as his favorite tattoo. "To be in this journey together with people you love is special. The three of us are linked, we wanted something to show we're still very much together…We live our lives together and we do everything together and we're joined at the hip."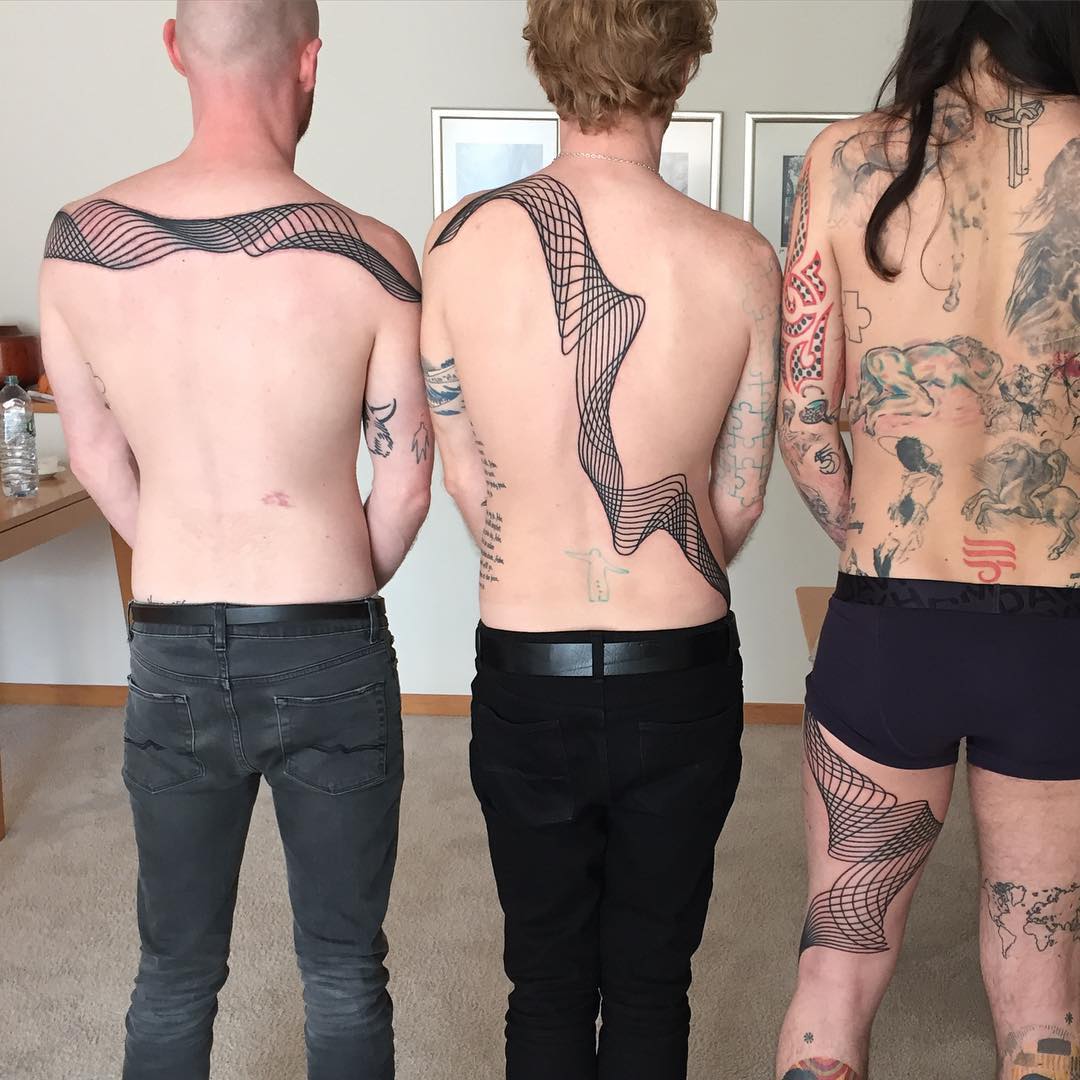 Attending a Biffy Clyro show is an unforgettable experience. For one thing, their lights and production are always phenomenal—James teases that the "well-in-demand" designer Misty Buckley is working on their summer festival sets. For another, the band is so energetic on stage, you can't help but get swept up along with them. If you don't leave covered in a layer of sweat (yours or possibly someone else's), and with a sore neck from head-banging so hard, you must be doing something wrong.
Some of their favorite songs to play this tour are the ones that let them (and the crowd) completely lose control. "I'm loving 'On a Bang'," says Ben. "It gets pure punk rock." James, meanwhile, really enjoys 'Animal Style'. "The audience reaction is so strong and it gives us so much energy. It reaches that crescendo part of the set where it feels like the house is about to fall down…[the song] comes to life live." More often than not, the band starts the set half-naked, anticipating a sweaty rock show, but even if they come out fully clothed, by the time they breathlessly hit the last song, the shirts come off.
"Warming up takes longer and longer every night," laughs James. Another pre-show ritual is a shot of tequila and a group huddle. "It's hard to talk about because it's been 10-15 years, you just become used to this feeling…You start to get a little bit of a buzz, and you fight that urge because it makes you jittery. You have to find a balance between being relaxed and letting the adrenaline flow." Ben refers to it as "subconscious nerves" but you wouldn't know it by the way the band moves so confidently on stage. They're the type of band who can incite a mosh pit (during 'Bubbles') before effortlessly segueing into a ballad (recent single 'Re-arrange') without an awkward pause in between.
"You start to get a little bit of a buzz, and you fight that urge because it makes you jittery. You have to find a balance between being relaxed and letting the adrenaline flow."
After over an hour of thrashing around on stage, they have to find a way to unwind. "A little bit of music, a smoke, and some gutter-level television," says Ben. "We seem to be watching a lot of survival shows," adds James. "It must be a metaphor for surviving on the tour bus." "Or leading up to the apocalypse," laughs Ben.
A few minutes later, the interview ends. They cheerfully agree to pose for a photo, shake my hand with words of thanks, then jog up a short ramp into the venue's backstage.
Inside, the room slowly fills up, so that by the time the band comes out an hour later, it's a full house. Once the lights dim, I forget everything else and let the music seep into my bones, until, ninety minutes later, the band introduces themselves as "Biffy Fuckin' Clyro", and, with a final bow, disappear to thunderous applause…hopefully not for long.
Catch Biffy Clyro on their remaining tour dates:
Apr 13 – Irving Plaza, New York, NY
Apr 14 – Theatre of Living Arts, Philadelphia, PA
Apr 15 – 9:30 Club, Washington, DC
May 09 – Warsaw, Brooklyn, NY
May 10 – Mr Smalls Theatre, Pittsburgh, PA
May 12 – The River Rockfest, Council Bluffs, IA
May 14 – Iron Works, Buffalo, NY
May 15 – Rams Head Live, Baltimore, MD
May 16 – Chameleon Club Lancaster, PA
May 18 – Mercy Lounge, Nashville, TN
May 20 – Hollywood Casino Amphitheatre, Maryland Heights, MO
May 21 – Rock On The Range, Columbus, OH
Tags:
Biffy Clyro
,
Interview
,
Warner Brothers