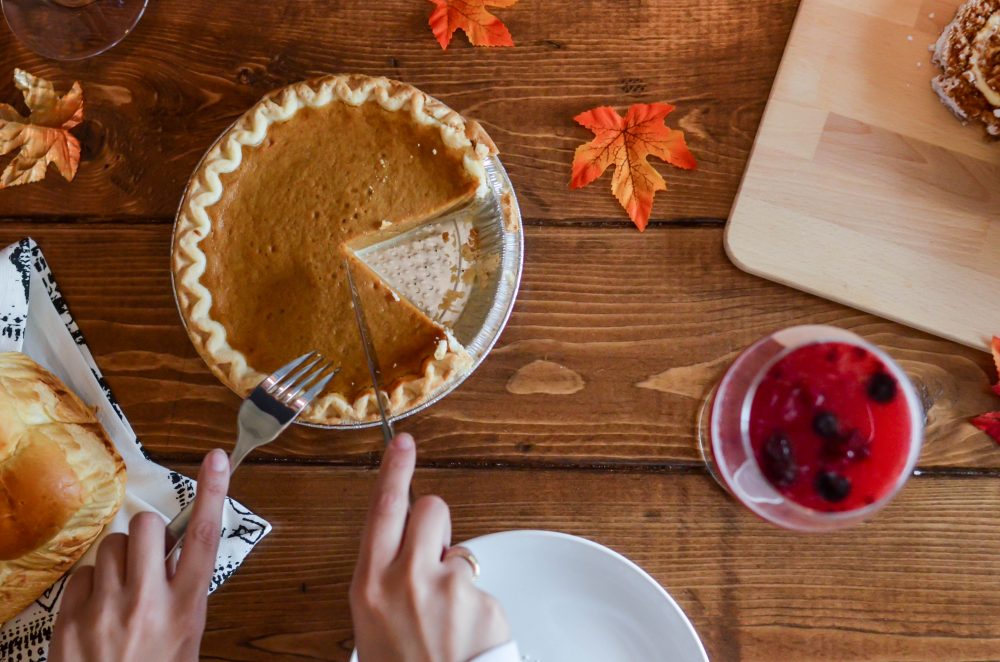 Tomorrow we raise our glasses to give thanks for the love of friends and family—and to eat our way to stuffed. While you prepare for turkey day, we're giving you some songs to get you in the mood for food. Hit play on our feast of good tunes below and say cheers to good food & music!
—
"Chocolate"
The 1975
Don't get me wrong, I understand that "Chocolate" is actually a metaphor, but until you decipher the lyrics and think about what Matty Healy is really saying, you could just as easily think of it as an ode to the best food group out there (and yes, I consider chocolate as its own food group). Like the tasty treat itself, the song is easily digestible and absurdly addictive—by the time you're done listening to it once you're either hitting that replay button twelve times or dedicating your life to memorizing every song The 1975 has ever written (or both). Since it mentions running away from authority figures, you can't really call the subject matter "sweet", so I guess it's more dark chocolate: A tiny bit bitter but still satisfying when you're craving something tasty. (Sam Devotta)
—
"A Little Something Refreshing"
No Doubt
You want a musical feast? How about Gwen Stefani singing about over thirty different kinds of food? "A Little Something Refreshing", with its rapid fire lyrics, speaks the way the voice in my head sounds when I'm so hungry I feel like I could literally eat everything in sight. Track 12 off No Doubt's 1992 self titled album is a virtual smorgasbord of gluttony. I first heard the song by accident when I purchased a used cassette tape in 2003, wanting to listen to the ska-esque sounds of early No Doubt. The track is only one minute and 19 seconds long but it quickly became a "play it again" hit on family road trips. It's a lot of fun to listen to and the kids always cracked up when the burp comes at the end. ///Caution may induce extreme hunger/// (Cindy Tenicela)
—
"Wonderfilled"
Owl City
Some bands just sound like food. For instance, Panic! At The Disco's first record sounds like one of those gourmet dishes that comes with artistically arranged lettuce on them, Paramore is the musical equivalent of quenching your throat with mineral water after a hot summer day. But no food x music comparison is as spot on as Owl City and, well, anything delicious and bad for you. Owl City's sugary sweet melodies and catchy lyrics will give anyone a brain freeze, so his collab with Oreo is a match made in confection heaven. Joining together for an Oreo jingle titled "Wonderfilled," Adam Young sings his ode to the delicious cookie and cream snack that'll get stuck in your head as much as Oreos get stuck in your teeth. (Joe DeAndrea)
—
"Bacon"
Nick Jonas
There's nothing better than freedom and bacon…at least according to Nick Jonas. In his 2016 banger about a breakup, we follow Jonas through a series of emotions but there's no despair in sight. He's stoked on all the things he loves more than his ex, like late nights doing what he wanna do and throwing bacon on, y'know, everything.
Not only is "Bacon" great commentary on the feeling of finally leaving a toxic drama-filled relationship, it's also a song about one of the world's greatest commodities. When you're frying up breakfast before Thanksgiving, or maybe making pigs in a blanket for the main event, be sure you're jamming the youngest JoBro and appreciating the lack of drama and the supply of bacon in your life. (Emillie Marvel)
—
"Pork and Beans"
Weezer
Screw all the rich food you're going to stuff yourself with over the turkey holiday, go for something simple. You'll get through the family arguments by sitting in the corner and having a whole plate of "Pork and Beans" to yourself. It's good for dinner and dessert and you'll be having both with this Weezer tune. Eyerolls be damned as you announce to the table: "I'll eat my candy with the pork and beans / Excuse my manners if I make a scene". Your folks will probably wonder what happened to their child when they get a load of your song/food choice, but what else is new? Your taste has confused parents everywhere and that's okay—it's not made for them—and you know better. Because you don't give a fuck about what your weird uncle Jerry thinks about your blue hair or your liberal views. You'll just smile sweetly and explain, yet again, "I ain't gonna wear the clothes that you like / I'm fine and dandy with the me inside." Your grandma won't understand that you can't hear her over your earphones blasting out the heavy Weezer riffs but you'll just sing out a chorus of "I don't care" in response to her disapproving looks. On the holiday of being thankful, it's time to raise a toast to good tunes and good food for letting you just be you—no frills necessary. (Alex Bear)
Tags:
Adam Young
,
Alex Bear
,
Cindy Tenicela
,
Emillie Marvel
,
Food
,
Gwen Stefani
,
Joe DeAndrea
,
Nick Jonas
,
No Doubt
,
Owl City
,
Sam Devotta
,
Thanksgiving
,
The 1975
,
Weezer