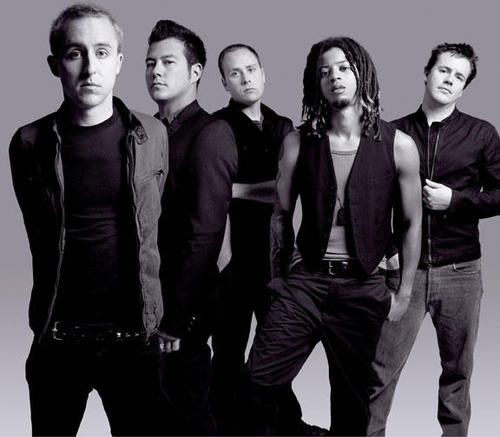 Back in 2006, things were starting to go bad for Yellowcard. The band  had parted ways with longtime guitarist Ben Harper, under less than amicable terms. They were forced to scrap a run of shows when frontman Ryan Key underwent vocal surgery. Lights and Sounds, the ambitious follow-up to their breakout Ocean Avenue album, had tanked, and the band began taking swipes at one another in the press as a result.
Things only get worse from there.  Yellowcard's next album – 2007's Paper Wallsstiffed to such a degree that their label, Capitol, refused to continue promoting it – and by the end of 2008, Yellowcard were left without a label and decided to call it quits.
So, it may have come as a surprise to the die-hard fans when YC announced that the band  were re-forming in August, with plans to record a brand-new album, to be released on a brand-new label, Hopeless Records, in March. Though, according to Key, the news really shouldn't have shocked anybody. After all, despite what  one may have thought, Yellowcard never really went away in the first place.
"We took a break in '08, and it just felt like it was time to step back a little bit, and everybody went off and did their thing," Key said. "And earlier this year, our drummer, Longineu Parsons, was the one that kinda started making phone calls, just saying, 'What do you guys think about maybe getting back together?' And then all the rest of us started talking and, uh, it just seemed like the right thing to do."
Of course, given their rather rocky history, getting the band back together wasn't as easy as a few phone calls. There were things that needed to be said, and they needed to be done face-to-face.
"We definitely sat down with each other and talked about all the things in Yellowcard that had worked and not worked, and what we would need it to be this time around to make it work, and everybody really seemed to be on the same page," Key explained. "The record is just awesome. … We're so excited about it, and it was because, I think, we did get some of that stuff worked out and talked about and, you know, you're friends for 15 years … so there's stuff that you gotta work out with each other to be able to keep working together."
And though neither Harper nor Mosely are taking part in the 2010 version of Yellowcard, Key is determined to press on with the core of the band – himself, Parsons and violinist Sean Mackin – intact. And as proof, he offers up the title of YC's new album: When You're Through Thinking, Say Yes, a handle he probably couldn't have thought up back in 2006.
"It actually came from a young lady I was trying to, uh, take out for an evening, and she had mentioned that she was kind of seeing someone else, and had to think about it," he laughed. "I wrote her a text message back that said, 'When you're through thinking, say "yes," ' and it just kind of resonated, I guess. As lame as it may be, it's from a text message."
Tags:
Yellowcard