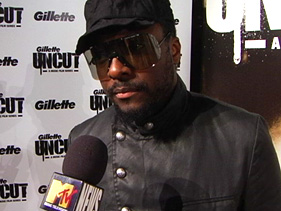 Recently news broke that Will.i.am will be part of the Super Bowl halftime show starring The Who, but in a very unusual way. The Black Eyed Peas superstar would be remixing the iconic rock band's 1965 classic "My Generation," with proceeds going to help Haiti relief efforts. Little else has been known about the project – until now.
"I remixed 'My Generation,' and it started off as a commercial," he explained, clarifying the details on the project. "I did the music for this product called FLO TV, which is TV everywhere … I did the music because I'm a tech geek – I love technology, I go to all the tech conferences. So it started off like that, and the song was 'My Generation.' "
By sheer coincidence, the song he had chosen to remix – a classic countercultural rock anthem that was The Who's first massive hit and had the band famously declaring, "I hope I die before I get old" – was by the same band who happened to be playing the Super Bowl. "I was like, 'The Who's playing [at halftime], and this commercial is going to come on right before the halftime show,' " he remembered of his reasoning. " 'So, why don't I just do a longer version of the song and ask The Who [if I can update it]?' "
"So I talked to Pete [Townshend], and asked him if I could talk about my generation," Will.i.am said of the new lyrics that he'll be singing in the remix. "Because I wouldn't be here using my music for social awareness [if not for The Who] – Wyclef wouldn't be here, none of the groups. Rage Against the Machine, if it wasn't for groups like The Who that were talking about their generation in the '60s, [they wouldn't have been able to follow in those rebellious footsteps]. They birthed these musically aware artists."
"So I got him on the phone and asked him if I could do that," remembered Will.i.am, who is up for six Grammy nominations this weekend alongside his fellow Peas. "[Townshend] was like, 'Cool! All the proceeds could go to Haiti. Right after you perform it, it should be known that this mash-up remix is on iTunes and the money will go to Haiti.' "
With Townshend's urging, Will.i.am composed new lyrics that focused on two topics: his generation's social awareness and how that needs to manifest itself in support for the earthquake-torn Haiti. "So, in the lyrics I mention Haiti, just putting the energy out there asking to rebuild Haiti," he explained. "And I got [former Guns N' Roses member] Slash on it. I got him on the phone and I was like, 'Yo, Slash! Look, it's The Who and it's me. Can you come and rip it? I don't want to just produce it in a hip-hop way, I want to honor rock and roll.' "
In addition to a packed Grammy schedule, Will.i.am unveiled an eye-popping mini-movie about the behind-the-scenes preparation that goes into his concerts, part of the Gillette Uncut music film series that will premiere later this month. But despite so much going on these days, he insisted that he's never too busy to find time for a cause like Haiti relief.
"It's the flippin' Who, myself and Slash," he said of his "My Generation" remix, available to fans on Feb. 7. "And it [will be] on iTunes minutes after they perform at the Super Bowl."
Tags:
Slash
,
Super Bowl
,
The Who
,
Will.I.Am