This week: Patriot Act with Hasan Minhaj, This Is Us, Deadly Class, Brooklyn Nine-Nine, For the People, Arrested Development, Turn Up Charlie, Shrill, Doom Patrol, American Gods, Now Apocalypse
Patriot Act with Hasan Minhaj
"Hip-hop and Streaming"
New episodes Sunday
On Netflix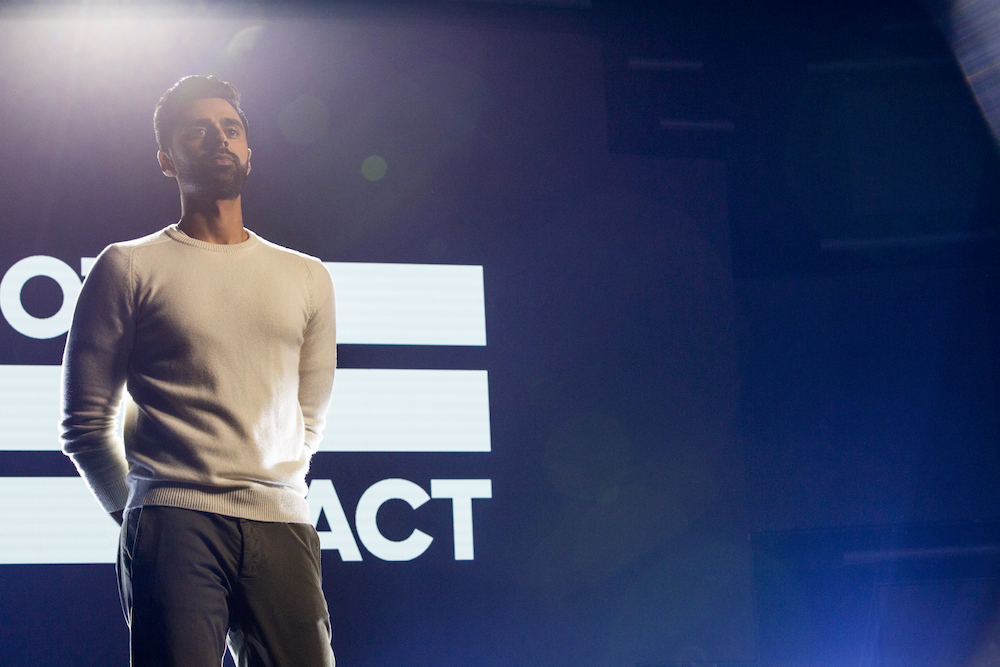 **idobi rated: ❤️❤️**
Hip-hop makes up "about 60%" of Hasan Minhaj's personality so it was only a matter of time before he dedicated a full episode of Patriot Act to it. He breaks down the reach and impact of the genre in the age of streaming and no Soundcloud rapper is safe from his burns—all in the name of love. This week's episode takes us on a music-fueled trip via Gucci Gang, YouTube, and the President of Turkmenistan (yup, he's a certified rap star). The long-standing use of hip-hop to fight back against regimes is still going on in places you'd probably never realized due to the lack of media coverage. By the time Minhaj gets to the politically-motivated music groups across the world you'll have an expansive knowledge of why hip-hop and rap are such important forms of expression—and why the freedom to create discourse and dissent through music must be protected.
Stream new episodes of Patriot Act with Hasan Minhaj
every Sunday on Netflix.
From Netflix:
Hip-hop has already taken over America, but streaming platforms have allowed the genre to transform into a disruptive political force around the world.
—
This Is Us
"The Waiting Room" – Season 3, Episode 15
Tues Mar 12 – 9PM
On NBC

**idobi rated: ❤️❤️**
Timing is everything. When Kate (Chrissy Metz) goes into labor too early the Pearson family gather in the hospital waiting room for more news. There won't be any of the usual This Is Us flashbacks in this episode but there's enough drama and heartache to fill an entire season. Being in such an enclosed tension-filled space means secrets and grudges are about to come out, big time. There's Randall (Sterling K. Brown) and Beth's (Susan Kelechi Watson) marital woes. Then Kevin's (Justin Hartley) alcoholism. Not to mention Rebecca's (Mandy Moore) frustration and grief. With "The Waiting Room" unfolding like a one-act play you won't be able to tear your eyes away from the screen.
New episodes of This Is Us air every Tuesday, only on NBC.

From NBC:
Tensions run high as the Pearsons await news about Kate's pregnancy.
—
Deadly Class
"Kids of the Black Hole" – Season 1, Episode 9
Wed Mar 13 – 10PM
On SYFY
Deadly Class airs every Wednesday, only on SYFY.

From SYFY:
After discovering Chester has taken over Shabnam's house, our heroes lay down plans to raid it.
—
Brooklyn Nine-Nine
"Gintars" – Season 6, Episode 10
Thurs Mar 14 – 9PM
On NBC
Head to Brooklyn Nine-Nine this Thursday on NBC.
From NBC:
A visitor from Latvia causes Charles and Jake to investigate Nikolaj's family. Holt and Amy bring in famed forensic scientist Dr. Yee to help close a case for Rosa.

—

For the People
"This is America" – Season 2, Episode 2
Thurs Mar 14 – 10pm
On ABC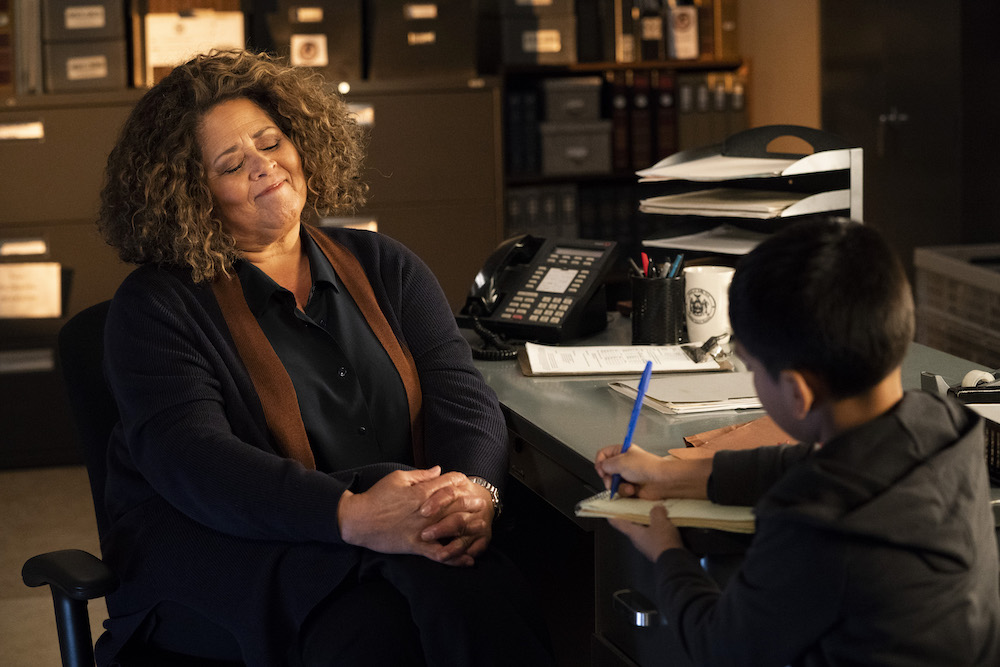 For the People has never shied away from hitting the real-life issues in America. This week it tackles immigration with a deeply moving story of a father facing deportation, leaving behind a young boy who has no idea what's going on. It's in cases like this—when the cut and dried legal system isn't enough to save the day—that individuals stand for what is right. Tina (Anna Deavere Smith) knows the repercussions she faces for protecting the young child involved but she's strong enough to face it and do everything she can. Her defiant performance makes you wish there were more people like Tina in the real world—and For the People will inspire you to follow her lead.

For the People returns to ABC on Thursday.

From ABC:
Tina faces legal consequences as she defiantly insists on protecting a young boy after his father, a witness in Leonard's case, has a run-in with ICE agents that could lead to his deportation. Elsewhere, Kate is determined to establish her worth to Roger and takes on a significant murder case involving a prominent New York criminal defense attorney.

—

Arrested Development
Season 5, Part 2
Fri Mar 17
On Netflix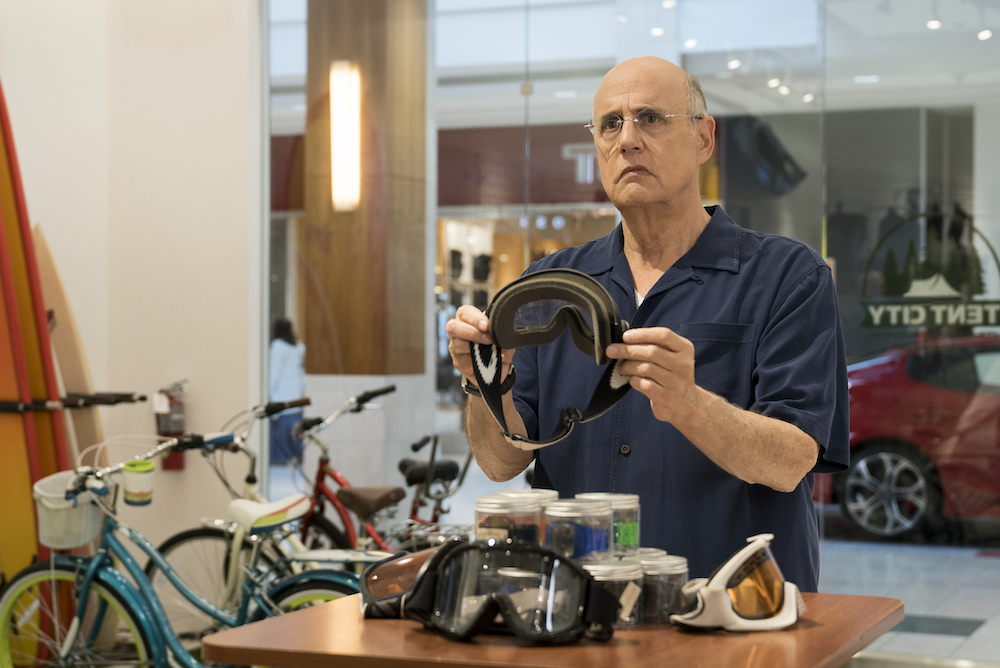 We're not sure if Arrested Development is tailor-made for Netflix or if Netflix is tailor-made for Arrested Development. The show taps into the wacky humor of its audience…and is way too complicated for anyone to come in halfway through and understand the plot. The final season is no exception, wrapping up the series with as much sense as this show can allow. George (Jeffrey Tambor) and Buster (Tony Hale) are now on the run as the Inside Outside Bandits, finding more people to draw into their crazy schemes. Speaking of crazy schemes, George-Michael (Michael Cera) is realizing he's more like his family than ever… Could Maeby (Alia Shawkat) save the day? Well, maybe her alter-ego can. It turns out George-Michael's company Fakeblock has a silver lining (y'know, for a fake business) which, of course, means the entire Bluth family are going to try and take advantage. Meanwhile Tobias (David Cross) is trying to figure out a better situation for his new family…if only he could find some gummy bears. Um, yeah, we told you: Arrested Development is just as weird and wild as ever and the only way you could possibly wrap your head around it is to binge-watch it all at once. You've made it this far, after all, so say goodbye to the Bluth family with one last round of misadventures.

Stream the final episodes of
Arrested Development on Netflix on Friday.
From Netflix:
As this Netflix (semi) original series, the Bluths are back together, and finally getting the award they think they deserve – for family of the year. A development which will help Lindsay as she begins her campaign for Congress, to become 'part of the problem'. But whatever happens, Michael will always come back to save the family. Probably.
—

Turn Up Charlie
Season 1
Fri Mar 8
On Netflix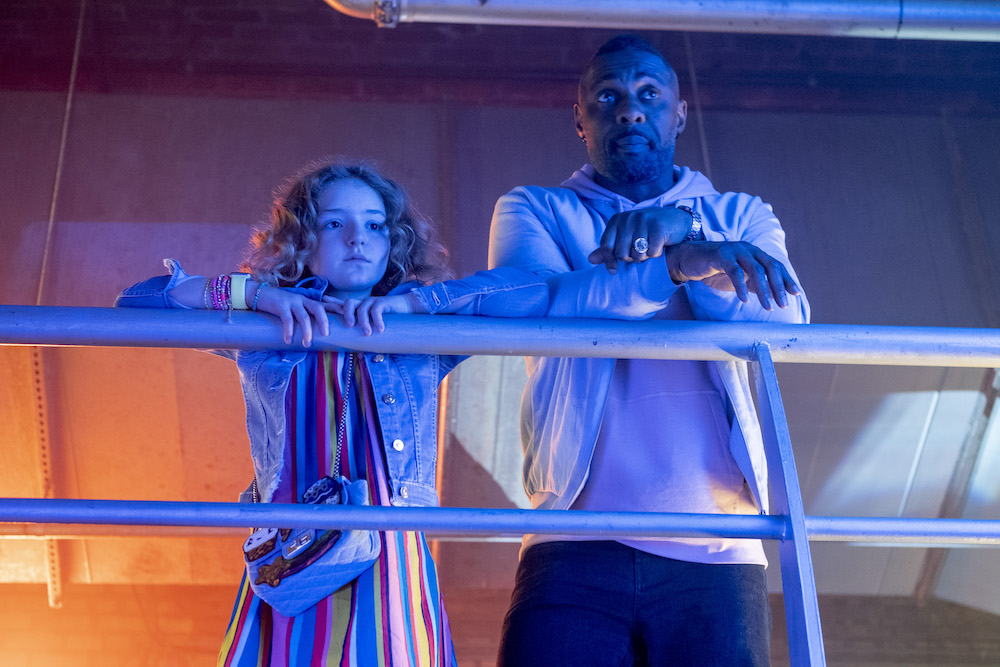 Idris Elba may be in the running as the next James Bond…but he's met his match in Turn Up Charlie. He plays the titular character, a one-time bigshot DJ who now struggles to pay rent. But Charlie's life takes a different path when he scores a new job: Babysitting his famous friend's kid. Gabby (Frankie Hervey) is the eleven-year-old nightmare you hope you never have to look after—she's old enough to know what she's doing but still young enough to be rude and not care. All she needs is a little love and an actual parental figure in her life—her world-famous DJ mom and actor father might need parenting too. You almost feel sorry for Gabby as much as you want to yell at her. It turns out Charlie and Gabby need each other more than either of them are willing to admit. Turn Up Charlie is another dysfunctional family comedy to add to the Netflix roster and it's definitely worth trying out. The British show is rougher around the edges than your average family comedy but has a certain charm that keeps you hitting play. If only to find out what antics Gabs will get into next…and whether Charlie's wonderful no-nonsense aunt Lydia (Jocelyn Jee Esien) will ever get to deal out justice with her wooden spoon.

Turn Up Charlie debuts on Netflix on Friday.

From Netflix:
Turn Up Charlie centers on the titular Charlie (Idris Elba), a struggling DJ and eternal bachelor, who is given a final chance at success when he reluctantly becomes a 'manny' to his famous best friend's problem-child daughter, Gabby (Frankie Hervey). Piper Perabo and JJ Field co-star.
—

Shrill
Season 1
Fri Mar 15
On Hulu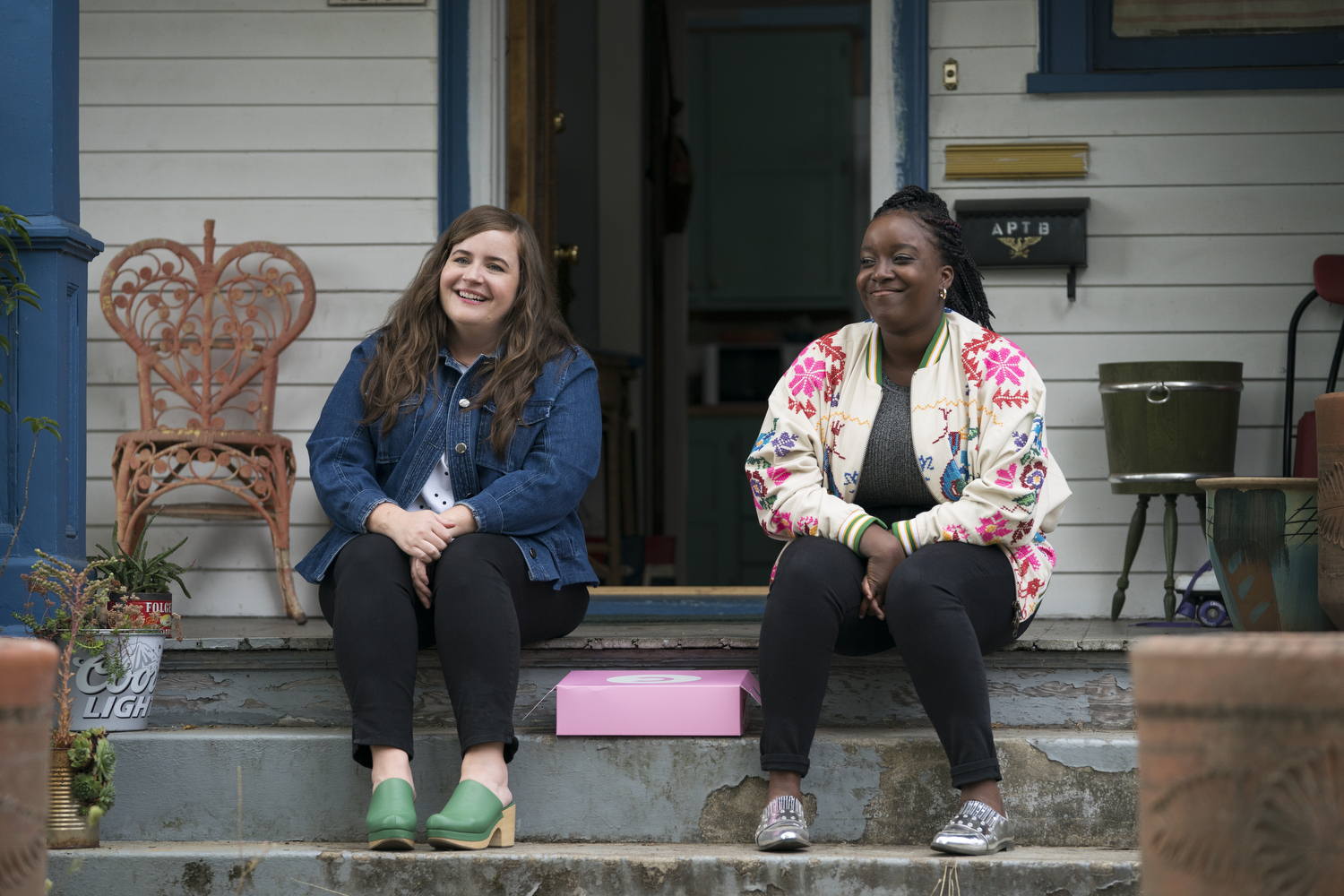 Hulu's new series Shrill has the components that should make a show sing. It follows an independent journalist who takes an honest approach to life, with a good dose of female empowerment and body positivity thrown in. Annie (Aidy Bryant) is a say-it-loud fat girl who's trying her best NOT to diet (despite her mother's insistence) while ignoring the fact that her "boyfriend" is too ashamed to be seen with her. She writes her truth for the local paper…in spite of her boss' stony attitude. Through a series of events each episode focuses on, she learns to stand up for herself at work and face the problems in her relationships. And, of course, she writes about her experiences along the way…which lands her a lot of fans and more than a few trolls (online and IRL). This storyline thread in particular is real. Annie is supported every step of the way by her best friend Fran (Lolly Adefope)—because what show about female empowerment would be complete without the sisterhood of a sista? (We mean that both enthusiastically and sarcastically.) Like we said, Shrill has everything you'd expect from a show that uplifts women. Yet it left us feeling a little flat at times—those inspiring moments were brought down by choices that don't quite fit her character. But the show is one to persevere with as, for the most part, Shrill takes us on a journey to finding your truest self.

Season 1 of Hulu's Shrill drops on Friday.

From Hulu:
From Executive Producers Lorne Michaels and Elizabeth Banks comes Shrill, a comedy series starring Aidy Bryant (Saturday Night Live) as Annie, a fat young woman who wants to change her life — but not her body. Annie is trying to start her career while juggling bad boyfriends, a sick parent, and a perfectionist boss.

—

Doom Patrol
"Paw Patrol" – Season 1, Episode 5
Fri Mar 15
On DC Universe

There ain't nothing like an episode of Doom Patrol to give you an existential crisis. What makes us human? What makes us more? What makes any of us better than the rest? Doom Patrol might not be the kind of show you'd expect to explore such depths (unless you've read the comics) but, then again, the Apocalypse is here and that probably seems like a good time for humans to rise up and become heroes. So, while the whole world is stuck in a giant staring contest, it's up to the Doom Patrol to figure out a plan…and actually stick to it (which is the hard part). Doom Patrol breaks more than the fourth wall every week—which gets our brains just as [email protected]#!$d up as all the ones lying around Cloverton.
Stream Doom Patrol every Friday on DC Universe.

From DC Universe:
With the Apocalypse in full swing, the Doom Patrol must work with an unlikely ally – and a very special pug – to stop the end of the world.
—

American Gods
"The Beguiling Man" – Season 2, Episode 2
Sun Mar 17 – 8pm
On STARZ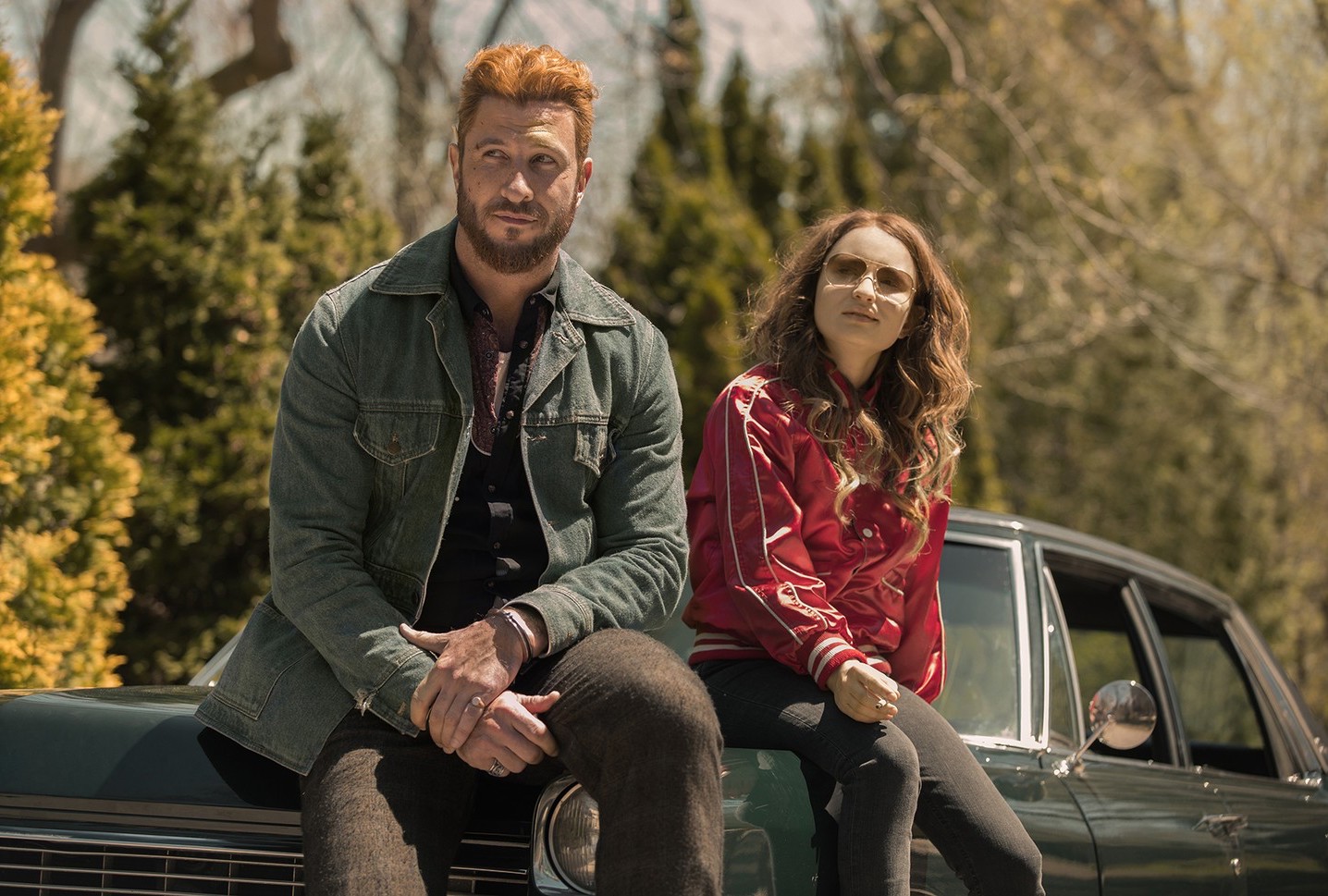 The S2 opener promised to make a believer out of you…but by episode 2 you'll wonder if these are false gods. It's almost as if as a big FU to the original creators we're back to the filler of Laura Moon's (Emily Browning) whining. It's hard to understand why this character keeps getting screen time. She's abusive mentally and physically as witnessed by her treatment of Shadow (Ricky Whittle) and then Mad Sweeney (Pablo Schreiber). Laura doesn't have a lot of charm or even the kind of nefarious antics you'd secretly cheer for yet she, not Shadow, or Easter, or Bilquis (Yetide Badaki), or Salim (Omid Abtahi), has become the star of the show. With all the focus on the least interesting of the characters, while Shadow is pushed to the margins, the show has no sense of its own true north. And no idea what story it's trying to tell. Let's hope it rediscovers its form. (read our [p]review here)

American Gods season 2 airs on Sunday, only on STARZ.

From STARZ:
Promising vengeance for the death of a beloved old god, Mr. Wednesday begins preparation for a great battle. Meanwhile Laura and Mad Sweeney chase Shadow's diminishing light after he disappears.
—
Now Apocalypse
"Where Is My Mind?" – Season 1, Episode 2
Sun Mar 17 – 9pm
On STARZ
Catch Now Apocalypse on STARZ every Sunday.

From STARZ:
"Now Apocalypse" centers on Ulysses and his friends – Carly, Ford and Severine – pursuing love, sex and fame while trying to navigate the surreal and bewildering city of Los Angeles.

Tags:
ABC
,
American Gods
,
Arrested Development
,
Brooklyn Nine-Nine
,
DC Universe
,
Deadly Class
,
Doom Patrol
,
For The People
,
Hulu
,
NBC
,
Now Apocalypse
,
Patriot Act with Hasan Minhaj
,
Shrill
,
STARZ
,
Syfy
,
This Is Us
,
Turn Up Charlie
,
Watch This Week
,
WTW