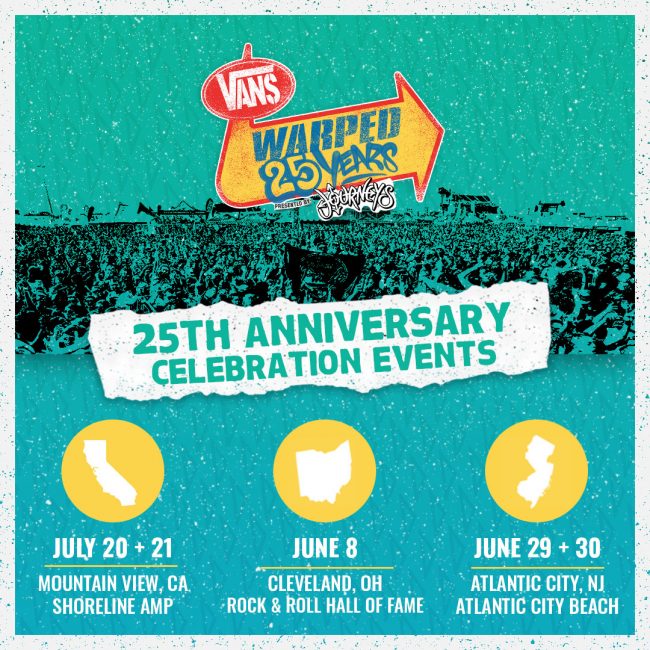 When Vans Warped Tour announced it was coming to an end last year, we all (understandably) fell into a pit of despair. The country wide festival is iconic for bringing kids together and introducing them to a new community of bands, fans, and non-profit organizations. Our light at the end of the tunnel was the promise that the tour's 25th anniversary would still be coming in 2019—but little did we know how good it would be.
As part of the best birthday party ever, the Vans Warped Tour 25th Anniversary events will take place in three cities across the US. Cleveland, OH, Atlantic City, NJ, and Mountain View, CA will host music, sports, and art from Warped Tour's past in celebration of the legendary tour.
Each date's official lineup with be announced on March 1st. Presale tickets for the shows hit the world wide web on February 25th. Find venues + dates below, and plan a road trip to the nearest city to celebrate the Warped Tour turning a quarter of a century old.
"The bands, the special attractions, everything – we want to bring back elements that have made the Warped Tour, Warped Tour, over the past 25 years." – Kevin Lyman, founder of the Vans Warped Tour
Vans Warped Tour 25th Anniversary Dates:
6.08 – CLEVELAND, OH @ ROCK & ROLL HALL OF FAME
The Cleveland show will be a little different from the Warped Tour you might be expecting. This event will mark the opening of the Forever Warped exhibit at the Rock & Roll Hall of Fame. Everything from your favorite bands' instruments (Fall Out Boy, Joan Jett, etc) to artifacts from the very first Vans Warped Tour will be on display, and it'll all kick off with a Warped worthy concert on June 8th.
6.29 + 6.30 – ATLANTIC CITY, NJ @ ATLANTIC CITY BEACH
New Jersey knows what Warped Tour is about—summertime and punk rock. Over the course of two days, the Warped crew will be delivering all the rock and roll fun you can handle. Skateboarding, motocross, Warped art, 50+ bands, and of course the picture perfect backdrop of sun + sand will help you make your best summer memories yet.
7.20 + 7.21 – MOUNTAIN VIEW, CA @ SHORELINE AMPHITHEATRE
California is home to Warped Tour, so be prepared for a pretty epic experience. Shoreline Amphitheatre hosted a sold out show during last year's final cross country run and we're sure the Bay Area will bring just as much enthusiasm to this summer's two day, 50+ band extravaganza.