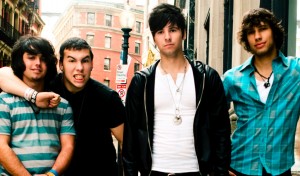 DETROIT — Amidst tough economic times and an ever changing music industry, not everybody can sell records like Lil' Wayne.   Mix in the rise of illegal file sharing and an over saturation of acts flooding the music scene, and it's easy to see why bands can't carry on, much less sell thousands of records.
For Boston pop-rock band Stay, these odds are nothing if not motivation.   In fact, in under two years, the outfit has sold over 5,000 copies of its  Games With Girls EP, in addition to self booking and completing a two-month tour across America, all without the support of a record label.
With a sound rivaling popular acts within the genre such as All Time Low or Mayday Parade, the band differentiates itself through its engaging live show and vigorous work with various charitable organizations.   The band has contributed and collected donations for groups such as To Write Love on Her Arms, Habitat for Humanity, the American Cancer Society and Invisible Children.   On its summer "Change for Charity" tour, the group collected canned goods and donations to contribute to local organizations.   The band also donated a penny from its own pockets for each Myspace friend request it received during the period.
Fresh off of being named one of Purevolume's "Top 20 Unsigned Bands of 2009", the band utilizes word of mouth generated through a strong online presence to continually propel the band to new heights.
"It's definitely growing more and more competitive to get your music out to a bigger amount of people," the band wrote in an e-mail to idobi.   "There are tons of bands competing for this same sort of recognition. We've been able to acquire attention through constant online promotion on Web sites such as Myspace, Purevolume, Facebook  and Twitter."
With over 600,000 Myspace song plays and more than 55,000 song downloads through Purevolume, constant online promotion seems to be an understatement, albeit one that is quite effective nonetheless.
The band hopes to continue their successes to an even better year in 2010.   Dreaming to tour with bands like All Time Low, Hey Monday or This Providence, Stay plans to hit the road once again in the coming months.
"We definitely plan on doing some serious touring this spring. Right now, we're at home working on some new songs and then we plan to do some touring towards probably March or April," the band wrote.   "We're just going to keep the momentum going and keep working hard to write and promote our music."
While the band hopes to "create a lengthy music career and write songs that are as timeless as they can be," Stay is fine with pressing on without the backing of a record label, for now.
"We've always hoped to eventually sign a record deal with a great label that loves our music and loves what we're doing. We've had a couple of label offers, but nothing that has been entirely right for us yet. Currently, I wouldn't say we're actively seeking a record label, but if something were to present itself, we would definitely entertain the offer," the band added.   "We're just waiting for the right label to find us — there's really no point in forcing it."
"Maddie kthx," the first single off of the band's  Games With Girls EP, is available for free download exclusively on idobi.
Podcast: Play in new window | Download
Subscribe: RSS
Tags:
Stay