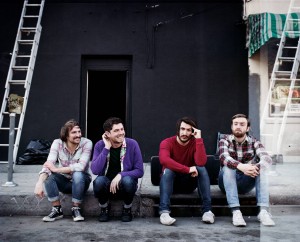 U.K. band  Twin Atlantic  will release Free, the anticipated follow-up to 2009's critically lauded mini-album Vivarium, digitally on May 3rd in the U.S.
Free was recorded at Red Bull Studios in Santa Monica, CA with legendary producer Gil Norton (Foo Fighters, Pixies, Jimmy Eat World). The album continues to expand upon the band's signature sound, melding angular riffs with energetic choruses.   Explosive and hard charging, yet melodic and thoughtful, the tracks cut deep and ring true to the listener, leaving a lasting impression.
In describing the new batch of songs, frontman Sam McTrusty explains, "We wanted there to be a brutal honesty in the lyrics. There are love relationship songs, there are some with a party vibe, and there are some that are weird, heavy and grungy pop songs."
Guitarist Barry McKenna adds, "Personally the only thing I wanted to achieve from this whole process is an album the four of us could stand by and invest ourselves in. We have done that."
Fresh off several performances at SXSW last month, Twin Atlantic are now back home and preparing to head out on a headline tour of the UK/Europe starting April 27 in Belfast. Summer festival dates throughout the UK and Europe are lining up now, and the band is expected to be back in the U.S. for a tour this fall.
Tags:
Twin Atlantic