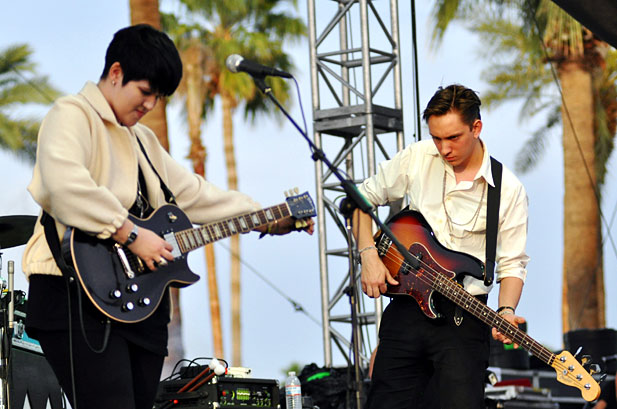 The xx has won the 2010 Barclaycard Mercury Prize for its debut album, xx (Young Turks/XL Recordings).
The $31,000 prize was presented to the alt-rock trio at the Grosvenor House Hotel in London   Sept. 7. The result was screened live on BBC Two, along with performances from the nominees at the ceremony.The award was decided by the Mercury judging panel, based purely on the album, and the xx was always the front-runner. But it was a strong list and performances from Paul Weller, Foals, Corinne Bailey Rae, Wild Beasts and Mumford and Sons went down well on the night and made the evening feel like a genuine contest.
The result was popular with the audience at the ceremony who loudly applauded the London trio. When the members collected the award from host Jools Holland, singer and bassist Oliver Sim told the guests at the ceremony that the award "means so much" to them.
"We've had the most incredible year and it has just felt like every day we've just woken up to something incredible we just weren't expecting," he said. "It has felt just like a haze. Being here is like a moment of clarity in all that's happening."
Sim also thanked their label team at XL Recordings and friends and family.
Singer and guitarist Romy Madley Croft described her reaction as "disbelief" while Sim said he thought Wild Beasts or Laura Marling would win. He praised both their performances at the ceremony, along with Corinne Bailey Rae's.
They also spoke about moving out of their family homes once their touring duties were complete. The xx starts a two-week U.S. tour at Hollywood Palladium on Sept. 22.
The xx album was released in August 2009 and sold steadily off the back of the strong reviews and the band's touring. But the record received a significant sales boost from the nomination in July and went top 10 for the first time in the U.K.
After the result, the chair of judges Simon Frith said xx was very much of its time.
"I think it captures something of the rather uneasy times we live in," he said.
The annual album of the year award is open to albums by British and Irish artists; eligible albums this year had to be released between mid-July 2009 and mid-July 2010.
Tags:
the xx