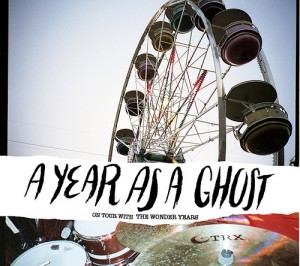 The Wonder Years have announced  the upcoming release of "A Year As a Ghost", a 200-page, soft-cover, full-color, matte-finished intimate look at life on the road and at home with The Wonder Years that includes a download card for Suburbia I've Given You All And Now I'm Nothing plus 11 rare recordings including basement demos and b-sides.
Inside the book you'll find original lyric book scans, hand-written tour stories, scans of artifacts and upwards of 500 photos taken on formats ranging from 35 mm to cell phone camera pictures.The photos come courtesy of Mitchell Wojcik, long time friend and collaborator with the band. An immense amount of time, energy and love was spent making this book more than just photos thrown onto pages; this is a story told through mixed mediums of a band putting their whole hearts into playing the music they believe in all over the world.
The audio portion of the collection includes the 13 tracks originally released on Suburbia plus three b-sides, two studio acoustic versions, one nervous energies session version, four basement demos and a joke nu-metal song the band wrote to break writer's block.
Due for release in early fall, the book along with the deluxe version of the album can be pre-ordered here.
Tags:
The Wonder Years