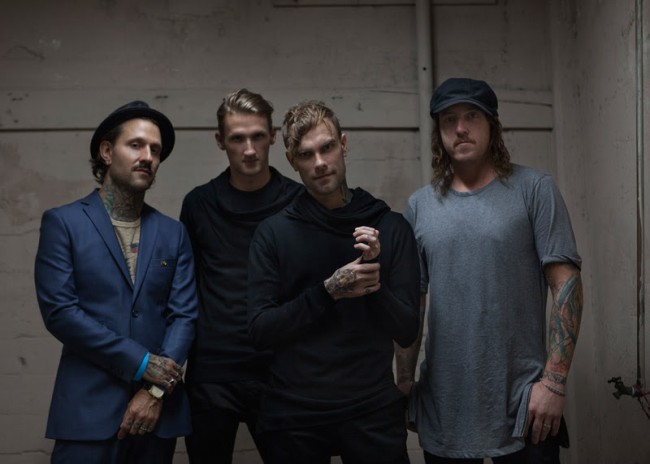 The Used are celebrating their 15 year anniversary in a big way. The band has announced a new live album coming  in the  spring and a North American tour slated for April and May of next year.
The album, titled  Live and Acoustic at the Palace, was recorded last month at the band's unplugged performance at The Palace Theater in Los Angeles. The performance also included a string quartet, a harpist, and a gospel choir trio to reimagine the songs.  The CD/DVD  is set to release April 1st and is currently available for pre-order here.
The Used's 15th anniversary tour is one not to miss. The band will spend  two nights in each city, playing their self-titled record and  In Love and Death in full each night, respectively.  The tour kicks off April 5th in Seattle, Washington, and runs through late May.
With every online ticket purchase to the tour, fans can receive a digital copy of  Live and Acoustic at the Palace as well. Tickets go on sale this Friday, November 20th, and are available on the band's website.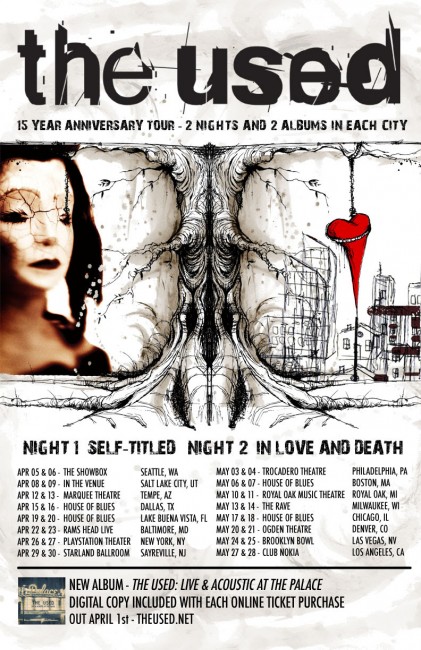 Spring Tour Dates:
April 5 & 6                

Showbox –  Seattle, WA

April 8 & 9

               In The Venue – Salt Lake City, UT

April 12 & 13

          Marquee Theatre – Tempe, AZ

April 15

  & 16         House of Blues – Dallas, TX

April 19 & 20

          House of Blues – Orlando, FL

April 22 & 23

          Rams Head Live – Baltimore, MD

April 26 & 27

          Playstation Theater – New York, NY

April 29 & 30

          Starland Ballroom – Sayreville, NJ

May 3 & 4

               Trocadero Theatre – Philadelphia, PA

May 6

  & 7              House of Blues – Boston, MA

May 10 & 11

           Royal Oak Music Theatre – Royal Oak, MI

May 13 & 14

           The Rave –  Milwaukee, WI

May 17

 & 18           House of Blues – Chicago, IL

May 20 & 21

           Ogden Theatre – Denver, CO

May 24 & 25

           Brooklyn Bowl – Las Vegas, NV

May 27 & 28

           Club Nokia –  Los Angeles, CA
Live and Acoustic at the Palace Tracklist:
Tunnel
The Taste of Ink
Yesterday's Feelings
Lunacy Fringe
The Bird And The Worm
Paralyzed
All That I've Got
Overdose
Blue And Yellow
Hard To Say
Imagine (John Lennon Cover)
On My Own
Tags:
The Used