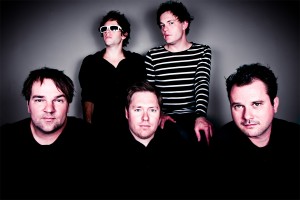 The Get Up Kids and MTV.com have teamed up to premiere the band's new video for "Shatter Your Lungs." The song comes from their fifth album There Are Rules, which was released on January 25th through their own label Quality Hill Records.
Check out the video below and watch as a fox (in a swanky suit) steals a berry pie from a pair of the most absurd bakers you'll ever see. A chase ensues and let's just say this one doesn't end well…for anybody.
The video can be viewed on the MTV website.
The Get Up Kids have also confirmed a 10-date co-headlining tour with Saves The Day. The run begins June 2 in Palatine, Illinois, and continues through June 12 in Allentown, Pennsylvania. Dates for the tour can be found below.
June 2 – Palatine, IL @ Durty Nellies
June 3 – Lansing, MI @ The Loft
June 4 – Toledo, OH @ Headliners
June 5 – Pittsburgh, PA @ Mr. Smalls Theatre
June 7 – Clifton Park, NY @ Northern Lights
June 8 – Farmingdale, NY @ The Crazy Donkey
June 9 – New Haven, CT @ Toad's Place
June 10 – Providence, RI @ Lupo's Heartbreak Hotel
June 11 – Sayerville, NJ @ Starland Ballroom
June 12 – Allentown, PA @ Crocodile Rock Cafe
Tickets for the co-headlining tour can be purchased here.
Tags:
Music Video
,
The Get Up Kids