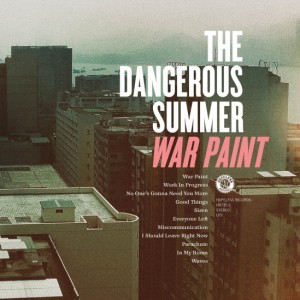 The Dangerous Summer have revealed that their highly anticipated sophomore album will be titled War Paint and will be released July 19th on Hopeless Records. The album was produced by Paul Leavitt, who also produced their last two releases Reach For The Sun and If You Could Only Keep Me Alive. The tracklisting can be seen below.
1. War Paint
2. Work In Progress
3. No One's Gonna Need You More
4. Good Things
5. Siren
6. Everyone Left
7. Miscommunication
8. I Should Leave Right Now
9. Parachute
10. In My Room
11. Waves
The album can be pre-ordered on Amazon and the first single "Work In Progress" will drop June 14th. An acoustic performance of the new song "No One's Gonna Need You More" can be seen here.
Tags:
The Dangerous Summer