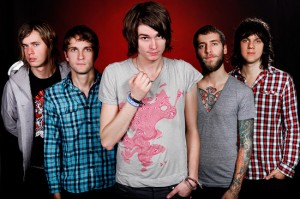 The Academy Is… posted the following statement on their website today announcing the departure of drummer Andy Mrotek and guitarist Michael Chislett.
"Time is a funny thing. It seems to pick and choose the speed at which it passes without regard for its passengers. Through all that whirling time, things change. The arts change, fashions change, roads change. At some point in time, every road finds itself branching out in different directions. TAI has reached that point. As difficult as it is to let go, Andy Mrotek and Michael Guy Chislett are parting ways with The Academy Is… We feel that this is the right choice for all involved to embrace the changes, new hopes and desires that have individually taken hold.
Andy is currently focusing on his art and pursuing his band Animal Upstairs full time. His limitless talent, heart, and friendship has made a lasting impact on all of us and we will always be his biggest fans in whatever the future holds for him. Michael has been busy co-writing, producing and touring with various artists over the past year, and is currently touring with Brooke Fraser on her world tour. His ability as a musician always fed our thirst to improve as he pushed us to new limits. We wish them both the best as we head our separate ways with mutual respect and continued support and friendship.
We'd like to thank all of our fans for your understanding and support, for each of us, as we enter the next step in our musical lives. Meanwhile, Mike, Adam and I are looking and moving forward to a new era of TAI. We are proud to announce that we will be heading into the studio in the very near future to record our fourth and most ambitious album to date. Stay tuned for more news and updates on the record coming soon."
Tags:
The Academy Is