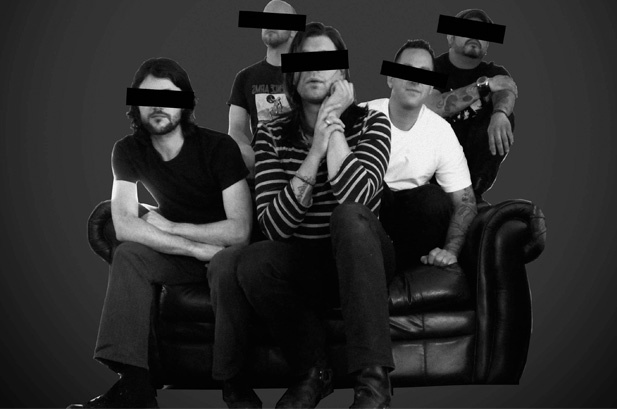 Taking Back Sunday's Adam Lazzara credits a "crazy idea" from drummer Mark O'Connell with bringing about a reunion of the group's original recording lineup for the first time in seven years.
After touring to promote 2009's New Again, Lazzara tells how there was tension in the current line-up.
"Everybody was just, like, unhappy, and so something needed to happen. Then Mark calls me one day and says, 'Look, man, I've got this crazy idea. What would you think about…'" bringing guitarist John Nolan and bassist Shaun Cooper, who made TBS' 2002 debut, Tell All Your Friends, back into the band. "I was like, 'Man, there is no way. I don't see how that could work. I haven't even talked to John in all these years.'"
Lazzara and Nolan did connect, by phone, in January, and the singer says that, "it was almost like no time had passed between us. It felt like it could've been just a couple days or a week, when it reality it was seven years. There's something to be said for that feeling. I generally missed his friendship."
The feeling was even stronger when the quintet, which also includes guitarist Eddie Reyes, regrouped in March on a pecan farm near the Texas-Mexico border to jam — a session that resulted in seven new songs and a load of other ideas TBS plans to develop when it reconvenes this week.
"It's something that would normally take us six, seven months to do, and we did it in a week's time," Lazzara recalls. "Every day, when we'd be done playing and just hanging out on the porch or something, we'd all kind of look at each other and laugh 'cause it's almost like the songs were always there. There's an urgency and an energy and an excitement that's just embedded in the songs that you can't create or fake. I can't wait for people to hear them."
TBS plans to hit the studio some time this summer with Eric Valentine, who produced 2006's Louder Now. Lazzara says there are no live performance plans yet, tough the quintet has "talked about how much fun it's going to be and how excited we are to play live."
A message posted on the band's web site, meanwhile, says there are "no hard feelings" between the group and ousted members Matt Rubano and Matt Fazzi — though Lazzara acknowledges that his conversation with the former was difficult to have.
"It was really hard…You never want to hurt somebody who's like your brother. So…that wasn't an easy conversation, but he was a perfect gentleman about it. Nobody was cursing each other our or anything."
And, he adds, "Sometimes you just have to do what's right for the band. There couldn't have been another record made the way things were…What we're doing now and how good everything is tells me we're doing the right thing."
Tags:
Straylight Run
,
Taking Back Sunday