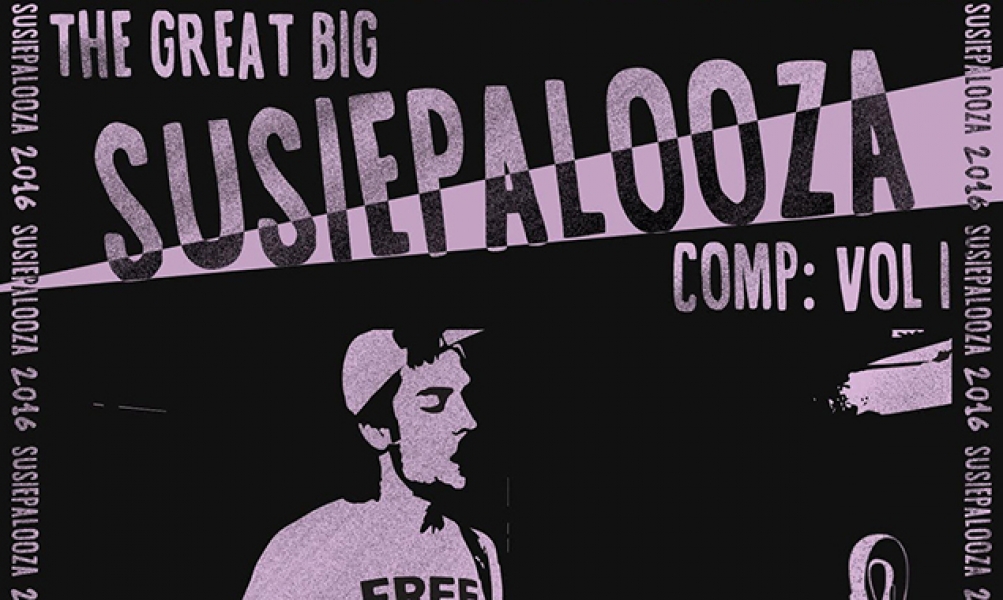 Last year saw the start of Susiepalooza, a day of kickass music in the name of a great cause. Created in the memory of Sue Marchetti, the show benefits  The Lustgarten Foundation, a charity that fights pancreatic cancer.
This year, the concert is back, with an epic compilation at its side in hopes to make the cause even bigger than before. Modern Baseball, Grayscale, Abandon All Ships, and more have pitched in for the album, due out on March 25th.  Check out the tracklist below!
You can support the cause today by ordering the album on Bandcamp. A minimum donation of $5 gets you the 66 track album, and helps fight against pancreatic cancer. Pre-order your copy today!
Tracklist:  
1. Modern Baseball – … And Beyond
2. Beach Slang – Bad Art And Weird Ideas
4. Everyone Leaves – Tired Life
5. Abandon All Ships – Loafting
11. Stories Untold – Things Change
12. The Obsessives – Daisy
13. Half Hearted – Sold Soul
14. Make Them Suffer – Fake
15. Change Is – Loss (feat. Devin MacGillivray)
16. Begin Again – i ws nvr yr grlfrnd
18. Hot Mulligan – Shaylee, Shanel
19. Kevin Burke – Don't Let It Be True
20. Degrader – Dead Presidents (feat. South African Prince)
21. Mutiny Abroad – Hides
22. Best Kept Secret – Stormy Weather
23. Nice Shot, Kid – Cornered
24. Convictions – The Dahlia Disease
26. I, Awake – Heart/Home
27. Drop The Act – Stay Close
28. Gottem – Hopeless Romantic
29. Bad Year – Roots (feat. Jeremy Hunter)
30. Dismissed – Empty Home (feat. Kevin Lacerda)
31. In Honor Of – The Pressure
32. Superheaven – I've Been Bored
33. Whittled Down – Blooming
34. Discolor – Hand To Mend
35. Lacuna Ink – Only In Dreams
36. Waterparks – Night Maps (feat. Fred Mascherino)
37. A Wake In Providence – Black Mass (feat. Dickie Allen)
39. Outbreak Xero – Crossover
40. Depressant – Descent Of The Snowbird
41. Alumni – Calling Home
42. Fossil Youth – From The Window
43. Overcomer – Faces (In My Head)
45. Trace Your Steps – Animal (Creature Of Habit)
46. Makeshift – Someone Like Me
47. Chucky Hugh – Silhouettes And Sunsets
48. An Old Friend – Fragments And Blurs
51. Better Days – Hard To Love
52. The Magic Fountain – Mr. Kramer  
53. It Lives, It Breathes – Got No Time
54. Table Talk – Promotion
56. Quinn Cicala – Gracious
58. Sam Pollet – Split Ends
63. Nobody's Babe – Billy Joel
65. Chase Huglin – Your New Boy
66. Pentimento – Sink Or Swim  
Tags:
Abandon All Ships
,
Grayscale
,
Modern Badeball
,
Susiepalooza