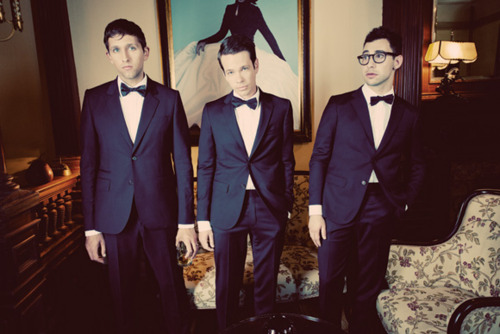 Soundsupply have teamed up with Groupon and Fun. for their latest music "drop." This drop consists of ten albums from new and emerging artists curated by Fun. and available through digital download exclusively Groupon for $15. The deal will only be available for 7 days beginning Feb. 7, 2014, 9:00 a.m. EST.
The proceeds from Fun.'s drop will benefit The Ally Coalition, an organization promoting action in the LGBTQ equality. The Ally Coalition was founded the members of Fun. and fashion designer Rachel Antonoff.
See the full list of the ten albums Fun. picked for the drop below!
Hellogoodbye – "Everything Is Debatable" (Old Friends Records)
The Weakerthans – "Left and Leaving" (Epitaph)
Of Montreal – "Satanic Panic In The Attic" (Polyvinyl Records)
Miniature Tigers – "Mia Pharaoh" (Modern Art Records)
The Long Winters – "When I Pretend To Fall" (Barsuk Records)
Tancred – "Tancred" (Topshelf Records)
Aloha – "Sugar" (Polyvinyl Records)
Colour Revolt – "The Cradle" (Dualtone Records)
Javelins – "Heavy Meadow" (Suburban Sprawl)
Clem Snide – "Soft Spot" (Zahpwee Music)
Tags:
Fun.