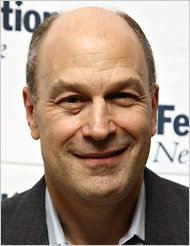 In a shift of power among the major record companies, Barry Weiss, a top executive at Sony Music Entertainment, has signed a new deal with the Universal Music Group, the industry leader and Sony's chief competitor.
The move, which has been rumored in the music industry for weeks, was confirmed on Tuesday by a spokeswoman at the RCA/Jive Label Group, the division of Sony where Mr. Weiss, 51, is chairman and chief executive.
Universal, whose labels include Interscope, Island, Def Jam, Geffen and Motown, has not said what Mr. Weiss's role will be at the company. But it is expected that he will run Universal's East Coast operations under the company's new chief executive, Lucian Grainge, who takes over on Jan. 1 and will be based in Los Angeles.
In a statement, Sony said that Mr. Weiss would stay at the company until his contract expired at the end of April.
Known as a shrewd and frugal deal maker – a talent that has served him well as budgets in the music industry have shrunk over the last decade – Mr. Weiss began his career by the side of his father, Hy Weiss, a Romanian immigrant who in the 1950s helped found Old Town, a doo-wop and rhythm and blues label. In the days before the government crackdown on payola, Hy Weiss became known for aggressive promotional tactics like his "$50 handshake."
In 1982, after graduating from Cornell, Mr. Weiss began working at Jive Records, a label that dominated the teen-pop era of the late 1990s and early 2000s with Britney Spears, the Backstreet Boys and 'N Sync.
Jive became part of the Sony empire through a series of acquisitions and mergers. In 2002, BMG Music bought its parent company, Zomba, for $2.7 billion, and in 2004 BMG formed a joint venture with Sony. Four years later Sony acquired BMG's half, creating two music separate music divisions.
Sony's market share for album sales in the United States is 27.5 percent, while Universal has 30.5 percent of that market, according to Nielsen SoundScan.
Long considered a rising star at Sony, Mr. Weiss in 2008 took over the RCA/Jive division – the BMG half – from Clive Davis, the power broker whose artists have included Janis Joplin, Whitney Houston and Alicia Keys. (Mr. Davis remains Sony's chief creative officer.)
That promotion gave Mr. Weiss control over a portfolio of labels that releases music by Ms. Spears, Justin Timberlake, the Dave Matthews Band, Kelly Clarkson, R. Kelly and Kesha, among dozens of other acts.
Mr. Weiss's move to Universal may signal the end of a power struggle within Sony to succeed Rolf Schmidt-Holtz as the chief executive of the company's music division. Mr. Weiss had been competing fiercely for the position with Rob Stringer, the chairman of Sony's other music division, the Columbia/Epic Label Group.
Sony has not yet named a replacement for Mr. Schmidt-Holtz, who is expected to remain until his contract ends early next year.