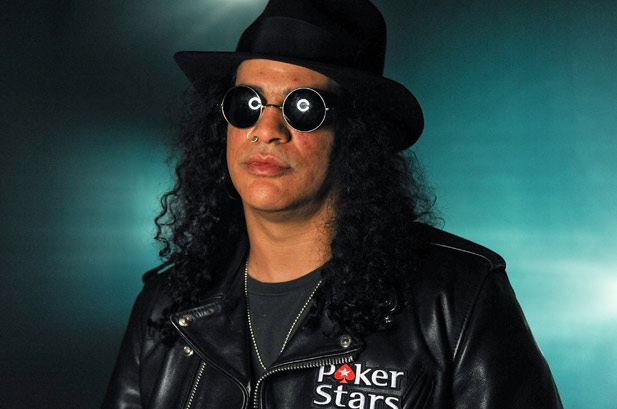 As a former member of Guns N' Roses and Velvet Revolver, Slash knows more than most musicians about what he calls "band drama."
"It just goes hand in hand with rock 'n' roll," the 44-year-old guitarist says with a seen-it-all laugh. "It's a very volatile world. And I actually thrive on it — but at the same time it makes it really hard to get anything done."
Getting stuff done was the primary motivation behind Slash's self-titled solo debut, due April 6 in the United States on the artist's own Dik Hayd Records via EMI Label Services.
"After the last Velvet Revolver tour, I was like, 'I just need to do something on my own,'" says the musician, who's also released a pair of discs with Slash's Snakepit.
 "'Something where I can make my own decisions and do whatever it is that I want to do, without having to conform to anyone else's taste.'"
Not that "Slash" is free of other creative input: The 13-track set contains collaborations with an eclectic roster of guest vocalists, including Ozzy Osbourne, Chris Cornell, Kid Rock, Ian Astbury and Iggy Pop.
Slash says the idea behind the all-star hookups was simple: "I just wanted to get different people I admired and thought were great on my record. I'd been doing that on other people's records forever."
Avenged Sevenfold frontman M. Shadows — who lends lead vocals to the hard-rocking "Nothing to Say" — insists that despite the expansive guest list, the album is undoubtedly Slash's show.
"You can tell he's doing the record as a way to try different things," Shadows says. "He definitely branched out, and the result is all over the place. But the guitar playing is so obviously Slash. That holds it all together."
"Slash is a guy who appeals to everyone," says Maroon 5's Adam Levine, who sings "Gotten," a bluesy ballad. "He was in Guns N' Roses but he also wasn't afraid of playing on a Michael Jackson record. I've always loved his attitude toward music, the way he embraces tons of different styles."
Slash says the album's stylistic diversity — where you can find Motorhead frontman Lemmy Kilmister ("Doctor Alibi") rubbing elbows with Fergie of the Black Eyed Peas ("Beautiful Dangerous") — developed in an organic fashion.
"Once I came up with the concept, there was no forethought as to who exactly should be on the record," he says. "I just started writing music and compiling stuff from old tapes. Then I sat down with it and kept thinking, 'This song would great for so-and-so.' Once I got the songs into reasonable demo form, I'd send them out to different people and just hope they were interested."
After contacting friends and acquaintances, he moved on to artists he didn't know, such as Shadows, Rocco De Luca of alternative rock act the Burden ("Saint Is a Sinner Too") and Wolfmother frontman Andrew Stockdale, who appears on the lead single, "By the Sword."
"He's Australian and kind of hard to find," Slash says of Stockdale. "But after months of looking, it turned out he lives right up the street from me."
Shadows and Levine both say Slash welcomed their contributions.
 "Before we met he sent over a verse riff and a chorus and basically said, 'What can you do with this?'" Shadows recalls. "At first I was just doing some vocal melodies, but after a while I was like, 'I kind of want to make this a little more in-depth,' so I brought in a new verse and turned the chorus into a pre-chorus. Slash was super laid-back. He wasn't pissed that I was coming up with new things."
Slash wasn't inclined to enter a traditional record deal. "One of the things he was really keen on was full control," says Jeff Varner of Slash's management firm, Collective Music Group.
"It's this innate thing of, 'Is this cool or is this corporate-y sellout?'" Varner says. "He knows who he is and he knows when something doesn't pass the smell test. But he's also said to us, 'Look, I realize times have changed and that you can't market records the way you used to.'"
Tags:
Avenged Sevenfold
,
Guns N' Roses
,
Iggy Pop
,
Kid Rock
,
Maroon 5
,
Ozzy Osbourne
,
Slash