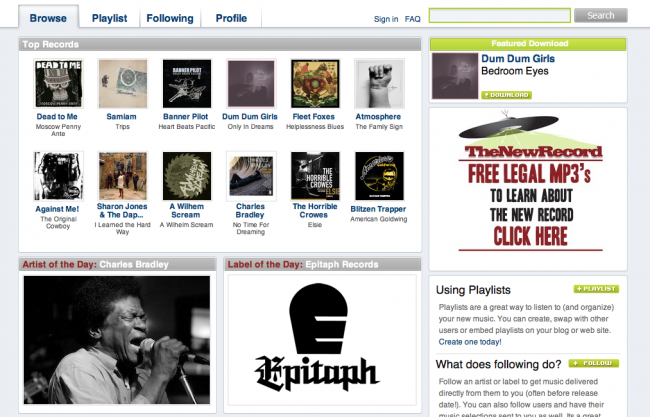 For the last 2 ½ years, Bill Armstrong, co-founder of local rock label  SideOneDummy Records, has been working on a side project. His vision was to create a website for independent labels to give away free music. The site,  TheNewRecord.com, would probably still be in the planning stages had Armstrong not sold his house to fund it.
Why bother? For one, he was sick of hearing people complaining. Said Armstrong, "I feel like I'm at least presenting a solution as opposed to just stating the problem over and over. 'Business sucks, sales are down, that didn't mean anything, that station doesn't move any units.' At least I can say, 'Here's an idea.' Maybe it will drive more traffic to your store."
At launch, Armstrong has corraled more than 30 independent labels to participate, including Sub Pop, Epitaph/Anti- and Rhymesayers. Armstrong calls it a "digital newsstand," and the site will offer new free tracks every day. Rather than stream full albums, Armstrong hopes TheNewRecord will ultimately become a place primarily dedicated to highlighting unreleased music from upcoming albums, with one or two free MP3s per release.
The site is free to sign up, and there are no limits on how many songs a user can download. Fans can "follow" a specific label or artist and be notified when new music is posted and can also create and embed playlists. Below, Armstrong discusses his plans for the site, his personal sacrifice to get it built and why he believes it fills a void in the digital music sector.
You're running a label full-time, so why dedicate your free time to building a site, one whose success is based on participation from other labels in order for it to work?
It started from believing that there was a better way for us, as a label, to get our stuff out there than we were currently doing. Younger kids don't respond to email as much as older demographics do. While we love doing exclusives at websites, we wanted a place that we could always leak something ahead of time. It didn't really feel like there was a good centralized place to do that. As opposed to complaining about it, I just thought I'd try to build something.
What kind of financial commitment was this?
I paid for it out of my own pocket, entirely outside of SideOneDummy. It was money I had saved. My financial constraints were what took us so long. This was built over the course of 2 ½ years. When there were funds available, it was worked on, and when there weren't funds, we were trying to figure out what we were going to do with this.
So how much did it cost you?
It was sizable. I did sell my house, so that helped finance this. I'm a renter now. I sold my house and bought a website. In today's market? That doesn't feel too bad.
What was your pitch to other labels?
It was a strange situation. Everyone, if you went and talked to them and said, 'Would you like something that does this, this and this?' Everyone would say yes, but no one would commit to it until it was actually built. So it was this chicken and the egg thing. I got it built to where it was pretty functional and then I started showing it to friends of mine at different labels. Dave Hansen [general manager] at Epitaph/Anti- was the first guy to see it and he said he would support it. That was a huge re-affirmation.
Is this, then, a business partnership between you and the participating labels?  
Next to each track and each band, the labels own that ad space. So if you click around you'll notice that the advertising off to the right-hand side of a band or label page is programmed by the label. The ad space isn't there for the labels to re-sell it. It's there to drive traffic to the labels and to their store.
On a big scale, the idea is to collectively loss-leader our stuff that we're giving away. We're trying to loss-leader it into our stores. That's the idea from a revenue point of view. The two links we have up there are iTunes and Amazon. Those are the places where you know what your margins are.
What kind of success are you going to need to see in order to continue investing in this?
We're viewing this like we're releasing a record. That's what you do with bands. Flogging Molly was selling out Molly Malone's on Fairfax when we met them, and then they ended up selling out the Greek. I'm a music junkie, and I like to hear stuff early. So for me, being able to preview tracks for free — six months before they hit the street — is appealing. If other people feel that way, then hopefully it will take on a life of its own.
What is the benefit of doing it this way, as opposed to giving a song to Pitchfork, Stereogum or any other editorial site?
This isn't a blog. Hopefully, those sites will use this if there's track here. If you're doing an Iron & Wine review, the free MP3s are right here. Plus, there's licensing issues. If we want to give away an MP3 to a site, we have to give a license on the gratis master side, and then we have to go to the publisher. Also, when we give it to a site, we don't get back any meaningful data. We don't get back how many times it was played or downloaded.
What are you hoping to learn and collect, from a data standpoint, that you wouldn't already know?
I'm looking to find my people. With a smaller band, it's very difficult to quantify what's happening. You're just trying to chase fires. 'This guy is into it, let's do more stuff with him.' But I'm still in a vacuum. On this platform, I'm only in the company of other great labels. If someone is coming for Fleet Foxes, maybe they'll find Gogol Bordello or June Carter or Brett Dennen or Mavis Staples. The idea is that we're stronger in numbers. We can collectively step out of our vacuum without sacrificing anything else we're doing. The labels know it's going to be other labels and there won't be any user-generated content.
So many sites seem to launch aimed at indie or unsigned artists, but this is very much about label branding.
That was time-consuming. This is a closed platform, meaning if you and I start a band we cannot upload on here. This is a filter, with the labels being the filter. I had to go to each one of these people individually.
Label identity has gotten washed away in the digital era. There was a time when label loyalty meant a lot. But it's been so diluted. In this world of filters, labels are great filters. I know if something comes with a Sub Pop logo on it, it's going to be good. It may not be my taste, and it may not be what I'm into, but I know it will have a level of quality. The idea is that we can benefit from each other's company.
Do you intend to launch a streaming component?
Right now we're just going to keep a newsstand vibe. I've gotten this vision as far as I can get on my own and just want to see how people respond to it.
And this doesn't impede relationships with retailers or streaming sites? Everyone seems to be grappling for extra tracks and exclusive content.
As a label owner, I had to think of what I would sign off on. This is nonexclusive. You don't have to do this. I think most labels want to do this because it solves a problem. It allows them to put their cleared stuff in a central location. People can just come and grab this and post it. Everything is pre-cleared.