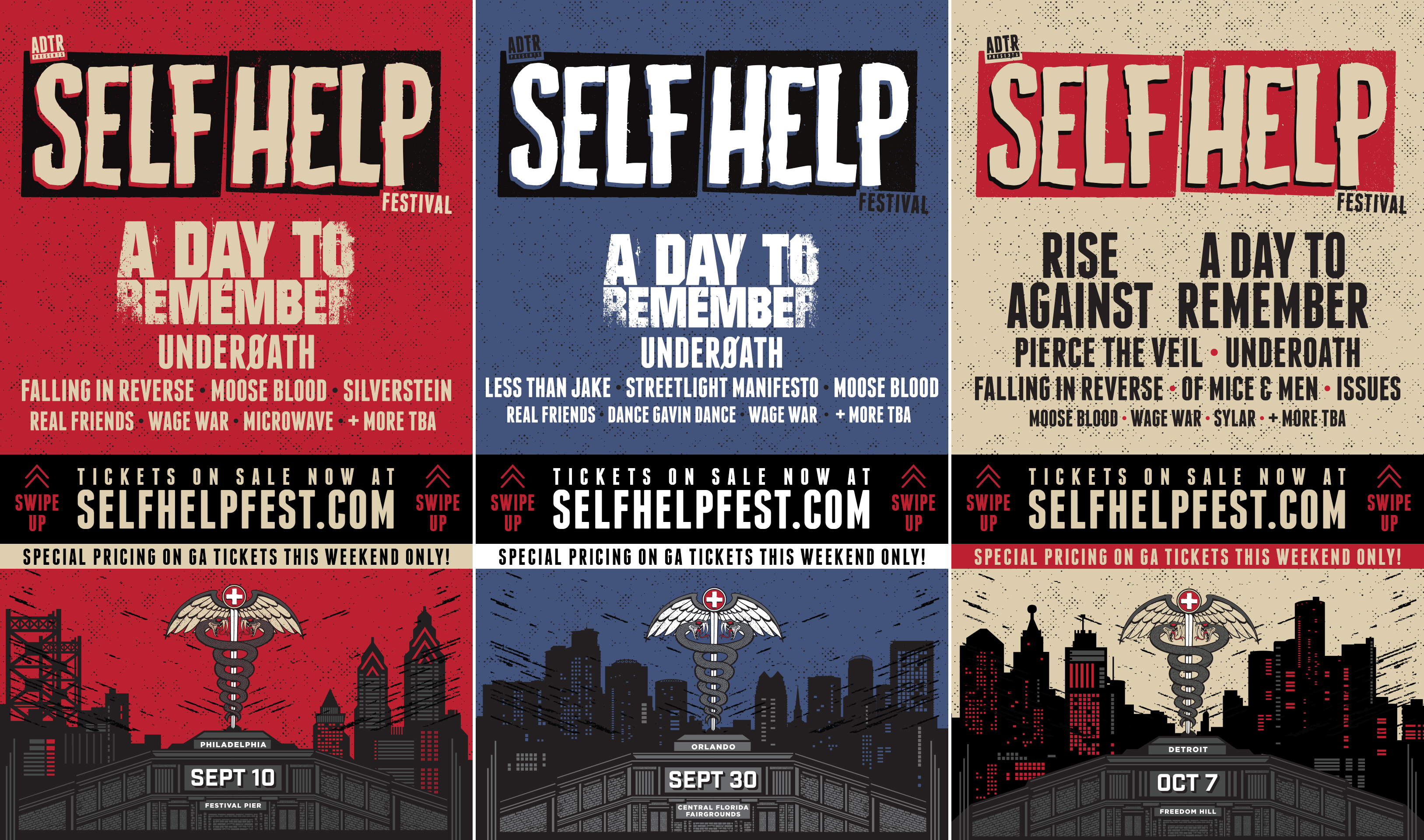 Ya hear that? It's the sound of a punk rock party coming your way. That's right: We're less than 2 weeks away from the start of Self Help Fest! The punk rock festival is back for its fourth run, hitting Philadelphia on September 10th, Orlando on September 30th, and Detroit on October 7th, with an encore planned for next year in San Bernadino. Featuring bands such as A Day To Remember, Rise Against, Underoath, State Champs, Pierce The Veil and a whole lot more, this year's Self Help Fest promises to be one hell of a good time—and lucky for you, there's still time to get your tickets!
Curated by A Day To Remember and produced by Fly South Music Group and United Talent Agency, the festival offers the chance to not only have an amazing experience seeing your favorite bands, but meet them too! VIP Packages include a photo op and meet & greet with participating artists, along with a limited edition VIP t-shirt, commemorative laminate, and an enamel pin, along with access to the VIP area, early entry and 1 general admission ticket. That's a whole lotta awesome, and you can get your hands on 'em now along with general admission tickets for the Philadelphia, Detroit, and Orlando dates. See the individual lineups for each city below, then hurry up and get your tickets now!
September 10, 2017 – Philadelphia, PA – Festival Pier Lineup:
A Day To Remember
Underøath
Falling In Reverse
Moose Blood
Silverstein
Real Friends
Stray From The Path
Wage War
Angel Du$t
Can't Swim
The Plot In You
Bad Omens
Microwave
*Additional bands to be announced soon
September 30, 2017 – Orlando, FL – Central Florida Fairgrounds Lineup
A Day To Remember
Underøath
The Story So Far
State Champs
Less Than Jake
Streetlight Manifesto
Moose Blood
Real Friends
Dance Gavin Dance
Attila
Wage War
The Plot In You
Bad Omens
*Additional bands to be announced soon
October 7, 2017 – Detroit, MI – Michigan Lottery Amphitheatre at Freedom Hill Lineup
Rise Against
A Day To Remember
Pierce The Veil
Underøath
Falling In Reverse
Of Mice & Men
Issues
Moose Blood
Wage War
Too Close To Touch
Sylar
The Plot In You
*Additional bands to be announced soon
March 3, 2018 – San Bernardino, CA – Glen Helen Amphitheater's lineup will be announced at a later date.
Tags:
A Day To Remember
,
Pierce the Veil
,
Rise Against
,
Self Help Fest
,
State Champs
,
Underoath