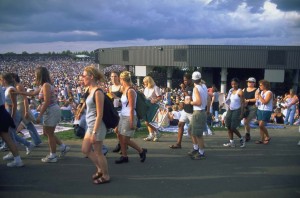 COLUMBIA, Md. – Sarah McLachlan's performance Tuesday night at the Merriweather Post Pavilion was a curious mix of opportunities.
The show was an occasion for the three-time Grammy award winner to cap off a revival of the '90s-era Lilith Fair, the traveling festival she founded to promote female artists. It was also a chance for her to promote her new album, Laws of Illusion. But with all this confronting her, McLachlan's closing act at the festival — which came back this year for the first time since 1999 — sidestepped promotion, instead concentrating on substance by cautiously blending her new material with the older fan favorites that dominated the set.
There was no doubt that McLachlan's performance was impressive, to say the least. Donning a dazzling silver top and flanked by her fellow performers amid the elaborate backdrop of the Merriweather bandshell, the Canadian-born singer-songwriter got off to a muscular start with a two-tone punch, beginning with the soulful fan favorite "Angel" from her international breakthrough 1997 album, Surfacing. After closing that out to a warm reception, McLachlan followed up her hit single with what is perhaps her most recognizable song from that record, the enchanting "Building a Mystery," which catapulted her to No. 1 in Canada and fame in the United States, and led her to win the first of three Grammys. At one point during the set McLachlan ominously remarked that the more depressing the song, the more joy she gets out of singing it, a statement that makes perfect sense given the time she puts into composing her trademark somber, heartfelt odes with gloomy, turn-your-insides-out lyrics.
In fact, the whole set was classic McLachlan: strong but soft mezzo-soprano vocals, selectively placed acoustics, subtle guitar work and an overall folksy/adult alternative sound that reliably powered biting emotional ballads. It was certainly enough to get the crowd enthused as the audience responded positively to every song. But longtime fans were left wondering: what's new? If anything, the hour-long bash that capped off this year's Lilith Fair sounded almost exactly like Mirrorball, McLachlan's live 1999 release from the tour she performed that year to promote Surfacing.
Still that did not mean that the evening was a completely missed opportunity. In terms of promotion, McLachlan took the chance to briefly plug Laws before singing its first single, "Loving You is Easy," to a welcoming audience. And predictably, she praised the return of Lilith as an opportunity for communion and celebration in a time of uncertainty, or in her words, "amid all this crazy shit going on in the world."
But at the same time, she appeared to acknowledge that her latest release is almost destined to underperform her previous records, as she cautiously hoped that concertgoers wouldn't mind hearing "another new [song]" off of Laws. Interestingly, that song turned out to be the ironically-titled "Out of Tune," which is actually more in tune than the rest of her new album, both in an editorial and auditory sense — its sound hearkens back to McLachlan's earlier albums while its message that everybody needs to retreat into a personal inner sanctum lest go insane remains sensitive and cerebral, typical Sarah.
McLachlan's apparent reticence about her latest material did not diminish the quality of her performance when it came to hits such as the wistful "Adia," the smooth-running "Sweet Surrender" and the ever-ripe and ever-haunting "Possession." The latter had a new opening (slightly different from its Mirrorball version) and closed out with some especially rambunctious guitar work, after which McLachlan performed the placid "Ice Cream" as an encore. There was another twist here too as the ending featured a wild scream from McLachlan and a carefully played sitar that (thankfully) proved Lilith's founder is not afraid to step out of her comfort zone when the moment and the melody warrant it.
In truth, that outro captured what everyone in the audience had been waiting for — a reminder that McLachlan is willing to step beyond the bounds of her normal range, especially during a concert in which her sound seemed so exactly reminiscent of that of years past. And if the crowd still had any concerns about her ability to transcend her typical scope, those were allayed after McLachlan finished an intense, guitar-laden reprisal of "Because the Night" as a final encore, continuing a tradition of playing Patti Smith's 1978 classic at the end of each set during this year's festival. But when it was all over and the music died down, the 2010 Lilith Fair festival came to an abrupt end with McLachlan bidding the crowd adieu until next year. By that point, in spite of any potential disappointments over the closing act's overt similarities to McLachlan's past concerts, the attitude of the audience toward the headliner was summed up best by the title of her latest single.
Loving you is easy, Sarah.
SET LIST
Angel
Building a Mystery
Loving You is Easy
Stupid
World on Fire
I Will Remember You
Forgiveness
Adia
Illusions of Bliss
Sweet Surrender
Possession
ENCORE
Ice Cream
Because the Night (Patti Smith cover)
Tags:
Lilith Fair
,
Sarah McLachlan