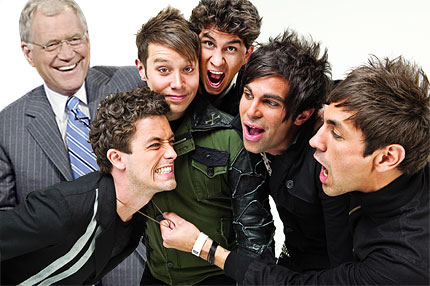 LOS ANGELES — Runner Runner has signed with Capitol Records by way of Clear Entertainment, a new record label started by David Letterman, band members announced Wednesday.
The band's self-titled debut is slated for a late summer release, while its first single, "So Obvious," is already streaming on idobi Radio. The album, produced by Dave Darling, will be  Clear Entertainment's flagship release.
According to frontman Ryan Ogren, the album is in the final development stages.
"We're actually just moving into the mixing stage of the album. We finished vocals the other day. We're probably going to touch up some stuff, but we're on the last legs. We're very excited. It's cool to see everything come together," Ogren said in an interview with Alternative Press.
Ogren is joined by guitarist Nick Bailey, guitarist Peter Munters, bassist Jon Berry and drummer James Ulrich in the gig, which was named a 2009 "Band to Watch" by Alternative Press. Once described as a more pop-like version of Green Day, the band has also been compared to Boys Like Girls, The Maine, Forever the Sickest Kids and We the Kings.
Prior to forming Runner Runner in 2008, the band's members had been in a variety of other gigs. Berry was a founding member of the SoCal pop-punk band Rufio, and Ogren had been the vocalist/guitarist for the New Jersey-based Don't Look Down. Munters, Bailey, and Ulrich were previously members of the Orange County-based skate-punk band Over It.
Adding to the excitement is the band's involvement with Letterman. Ogren said that he and his fellow band members are excited to work with the popular comedian and talk show host, whose new label, they believe, is the right fit for what Runner Runner seeks to accomplish.
"We wanted to find the right team that we believed in and who believed in us. I think we found it here. Our management and record label are more than business. It's like a big family. We have people surrounding us that really care about this project and the music we're making and really want this to come full circle," Ogren said.
To date Runner Runner has performed more than 175 shows on bills with such prominent acts as Fall Out Boy, All Time Low, Gym Class Heroes, Angels & Airwaves, The Higher, The Audition and The White Tie Affair.   Its members are also veterans of the festival circuit, having appeared on the 2009 Vans Warped Tour and at Tokyo's Punkspring Festival, as well as at the Night of Lights Festival and the L.A. Ink Fest. On May 20, the band will kick off a whirlwind tour to promote its new album, traveling throughout the Pacific Northwest, then meandering down to Texas and Louisiana before heading to California in mid-June.
May 20 — Portland, Ore. — Satyricon *
May 22 — Seattle, Wash. — El Corazon *
May 23 — Pocatello, Idaho — Icon *
May 24 — Salt Lake City, Utah — Kilby Court *
May 25 — Colorado Springs, Colo. — Black Sheep *
May 26 – Salina, Kan. — The Blue Goat *
May 29 – Lake Charles, La. — Luna Bar & Grill *
May 30 — New Orleans, La. — The Parish at House of Blues *
May 31 — Wichita Falls, Texas — The Hangar **
Jun 2 — St. Louis, Miss. — Old Rock House **
Jun 3 — Poplar Grove, Ill. — Chubby Rain — House of Tunes **
Jun 6 — Las Vegas, Nev. — Wasted Space at Hard Rock Hotel *
Jun 8 — Anaheim, Calif. — Chain Reaction *
Jun 9 — Ramona, Calif. — Ramona Mainstage *
Jun 11 — Temecula, Calif. — The Vault *
* with Amber Pacific
** with Cartel
Tags:
Amber Pacific
,
Boys Like Girls
,
Cartel
,
Forever The Sickest Kids
,
Green Day
,
Runner Runner
,
The Maine
,
We The Kings