Recently, Jamie McGrath sat down with the lead singer of Canadien alternative rock band Default, Dallas Smith. They discussed touring, the state of the music industry and Default's latest album, Comes and Goes.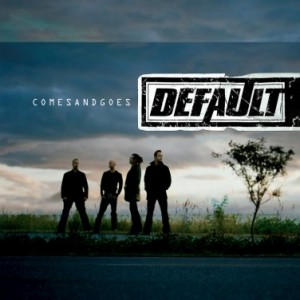 idobi: Can you please state your name and what you play in the band?
Dallas Smith: My name is Dallas Smith, I sing in Default.
idobi: The album, Comes and Goes was just released in the States and worldwide this past October.   Why did it take about a year to come out everywhere else after coming out in Canada in 2009?
Smith: To make a long story short, it got pushed back and we couldn't release it even in Canada.   The label we were on went bankrupt but luckily we were able to free up ourselves legally in Canada.   That was the reason for the delay; it just took longer legally.
idobi: The same reason it took so long between your third and fourth albums? You weren't taking that long, you were done you just couldn't release it?
Smith: Exactly, we were done but we weren't allowed to [release it].
idobi: Did you guys see any decline in support for the band when the album came out four years after your last album or did there continue to be a strong fan base throughout the process that you went through?
Smith: We are pretty big in Canada, we have always had a pretty good touring base so up here maybe a little bit, but not much.   In the states, we barely went down; state fairs and things like that but pretty sporadic.   But we went back down there with Hinder for 5 weeks so we were playing those sized rooms, mid 2000 [capacity].
idobi: When you guys had your biggest success, in the first half of the decade were you guys consistently touring throughout the United States or was that mostly from the push of radio play?   Have you seen strong fan support throughout your entire touring career here so far?
Smith: We have toured the US, hit every major city and every secondary city more than a couple times.   We try to get to cities where we have radio support but its pretty good across the board.
idobi: I saw that the most recent album charted in the billboard rock charts, higher than any of your other albums.   How is the album being received in the States, how has the commercial success been for this album compared to past albums?
Smith: To be honest, being away for as many years as we were away in Canada, I think the record is doing better up here.   I'm sure some of it is the decline in record sales but we sold 12,000 records in Canada and 50,000 is gold and that is what we usually have done on our previous records so its been a pretty significant decline.   Its such a different animal now, people are selling a few thousand a week.  Back in the day, we sold a million records so that was 30 to 40 thousand [units a week] consistently and that just doesn't happen for anybody anymore.
idobi: The number one album here sold 45,000 units last week.
Smith: That's crazy, I remember when we were touring with Nickelback close to Christmas and they did almost 300,000 records in one week and that just doesn't happen anymore.   We are trying to get ourselves familiar with what is selling and how much are we selling, where do we land with that success level.
idobi: Have you guys been able to transform your promotion of the record and increase your online presence to take advantage of that?   Because I think physical record sales are losing to mp3 downloads and internet sales.   Are you guys doing all right there?
Smith: We try and keep that up for sure.   I know the first week we had a big deal on Amazon where you can get the record for five bucks.   We always try to be ahead on that, with bonus tracks on iTunes and things like that.   It is important for sure.
idobi: How was it recording your latest album with the same guy who worked with Ozzy Osbourne.  Was it exciting for you?
Smith: Im not a big black Sabbath guy, more of a Led Zeppelin guy.   Bob Marlette did our third record as well so this is our second time using him and he is a great guy.   He did some work with Seether and Saliva; he has done a lot of stuff. Hes friends with our manager, great guy really easy to work with.   So we had a great experience this second time that we used him.
idobi: Were all of you excited when you guys got some exposure when your song got used in an NHL game? How was it getting your song used in Wrestlemania?
Smith: We grew up playing those games, so getting our song involved with anything hockey is pretty cool, us being Canadian kids.
As far as Wrestlemania, I had no idea.   I found this out on youtube and I thought it was something that somebody just put together so I found out a long time afterwards that we had been used.   And the song that they used didn't go together with Wrestlemania; it didn't make sense.
idobi: In the past ten to twelve years of touring, what have been some of your favorite venues and cities to play?
Smith: In New York City there are so many great venues to play, like Hammerstein Ballroom.   Canada doesn't have ampitheaters  but we like playing those. Texas is always good.  We have played in South Korea and Afghanistan playing for US army.
idobi: What are some of your favorite bands to play with?
Smith: We were originally close with the Nickelback guys, probably played a few hundred shows with them.   We toured with Bush, those guys are great.   Theory of a Deadman are from our hometown so we've played with those guys, we have played a bunch of shows with them.
idobi: As far as 2011, what are the touring plans for Default?
Smith: Gonna sit back and see how our second single does, "Supposed to Be"  just got released in the US. We have to see what cities are playing it, if some opening spots pop up. Gotta see how the single does really.
idobi: Have you noticed that radio support and crowds have been dwindling lately.   The music industry in general seems to be gearing towards the pop music, what is your opinion on that trend?
Smith: It all goes through cycles, the late 90s had that manufactured pop and then Nickelback and Puddle of Mudd and ourselves came up.   It goes in cycles, Lady Gaga comes around and dominates pop radio.   It is the economy as well, people don't have an extra 20 or 30 bucks to go catch a show, its just the way it is.   Even bands that should have no worry selling arenas out just aren't, but that's just the way it is right now.   It will turn around; it always does.   Touring is down right across the board for everybody, its so tough out there. Guarantees from promoters are a lot less, that's just how it is.
Make sure to check out the band and buy the new album here.
Tags:
Default
,
Hinder
,
Nickelback
,
Theory of a Deadman