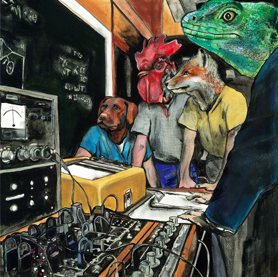 Producer and engineer Will Yip plans to release a compilation album titled Off the Board  this fall featuring artists recorded at Studio 4, including  Title Fight, Circa Survive, Balance and Composure, Man Overboard, Citizen, Turnover, Daylight, Koji, Tiger's Jaw, Polar Bear Club, Dead End Path, Sainthood Reps, Mongoloids, None More Black, Light Years, Pity Sex, and Anthony Green.
The compilation album is unique in that it was recorded, mixed, and mastered by Will Yip and many of the songs featured were written solely for this project. In addition, the proceeds of the album will go towards a down payment for Yip's partnership in Studio 4 in Conshohocken, PA.
Will Yip explains,
"This comp represents everything that I've done in the past ten years of my life.  I want to give the punk, hardcore, and alternative community of awesome bands a home."
Off the Board  will be released worldwide October 8th, 2013 and will only be available for a limited time. There are multiple pre-order options on the website, featuring colored vinyl presses and T-shirts. Fans will also able to purchase tickets for an inaugural Studio 4 Sessions with Anthony Green and special guests Tigers Jaw on September 20th and 21st.
Yip states,
"This compilation is about family. It's the coming together of a tight knit community made up of the best bands and friends I know all in one place. Every band is helping me create a permanent production home our music scene has never had before. We're making the legendary Studio 4 ours…a home and one of a kind environment where we can forever be able to create the best possible product without limitations."
Tags:
Anthony Green
,
Balance and Composure
,
Circa Survive
,
Citizen
,
Daylight
,
Dead End Path
,
Koji
,
Light Years
,
Man Overboard
,
Mongoloids
,
None More Black
,
Pity Sex
,
Polar Bear Club
,
Sainthood Reps
,
Tiger's Jaw
,
Title Fight
,
Turnover