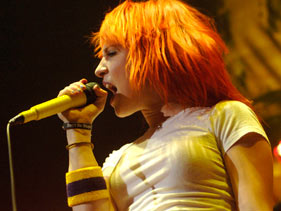 It is one if its biggest songs, the one that put it on the map and got it to where it is today. But on its new album, Paramore is looking to put "Misery Business" behind it.
Looking back, lead singer Hayley Wiliams said that the song provided a much needed catharsis. That release, she said, paved the way for Paramore to complete work on its new album.
"'Misery Business' was a big step for me, because it was sort of an embarrassing, vengeful emotion, and I just felt really bratty. And it was good for me to get out," frontwoman Hayley Williams said. "But with this record, it's different. I wrote ['Misery Business'] about a past experience, and I had already seen the outcome and gotten through everything. And that's the same with every song on the record, even the ones that weren't that personal… But [with] this record, I felt a lot heavier."
Writing the songs on the new album was a therapeutic and terrifying experience – not just for Williams, who grappled with self-doubt throughout the process, but for the band itself. The wounds were still raw from Paramore's near-split in early 2008, and now it was faced with the prospect of reopening the sutures to make the kind of songs it knew it had to deliver.
So the band members sat down and talked. A lot. They hashed out old differences, made amends and came out with a batch of songs – likely first single "Ignorance," the heavy "Careful" and the lush "Exception" – that act as the spiky soundtrack to all those ups and downs.
The result, Riot!, is distinguished from the band's previous work in that it has a much wider range, said guitarist Josh Farro.
"If we took three years, we would probably have one-hundred-billion songs, and we wouldn't know what to put on the record … so we decided to stop writing," Farro said. "And what we had was really all over the place, which is what we were going for. Riot! was pretty 'same' the entire record. There wasn't a lot of dynamic. I think this record definitely has that. We have an acoustic song, we have the pretty songs, and then we've got the midtempo and the heavy ones… It's a good mixture."
So while it is always going to be proud of its past, Paramore is moving forward. It had to, both as a group of people and as a band. And the end result of all that soul-searching is a record it is endlessly proud of – and not just for the reason one might expect.
"I'm not going to sit here and try to convince everyone that [these songs] are the best thing I've ever written and these lyrics are my masterpiece, but they're really helping me," Williams smiled. "They're helping our whole band."