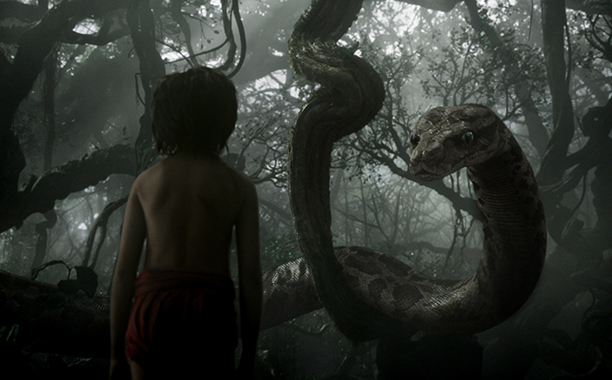 Image credit: Disney
When you try to remember Disney's Jungle Book, you automatically hear Scarlett Johansson's voice in your head as the python Kaa, right? After releasing just a six-second Vine a few days ago, Disney released the first official trailer of the live action Jungle Book remake this morning.
Scar Jo will be joined by other big names including Idris Elba, Lupita Nyong'o, Ben Kingsley and Christopher Walken. Don't even get us started on what's bound to be an incredible rendition of "The Bare Necessities" performed by Bill Murray.
While the cast list is long and impressive, don't expect to see any of them on the screen. Ten-year-old Neel Sethi will be the only human actor amidst a movie full of animated characters.
In the few hours since the trailer was released, hardly anybody could contain their excitement. Director Jon Favreau immediately announced a live #AskJungleBook Q&A on Twitter following the release of the trailer, and was met with hundreds of comments and questions from enthusiastic fans like the following:
#askjunglebook Are you creating any new animal characters for the film @Jon_Favreau! I can't wait for this movie! Big fan of the classic 🙂

– Sandesh (@SandeshNZ) September 15, 2015
.@Jon_Favreau if you could pick another @Disney toon to expand this @TheJungleBook Universe what would it be? (Robin Hood?) #AskJungleBook – Andy Signore (@andysignore) September 15, 2015
What was your favourite thing about being in this movie and who is your favourite Jungle Book character? #askjunglebook

– jessica ⚡️ (@oakenshieldx) September 15, 2015
The movie hits theaters in April of 2016, but that doesn't mean we can't spend the next few months wondering if orangutan King Louie will resemble Christopher Walken at all.
Tags:
Disney
,
the jungle book