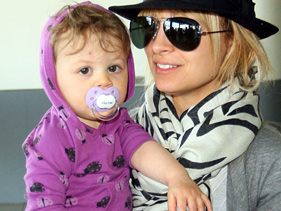 Barely a year after their daughter, Harlow Winter Kate Madden, was born, Nicole Richie and Good Charlotte's Joel Madden have announced that they're expecting another child.
In a post titled "Better Than Winning an OSCAR" on Good Charlotte's Web site, Madden, 29, wrote: "What's better than winning an Oscar? I am so happy to tell everyone that Harlow is going to be a big sister! God has truly blessed my family. Hope you're all feeling as good as I am right now."
In the months since Harlow's birth, the couple have spoken extensively about being new parents. Just a few weeks after Harlow was born, Joel told MTV News last year, "Being a father is nothing you can plan for. You've got to take it one day at a time, and there's no manual or anything like that. It's not a conscious change, it just happens to you all of a sudden. We had Harlow, and suddenly our priorities changed. We've both done a lot in our lives, had a lot of fun, but now it's time to be parents, which is a different kind of fun. The priority is our daughter and the kind of family we build around her."
Madden also spoke about how he and Richie split the parenting duties. "If anything, I'm the parent who gives the baby whatever she wants," he laughed. "Nicole has her on a schedule. She knows exactly what she needs. I just spoil her. If she's crying, I'll take her out of the crib and give her whatever she wants, so it's a good balance."
And though Harlow has been photographed extensively by the media, Madden said that he and Richie are trying to be sure that Harlow will grow up as far removed from the Hollywood scene as possible.
"We're very serious about raising her the right way. … We're both very hands-on about our daughter, because she's the priority," Madden said. "I still am able to go out occasionally. I'm still able to DJ, and [Good Charlotte] will be going on tour, but for the most part, I don't go out with Harlow to places where I think that she could be put in danger. That aspect of Hollywood isn't a part of my life. You have to respect what it is, but you don't have to participate in it."