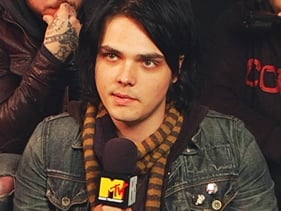 There was a time, long before the multiplatinum records and the pancake makeup, before the Eisner Award-winning comics or the Dylan cover in the "Watchmen" film, when My Chemical Romance were just another band from New Jersey. They would like very much to get back to that time.
So that's goal number one with their new album – the follow-up to the massively successful, massively ambitious "Welcome to the Black Parade" – which they're currently writing in Los Angeles. They hope to get back to their roots – to make manic, fast-and-furious, spur-of-the-moment punk. And, above all, to keep it simple.
"When we had just finished 'Black Parade,'  I think doing that record made us feel like we could do everything. And so I think the way to top a record that already kind of does everything is to not do everything," MCR frontman Gerard Way smiled. "I don't think this is gonna be a 'kitchen sink' record. I think it's going to get by on its musicianship and its own merits in the songs.
"And every record … I like to think they're snapshots of what your band is at that moment, and this is really going to be that. I think there's going to be lack of concept, I think it's simply a snapshot, I think it's going to be direct and very honest," he continued. "It's not going to be hiding behind a veil of fiction or uniforms and makeup anymore. … From the stuff we've been playing so far, just feels very pure. That's the best way to describe it. People who were really big fans of our first record, they'll find things they're really going to love about the new material – and not because we sound like that first record at all, it's because there's a purity to it. There's less happening."
It's a tactic they first learned while recording their version of Dylan's "Desolation Row" for Zack Snyder's upcoming "Watchmen" film: Stop thinking and just get busy rocking.
"From working on 'Desolation Row' … I think it was very natural. We just kind of did stuff and the song was there. There was no over-thinking," Way explained. "[But, having said that] we're not going to make a retro record at all. It will sound like a modern rock record, but I think we would like to try to redefine that, what that actually means. By saying it sounds like a modern rock record, it'll sound new – I don't think it'll sound like what's on the radio right now."
And to that point, though it may sound like MCR are trying hard to strip away the rather, uh, grandiose leanings of "The Black Parade," they've still got the swagger of a band that's moved units and toured the globe. They've been surveying the musical landscape that's appeared in their absence, and they're not very pleased by what they see. Take, for example, the (working) title of one of their new songs: "New Hair, Same Shit."
"It's about having new hair, but it's the same shit. That's the concept," Way laughed. "I think the new album is going to be a response to the two years of touring on 'Parade.'  A reaction to what's happening right now – everything that we're not a part of – and a response to it."