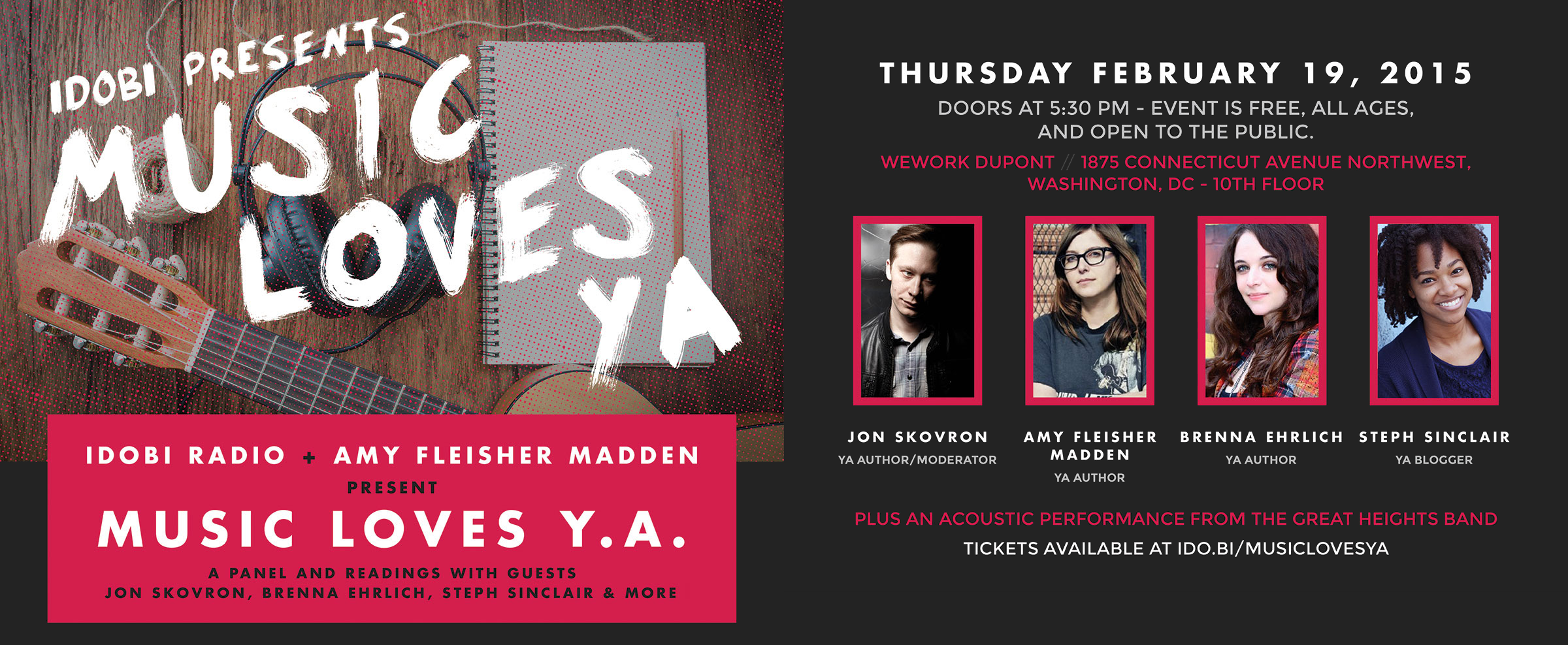 Music is crushing hard on Young Adult books this Valentine's season, and while it might not be as lucrative as Twilight (how does that hit big twice–50 Shades of Paid, anyone?), Music and YA still share a classic love story… and idobi Radio is here to tell it.
idobi Radio + Amy Fleisher Madden present MUSIC LOVES Y.A.
You're invited to the Music Loves Y.A. book panel on Thursday, February 19th. Join authors Amy Fleisher Madden, Jon Skovron, Brenna Ehrlich, and writer Steph Sinclair to discuss why music and young adulthood are so completely intertwined. You'll also hear passages from their latest books. What's more, there'll be an acoustic performance from The Great Heights Band.
Get your free ticket here: http://ido.bi/musiclovesya
Doors are at 5:30pm, the panel starts at 6pm and it's all ages and open to the public–so what are you waiting for? Grab your tickets now, and we'll see you at the address below on February 19th!
WeWork DuPont
1875 Connecticut Avenue Northwest, Washington, DC 20009
10th Floor
More about the panelists:
Amy Fleisher Madden
Amy Fleisher Madden is known to some as "Amy Fiddler" because of the independent record label that she started at age 16, Fiddler Records. Amy is credited with the discovery and signing of bands Dashboard Confessional, New Found Glory, Juliette and The Licks, The Higher, and many more…
A pioneer in the South Florida Music scene, Amy was born and raised in Miami. A life in music came calling and she spent ten years in Los Angeles until she packed up again and left music for advertising and New York city in the late 2000's.
Amy's debut novel, A Million Miles, is a revelation of a story that could have only been told by someone who lived through this incredibly transitory period of independent music first hand.
Jon Skovron
Jon Skovron is the author of Young Adult novels Struts & Frets, Misfit, and Man Made Boy. His next novel, This Broken Wondrous World will be out August 4th, 2015 from Viking Penguin. His short stories have appeared in publications like ChiZine and Baen's Universe, and more recently in anthologies such as Defy the Dark from Harper Collins, and GRIM from Harlequin Teen. He lives at jonskovron.com and also just outside Washington DC with his two sons.
Brenna  Ehrlich
Brenna Ehrlich is the founder of small press/label for teens, ALL AGES PRESS, which will release her debut YA novel, PLACID GIRL, this summer. She acts as senior writer/editor for MTV News, and is the co-author of blog and book STUFF HIPSTERS HATE. She enjoys trying not to die in moshpits.
Steph Sinclair
Steph Sinclair is one of the masterminds behind Cuddlebuggery.com, an editor at YA Books Central and YA blogger at Tor.com, but don't worry — she's been told she's really nice in person.  Steph is a lover of YA romance, sci-fi and fantasy with a side of bacon.  When she's not reading or slaving away on the blog, she can be found attending various rock concerts or knitting cute, baby hats.
Tags:
Amy Fleisher Madden
,
Brenna Ehrlich
,
Jon Skovron
,
Steph Sinclair
,
The Great Heights Band