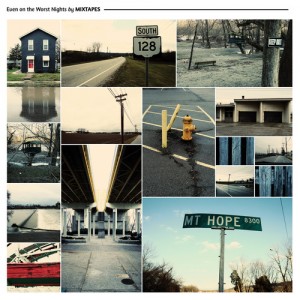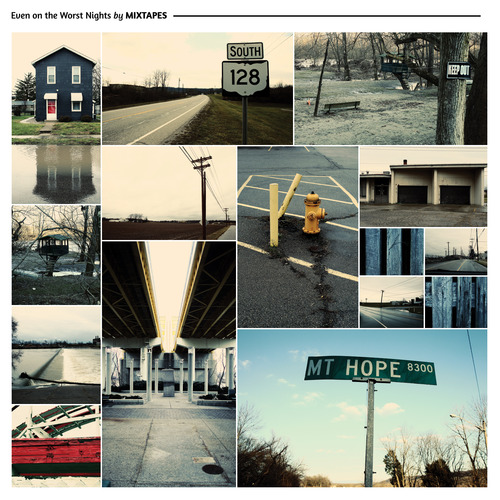 Cincinnati pop punk group Mixtapes have done it again with their debut release for No Sleep Records, Even On The Worst Nights. Singer Ryan Rockell explains, "It's a mixture of songs dealing with losses, death and hurtful situations, and also a thank you letter to those people who have been here to make life easier." The blend of contagious male/female dual vocals will have you singing along after just one listen. With irreplaceable harmonies and catchy tunes, this album is full of memorable lyrics and clever one-liners.
Starting off with "Seven Mile," a 54-second intro truly setting the tone for the record with references back to the title reassuring listeners that growing up in a small town, even on the worst nights there is always room for a better tomorrow. Follow-up track "Something Better" is an upbeat pop punk anthem with lyrics like "We sat outside talking about movies and music we hate cause there's not much left to life." Their real and honest lyrical approach continues into another short track, "Hey Ma Pt. 2."
The album's title track is a straightforward song with an immediate hook that discloses many of the issues the band has gone through before moving into "You & I," a song about friendship gone wrong that starts off slow then quickly speeds up. "I'm Wearing The Device (Bridge, Water)" leads with guitarist Maura Weaver's strong vocal ability as the band questions themselves on whether they are good enough to continue. "I'll Give You A Hint, Yes" displays that traditional pop punk sensibility showcasing a professional sound before leading to an even more impressive back-and-forth-vocal battle in "Russian House DJ."
"Anyways," featuring Grath Madden of House Boat, is sung with complete honesty as both vocalists scream "I represent my city but not my scene" while the pounding drums of "Indian Summer" and "One For The Ozarks" are perfect for the high-energy album. "Just When You Thought It Was Over" is an irreplaceable punk rock jam that immediately sticks out from the rest of the songs, showing how well Mixtapes work together as a band. As if the album couldn't get better, "Golden Sometimes," an acoustic duet between Rockwell and Weaver, is a heartfelt track about the painful memories of past relationships that ended badly. Picking up the pace, Weaver takes over the vocals and kills it on "Basement Manners." Closing out the album is "Mt. Hope," a personal song about good friends that features guest vocals from Soupy Campbell of The Wonder Years.
Mixtapes have done a phenomenal job piecing Even On The Worst Nights together, and the album will be probably be on your daily playlist in no time. Their lyrics will draw you in immediately as they convey a broad message of hope and relatibility. With a strong 16-track album, Mixtapes manage to make each song pop. Ultimately, Mixtapes are proving that they are a force to be reckoned with Even On The Worst Nights.
4.5/5
Tags:
Mixtapes